La Colation
Entered December 2018; revised May 2021

Presumed lost
           
Materials unknown
56.7 x 45.9 cm
ALTERNATIVE TITLES    
La Collation

La Colazione

Country Picnic with Two Young Couples
RELATED PRINTS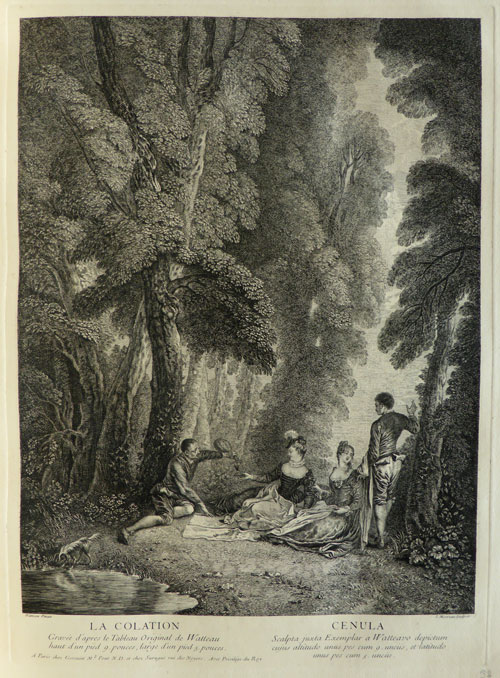 Watteau's La Colation was engraved in reverse by Jacques Moyreau. The print was announced by Edme Gersaint, first in the August 1729 issue of the Mercure de France (p. 1820) and again in the June 1731 issue (p. 1564).
PROVENANCE
Nothing is known about the provenance of La Colation, not even from the time in the early eighteenth century when it was engraved.
                                   
SELECT BIBLIOGRAPHY
Mariette, "Notes manuscrites," 4: fol.192.

Hédouin,  "Watteau"  (1845), cat. 115.

Hédouin, Mosaïque (1856), cat. 116.

Goncourt, L'Art au XVIIIème siècle (1860), 57.

Goncourt, Catalogue raisonné (1875), cat. 118.

Dacier, Vuaflart, and Hérold, Jean de Jullienne et les graveurs (1921-29), cat. 66.

Réau, "Watteau" (1928), under cat. 136.

Adhémar, Watteau (1950), cat. 122.

Macchia and Montagni, L'opera completa di Watteau (1968), cat. 101.

Roland Michel, Watteau (1981), cat. 145.

Valenciennes, Musée, Watteau et la fête galante (2004), under cat. 71.
RELATED DRAWINGS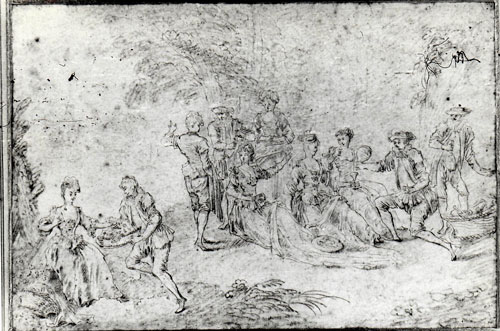 No Watteau drawings can be associated with La Colation, although the artist surely relied on studies from the model for its four figures. A drawing by Watteau's assistant, Pierre Antoine Quillard, repeats the essential elements of La Colation, but he supplemented the number of figures at the picnic. He also added a couple at the far left that is akin to the pair in Watteau's arabesque Le Galant jardinière, a drawing now in the National Gallery of Art, Washington (Rosenberg and Prat 169).  Whereas some of Quillard's early studies copy his master's drawings, often reflecting lost works, others copy Watteau paintings. Moreover, some of Quillard's drawings are his own variations on Watteau's themes and thus are unreliable guides to his master's inventions.
REMARKS
Critics have focused primarily on the Watteau painting La Colation sur l'herbe, formerly in the Kaiser Friedrich Museum and now in the Sammlung Oskar Reinhart. Its position in a publicly accessible institution and its color made it doubly attractive. Watteau's original painting is less appealing, especially since it has not been seen publicly since the early eighteenth century and is known only through the black and white print. Consequently, most Watteau scholars have paid it little if any attention.
Of the few authors who have commented on the lost painting, both Montagni and Roland Michel dated the work to c. 1715, while Adhémar preferred 1716. Certainly the painting predates the closely related version in the Sammlung Oskar Reinhart.
The subject of picnicking was popular in Netherlandish art from the sixteenth century onward. Scenes of courtly meals in the countryside, sometimes representing spring as part of the Four Seasons, were depicted by many masters, including Lucas van Valkenborch and Sebastian Vrancx.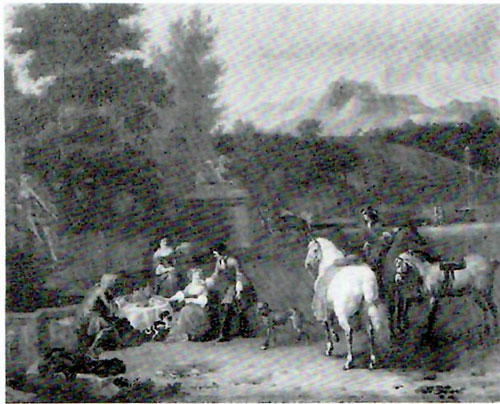 Depictions of picnics continued to be painted in the late seventeenth century, often in the context of a meal after the hunt as in the works of the Dutch painter Dirk Maas (1658-1717). Maas's compositions, painted in the decades just before and contemporaneous with Watteau, project a mood and approach to subject matter that announce the master's.
Although picnic parties were not a particularly popular theme in French seventeenth-century art, it is significant that the landscape painter Jean-Baptiste Forest (1636-1712), an artist whose works Watteau emulated, turned to this genre subject. A pair of paintings by him, one featuring a picnic and the other people playing cards, were sold from the J. A. Peters collection in 1779 and sketched by Gabriel de St. Aubin. The theme of picnicking was also explored by French minor masters of genre, such as Bernard Picart. His scene of an amorous couple seated on the ground, with a small repast on a cloth and a servant pouring wine (an allegory of Taste?) is germane. Its picnicking couple and elegant mood foreshadow Watteau's painting.
Click here for copies of La Colation