Colombine et Arlequin
Entered June 2018; revised January 2020

Presumed lost
Watercolor or gouache on paper
Measurements unknown
RELATED PRINTS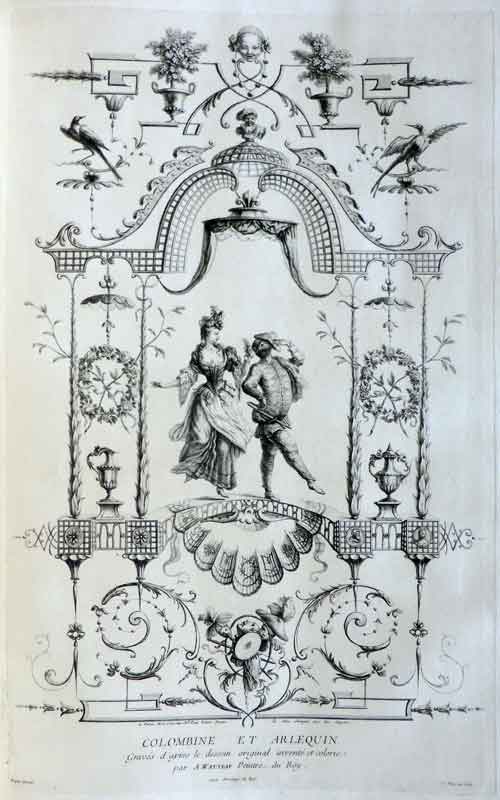 This composition was engraved by Jean Moyreau, and the print was announced for sale in the April 1729 issue of the Mercure de France (p. 751).
PROVENANCE
No trace of this composition has been found in eighteenth- or nineteenth-century sales.
SELECT BIBLIOGRAPHY
Goncourt, L'Art au XVIIIème siècle (1860), 2: 59.

Goncourt, Catalogue raisonné (1875), cat. 306.

Fourcaud, "Watteau: Peintre d'arabesques" (1908-09), 130.

Dacier, Vuaflart, and Hérold, Jean de Jullienne et les graveurs (1921-29), 3: cat. 64.

Rosenberg and Prat, Watteau, catalogue raisonné des dessins (1996), 3: cat. G 146.
RELATED DRAWINGS
Although there are a number of extant preparatory studies by Watteau for arabesques, they are never fully rendered, symmetrical compositions of the type recorded in Moyreau's engraving. Generally just the right side of the arabesque is drawn, and the left side is a variant design or is left blank. A noticeable exception is a fan design in the British Museum, La Coquette, whose significance is discussed below.
It seems likely that Watteau would have turned to separate figure studies of Harlequin and Colombine for this composition. While his specific models are not known, one of the counterproofs that Swedish count Charles Gustav de Tessin bought from the artist in 1715 suggests the type of drawings he might have used: a study of a masked Harlequin holding a guitar aloft, his leg raised or resting on a step (Rosenberg and Prat 17). His jaunty, active posture is like that of the two theatrical characters in Colombine et Arlequin, and is found in other early Watteau drawings and paintings.
REMARKS
Almost no attention has been paid to this arabesque, yet the neglect should not be attributed simply to the absence of Watteau's original design. Many of Watteau's other arabesques are also known only through the Jullienne engravings yet they have engaged scholars' attention. Whatever the reason, this early design invites more serious study.  
The central figures in this arabesque are quite elongated, with disproportionately small heads and tall, scrawny bodies. Their proportions and awkward suggestions of movement find parallels with the central figures in Watteau's Les Comédiens sur le champ de foire, an early picture. The same traits characterize a couple at the center of La Coquette, the early fan design in the British Museum, London.