Le Contrat de mariage (copy 1)
Entered June 2019; revised August 2019
Whereabouts unknown
Oil on canvas
50.8 x 64.8 cm
ALTERNATIVE TITLES 
Promenade galante
PROVENANCE
Paris, collection of Louis Hourticq (1875-1944; art historian).

Feirschoff or Fischkopf collection.

New York, collection of H. Young, c. 1923.


Cleveland, Ohio, c. 2012.
BIBLIOGRAPHY
Adhémar, Watteau (1950), under cat. 130
REMARKS
This copy of the Prado painting is known through several photographs, including one in the Frick Art Reference Library and another in the Witt Library. The painting's provenance from Hourticq and Feirschoff or Fischkopf is recorded on the back of the photograph now in the files of the Frick Art Reference Library. The reference to H. Young is typed on the mount of the photo in the Witt Library. Adhémar misidentified the latter photo as showing a copy after the Sir John Soane's Museum version of L'Accordée de village.
When this painting came up for auction in Cleveland in the spring of 2012, it was wrongly presented as a Watteau oil study for L'Accordée de village, the composition now in London. Actually it is related to the artist's Le Contrat de mariage. Moreover, it is not Watteau's preliminary study for that painting as was claimed. Rather it is by an unknown copyist, working from the painting in the Prado. The poor quality of execution should warn us against any association with Watteau's hand. Watteau never made such preliminary oil sketches. The copyist went so far as to replicate the fleur de lys insignia of the royal collection in the lower right corner.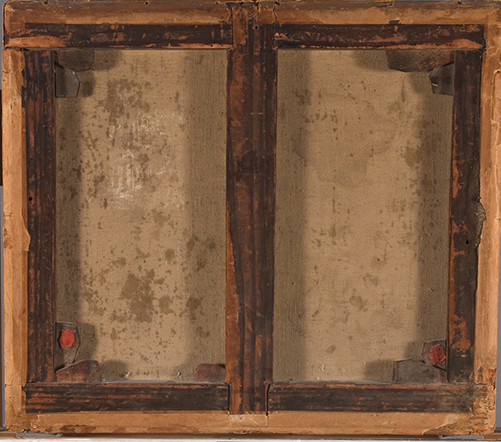 Affixed to the reverse side are two spurious red wax seals, each supposedly with the insignia of Louis XIV. They were offered as proof that the painting had been in the French royal collection, a claim wholly without merit, especially since Louis XIV is not known to have owned any paintings by Watteau.
Le Contrat de mariage (copy 2)
Entered August 2019; revised May 2021
Whereabouts unknown
Oil on canvas
52 x 65 cm
PROVENANCE
Paris, Piasa, June 26, 2009, lot 79: "École FRANCAISE du XIXe siècle, dans le goût d'Antoine WATTEAU . . . Le Contrat de Mariage / Toile / 52 x 65 cm / Porte une ancienne attribution à Pierre-Antoine Quillard. 1 200 / 1 500 € Notre tableau s'inspire d'une composition d'Antoine Watteau conservée au musée du Prado à Madrid." The painting sold for € 1,487.
REMARKS
This painting is a straight-forward copy of Watteau's painting in the Prado.
Le Contrat de mariage (copy 3)
Entered July 2021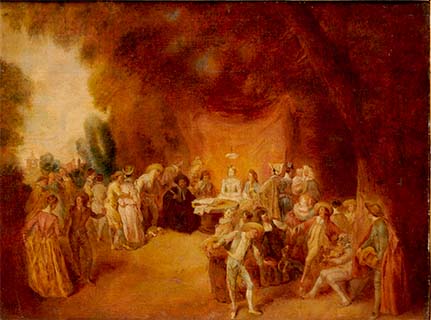 Whereabouts unknown
Oil on canvas
48.9 x 64.7 cm
PROVENANCE
Possibly Lisbon and Cascais, collection of Ricardo Espirito Santo (1903-1979; banker) and his wife Mary (1903-1979). By descent to their heirs.

Lisbon, Cascais, and elsewhere, collection of Rita Espirito Santo (1927-1920). Her sale, London, June 21-July 12, 2021, lot 36: "FOLLOWER OF JEAN-ANTOINE WATTEAU (1684-1721) Marriage Contract and Country Dancing...This is a version of Watteau's Marriage Contract and Country Dance of circa 1711 in the Prado, Madrid (P002353). Another, slightly different version of the composition is held in the Soane Museum, London. The latter was engraved in circa 1735 by Nicolas de Larmessin. A number of copies after the Soane version exist; versions following the Prado composition are less common." Est. £3,000-5,000. The painting sold for £3,000.
REMARKS
Like the other copies of Watteau's composition in the Prado, it is essentially the same size. Hoever, it does not replicate the characteristic faces in the left background that were painted by Quillard.
Click here for Le Contrat de mariage