The Country People's Revenge
Entered August 2019; revised Janury 2020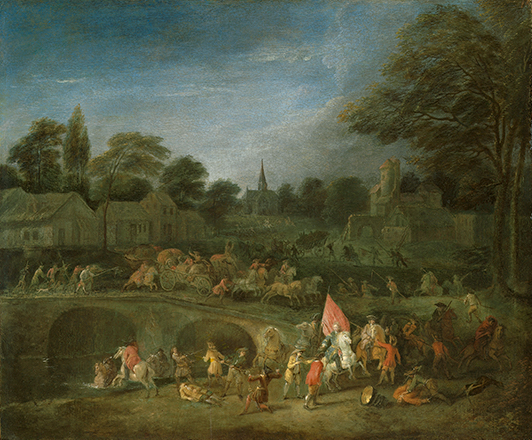 New York, private collection
Oil on canvas
30.5 x 40 cm
ALTERNATIVE TITLES    
La Revanche des paysans

The Revenge of the Peasants
RELATED PRINTS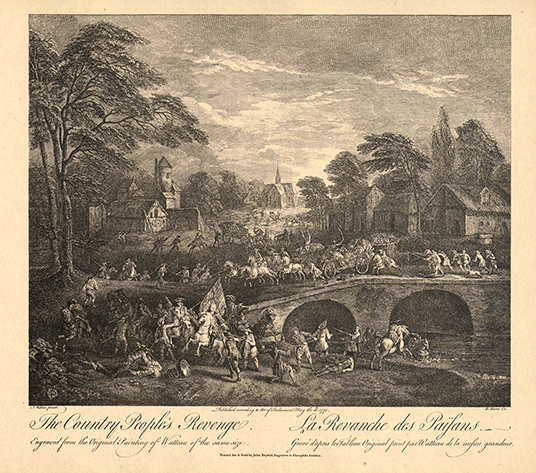 The Country Peoples' Revenge and its pendant, A Village Plundered by the Enemy, were engraved in reverse by Bernard Baron in 1748. The prints were reissued by James Boydell in 1771.
PROVENANCE
The early whereabouts of The County People's Revenge is uncharted. It was in England in 1748 when it and its pendant, A Village Plundered, were engraved by Baron. It subsequently was separated from its pendant and fell from sight.

London, collection of F. Levin; sold to Wildenstein Co.  on July 11, 1946.

London, Wildenstein and Co.; sold to Mr. and Mrs. A. Rofe

London, collection  of Mr. and Mrs. A. Rofe; sold to Wildenstein in November 1966.
           
London, Wildenstein and Co.

England, private collection.

New York, Wildenstein and Co.
EXHIBITIONS
London, Wildenstein, French 18th Century (1956), cat. 13 (Watteau, La Revanche des paysans).

London, Royal Academy, France in the Eighteenth Century (1956), cat. 721 (Watteau, La Revanche des paysans, lent by a private collection, London).
SELECT BIBLIOGRAPHY
Hédouin, "Watteau" (1845), cat. 128.

Hédouin, Mosaïque (1856), cat. 130.

Goncourt, L'Art au XVIIIème siècle (1860), 56.

Goncourt, Catalogue raisonné (1875), cat. 61.

Mollet, Watteau (1883), 62.

Josz, Watteau (1904), 55, 191.

Dacier, Vuaflart, and Hérold, Jean de Jullienne et les graveurs (1921-29), 1: 94-95; 2: 143; 3: cat. 291.

Réau, "Watteau" (1928), cat. 47.

Adhémar, Watteau (1950), cat. 279.

Vernis, "International Studio" (1956), 273.

Mathey, Watteau, peintures réapparues (1959), 24-25, 67, 73, no. 11.

Cailleux, "Four Studies of Soldiers" (1959), v.

Macchia and Montagni, L'opera completa di Watteau (1968), cat. 5o E. 

Scott, "Calonne" (1973), 88-89.

Glorieux, "L'Angleterre et Watteau" (2006), 68, 74.
REMARKS
There has been little critical confidence or interest in The Country People's Revenge and its pendant, A Village Plundered by the Enemy, although both compositions were engraved under Watteau's name by Bernard Baron, the French printmaker based in London who had befriended Watteau during his stay in the English capital. Even though the prints declare Watteau's authorship, the compositions do not look like works by the painter of fêtes galantes. To a degree this is understandable. Whereas the themes of brigands attacking a village and villagers fighting back are common in Netherlandish seventeenth-century painting, this was an area that Watteau seems to have shunned. While he did paint military subjects as a young artist, they were scenes of encampments or troops on the move—relatively peaceful images rather than depictions of mayhem. Thus it is not surprising that many critics have been suspicious of these two pictures, unparalleled in Watteau's oeuvre. Adhémar classified the pendants as doubtful works and attributed them to Jérôme François Chantereau, a Watteau satellite (but one whose style is unrelated), or another follower of Watteau.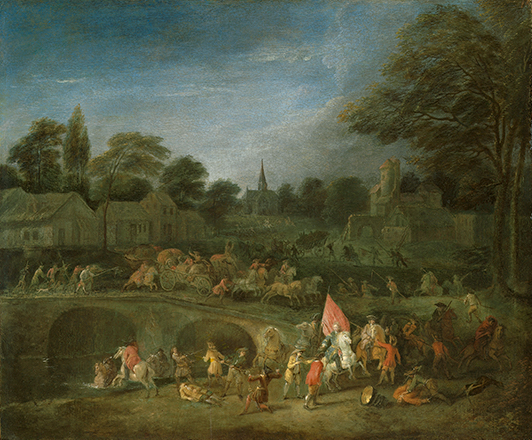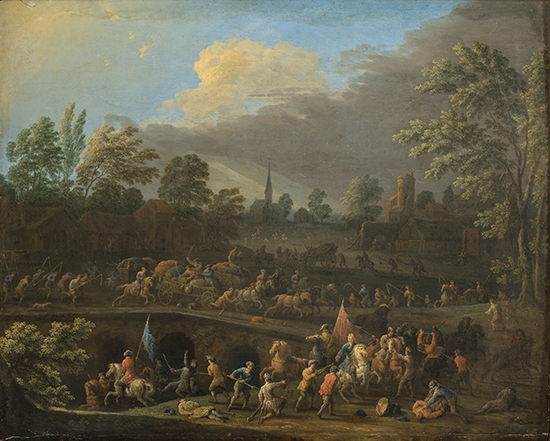 Despite the reappearance of The County People's Revenge after two centuries of obscurity, most contemporary scholars have entirely ignored the issues and the paintings. The key to understanding Watteau's paintings was found by Karl T. Parker in the Galleria nazionale in Rome, where he came upon a similar pair of paintings by the minor Dutch artist Jan Baptist van der Meiren (1664-1736).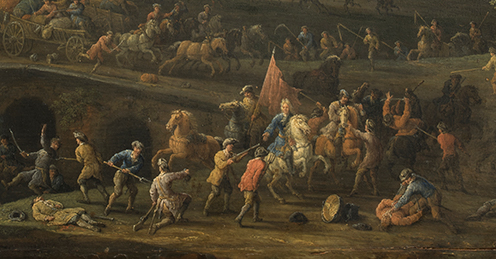 The panels in the Galleria nazionale cannot be the exact ones that Watteau copied because the pair had been in Rome since the early eighteenth century, and thus would not have been accessible to Watteau. However, van der Meiren evidently executed more than one set and Watteau would have copied one of them. This explains why there are so many differences between the Galleria nazionale paintings and Watteau's. Some of the two artists' figures are essentially identical, but many are only comparable. In addition, Watteau made minor alterations when executing the painting; pentimenti show that he modified the shapes of the arches on the bridge.
In all likelihood Watteau's pendants were executed early in his career, when he worked for commercial painters on the Pont Notre Dame. In his chronology of Watteau's works, Mathey dated The Country People's Revenge to c. 1710. Cailleux proposed a date of late 1708-early 1709.