Abigaïl qui apporte des vivres à David
Entered February 2020; revised April 2020

Presumed lost
Materials unknown
Measurements unknown
ALTERNATIVE TITLES    
Abigail Bringing Food to David

Abigail Who Brings Food to David

David accordant à Abigail le pardon de Nabad

David and Abigail

David Forgives Abigail and Brings Her Food

David Granting Abigail the Pardon of Nadal

David Pardoning Abigail Who Brings Him Provisions

David pardonne à Abigail

Meeting of David and Abigail

Sujet de l'histoire de David
SELECT BIBLIOGRAPHY
Bénard, Cabinet de M. Paignon Dijonval (1810), cat. 3206.


Goncourt, Catalogue raisonné (1875), 41.

Académie royale, Procès-verbaux (1875-92), 4: 90-92.

"À la Watteau" (1878), 233.

Goncourt, L'Art du dix-huitième siècle (1880), 16.

Mollet, Watteau (1883), 30, 31.

Mantz, Watteau (1892), 47-48.

Phillips, Watteau (1895), 23.

Dilke, French Painters (1899), 81.

Kingsley, History of French Art (1899), 193.

Fourcaud, "Antoine Watteau" (1901), 329.

Dacier, Vuaflart, and Hérold, Jean de Jullienne et les graveurs (1921-29), I: 33, 80.

Dayot, "Antoine Watteau" (1921), 6.

Orpen, Outline of Art (1923), 184.

Brinckmann, Watteau (1943), 9.

Adhémar, Watteau (1950), 74-75, cat. 30.

Mathey, Watteau, peintures réapparues (1959), 30, 67.

Hercenberg, Vleughels (1976), cat. 58, 114.

Macchia and Montagni, L'opera completa di Watteau (1968), cat. 38.

Roland Michel, Watteau (1981), cat. 78.

Roland Michel, Watteau (1984), 153.

Posner, Watteau (1984), 64.

Zolotov, "Watteau: Iconosphère et personnalité d'artiste" (1987)

New York, Metropolitan Museum, Watteau, Music, and Theater (2009), 5.

Leca, "Antoine Watteau" (2009),  https://purl.org/nga/collection/constituent/1967

Østermark-Johansen, Collected Works of Pater (2014), 122.
REMARKS
On April 6, 1709, as part of the Concours of the Académie royale de peinture, Watteau and four other participants who had successfully passed the first part of the examination were given a subject to execute: "Abigail apportant des vivres à David." The story, from the Old Testament, tells how David had been refused hospitality by Nabal, and to prevent a battle between them, Nabal's wife Abigail brought great quantities of food to David and so placated him. The five hopeful artists submitted their renderings of this narrative, and they were shown on August 23 before being presented to the Academy on August 31, 1709. The first prize was awarded to Grison, a painter about whom we hear nothing more, and Watteau was given the second prize. Remarkably, the four artists sent to Rome were not even entrants in the contest.
Nothing of Watteau's submission has survived. Dacier and Vuaflart cleverly noted that the collection amassed in the late eighteenth century by Gilbert Paignon Dijonval (1708-1792) contained an oil sketch on paper showing Abigail Presenting her Gifts to King David. It was listed in the 1810 catalogue of that collection prepared by the collector's son, under number 3206: "WATTEAU (ANTOINE) . . . Abigail fléchissant David, et lui apportant des présens: esquisse à l'huile sur papier; h. 9 po. sur 6 po." While the association between Watteau's submission and this painting might seem conclusive, in fact the case is more complex.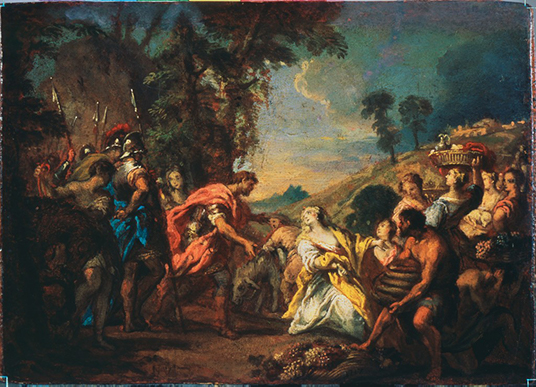 Unnoticed by modern scholars, the Paignon Dijonval painting has actually survived and is now in the collection of the Hermitage in St. Petersburg. It entered that collection in 1946, apparently without reference to any earlier history. Most important, it is not by Watteau but by his close friend, Nicolas Vleughels. It is initialed and dated at the bottom "NV  1717." Not only is it the same rare subject as the work in the Paignon Dijonval collection, but it is also on the same unusual support of oil on paper. Not least, its measurements of 15.5 x 23.5 cm closely correspond to the Paignon Dijonval measurements of 16.2 x 24.3 cm, except that the 1810 catalogue reversed height and width, a not uncommon mistake.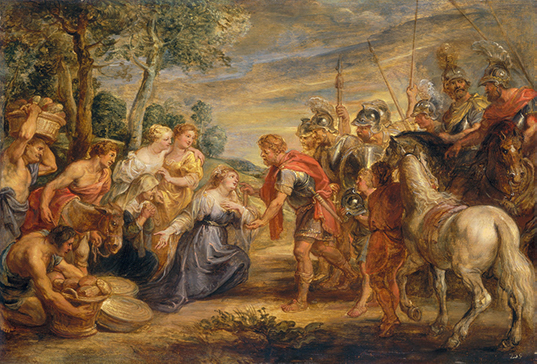 The question that should be raised is the degree to which Vleughel's painting might reflect Watteau's oil sketch. When Watteau tried for the Academy prize in 1709, he and Vleughels has probably not yet met. But by 1717, when Vleughels prepared his composition, they not only knew each other but were living under Crozat's roof. As several of Vleughel's compositions from these years show, the artist occasionally borrowed from his younger colleague, just as Watteau copied from Vleughels, especially the latter's landscapes of Italy. Vleughel's composition is itself heavily indebted to Rubens's painting of the same subject—a horizontal frieze with energetic figures streaming in from each side. Rubens and his shop executed this composition several times. It is possible that Watteau and Vleughels tapped into the same source.
As a securely dated work, Watteau's lost painting would have helped fix the  chronology of his early years. Moreover, it would have given us a glimpse of how he attempted the grande manière in his early years, something that can only be guessed at from other works, such as his Triomphe de Ceres.