Le Donneur de sérénade (copy 1)
Entered August 2020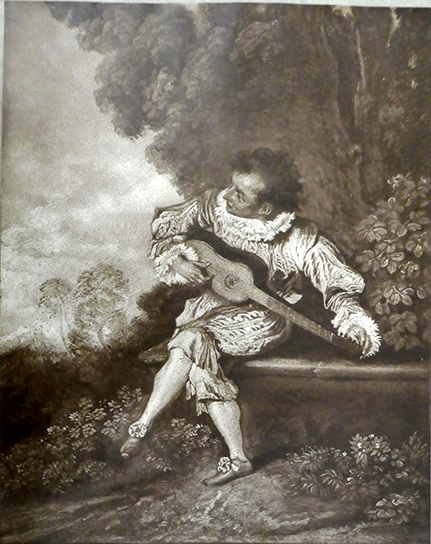 Vienna, Kunsthistorisches Museum, inv. 577
Oil on panel
31 x 25 cm
ALTERNATIVE TITLES
Der Gitarrespieler
PROVENANCE
This copy of Le Donneur de sérénade has been at the museum since 1824.
SELECT BIBLIOGRAPHY
Krafft, Verzeichniss der Gemälde-Gallerie (1845), 179.

Engerth, Kunsthistorische Sammlungen, Gemälde (1882), 471-72.

Vienna, Kunsthistorisches Museum, Uebersicht (1899), 319.

Vienna, Kunsthistorisches Sammlungen, Die Gemäldegalerie alte Meister (1907), 131.

Adhémar, Watteau (1950), under cat. 144.
REMARKS
Predictably, this painting was given to Watteau himself in the nineteenth century. It is curious that it is the same size as our copy 2, a size unrelated to the autograph version at Chantilly.
Le Donneur de sérenade (copy 2)
Entered August 2020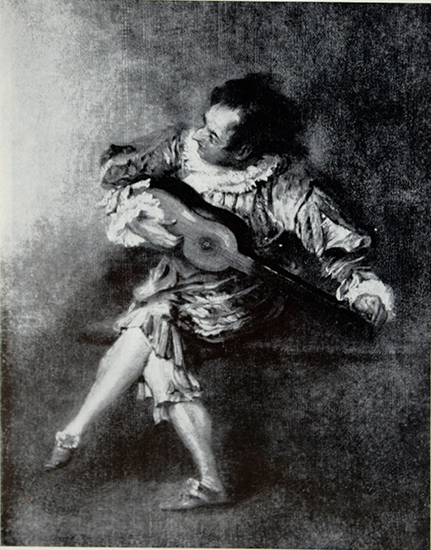 Whereabouts unknown
Oil on canvas
31 x 24 cm
PROVENANCE
Versailles, Palais de Congrès, February 28, 1965, canvas, 31 x 24 cm, as by Philippe Mercier.

Paris, sale, Palais Galliera, November 29, 1976, lot 52: "MERCIER (Philippe) . . . Le joueur de sérénade. Toile.0,310 0,240.  Larg. Haut. Cadre en bois sculpté."

Paris, sale, Christie's, June 26, 2008, Huile sur papier marouflé sur toile / 31 x 24.2 cm (12¼ x 9½ in.) / €5,000-7,000 / US $7,9 BP 4,000-5,500 / PROVENANCE:  Vente anonyme; Paris, Palais Galliera, 29 novembre 1976, lot 52, ill. (comme 'Philippe Mercier'). 
     Ce tableau est une reprise de l'oeuvre d'Antoine Watteau conservée au Musée Condé à Chantilly (voir E. C. Montagni, L'Opera Completa di Watteau, Milan. 1968, no. 130, ill. Pl. IX). On retrouve ce personage dans La Surprise, tableau d'Antoine Watteau peint vers 1718 et récemment redécouvert et qui sera présenté en vente par Christie's à Londres le 8 juillet 2008.
     THE MEZZETIN, OIL ON CANVAS, ATTRIBUTED TO PHILIPPE MERCIER, AFTER ANTOINE WATEAU." Sold for €6,250.
REMARKS
The attribution of this copy of Watteau's painting to Philippe Mercier typifies the market's frequent attempts of the marketplace to assign a name to an otherwise anonymous copy. Oddly, this picture is the same size as our copy 1, a size without connection to the autograph version at Chantilly.