L'Emploi du bel âge
Entered June 2021; revised September 2021 Whereabouts unknown
Materials unknown
Measurements unknown
ALTERNATIVE TITLES
Due giovanni copple e donna che coglie dei fiori

Two Young Couples and a Girl Gathering Flowers
RELATED PRINTS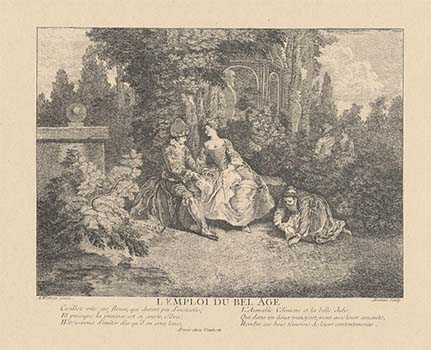 The painting was engraved in reverse by Pierre Aveline (1702-1760) and was published by the brothers Charles and François Vanheck at an undetermined date. The legend below declares "A. Watteau pinxit" but, as will be demonstrated, elements of this engraving may misrepresent Watteau's original painting.
SELECT BIBLIOGRAPHY
Goncourt, Catalogue raisonné (1875), cat. 129.

Dacier, Vuaflart, and Hérold, Jean de Jullienne et les graveurs (1921-29), cat. 289. 

Réau, "Watteau" (1928), cat. 139.

Adhémar, Watteau (1950), cat. 65.

Macchia and Montagni, L'opera completa di Watteau (1968), cat. 87.

Eidelberg, "Quillard, Assistant to Watteau" (1970), 59, 63-64.

Roland Michel, Watteau (1981), cat. 253.
REMARKS
The engraving of this composition was not part of the Jullienne Oeuvre gravé, and it escaped the attention of early Watteau scholars such as Hédouin. Once recorded by de Goncourt, it appeared in subsequent listings of Watteau's oeuvre. However, the composition has received scant attention and has generally been skipped over in the Watteau literature.
A few Watteau scholars, such as de Goncourt, Réau, and Adhémar, accepted the composition without objection. Others have questioned the painting's attribution: Dacier, Vuaflart, and Hérold indicated that the attribution to Watteau needed to be viewed with caution; Roland Michel put forth Lancret's name as the author of the composition. I too questioned the attribution to Watteau, noting its resemblance to works by Pater and Lancret.
Unlike Watteau's normally graceful postures, the figures in Aveline's engraving are awkward and stiff. The woman at the center leans precariously toward her beau, causing her head, torso, and skirt to form a steep angle—a geometric configuration not at all typical of Watteau's supple postures. The man's puffy, pointed beret strikes a foreign note. Furthermore, the engraved composition is governed by a surprisingly strict symmetry, with a dense mass of foliage anchoring the central axis, and with distant trees and open sky at the sides.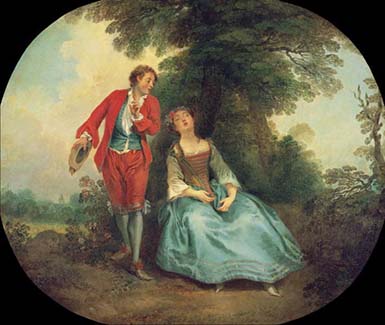 These distinctive features set L'Emploi du bel âge apart from Watteau, and are more characteristic of the generation after him. One can appreciate why Roland Michel proposed Lancret's name. Indeed, the same characteristics—the elongated figures and tiny heads, the man's puffed hat, the inclination of the bodies, the symmetry of the composition—while not typical of Watteau, are features found in Lancret's paintings such as his Bergère endormie. There a shepherdess of elongated proportions reclines at a curious angle, and the background foliage weighs down a strongly marked central axis. If she stood up, she would dominate her suitor.
Yet, looking beyond Aveline's engraving, there is reason to believe that L'Emploi du bel âge is closely related to Watteau's oeuvre. Evidence of this is found in one of several Quillard drawings at Chatsworth—drawings that copy inventions by Watteau. This particular sheet is divided into four equal sections, and the upper left quadrant contains a composition that is essentially the same as L'Emploi du bel âge, and it appears in the same direction as Watteau's painting would have been. At the center is a seated couple; the woman leans toward her companion and the man's arms thrust forward to indicate he is speaking, just as in Aveline's engraving. On the ground, a kneeling woman gathers flowers, and in the distance is another couple walking away. All these elements, in the very same order, match those in Aveline's engraving. Quillard's sketch is notably closer in style to Watteau than is Aveline's engraving. Quillard's sketch does not show the emphatic centralization of the background trees, or the steep inclination of the woman's body. It would seem that Quillard's sketch better suggests what the Watteau painting looked like.
Dacier, Vuaflart, and Hérold noted that the editors of this print, the Vanheck brothers, lived at the same address later used by Jean Jacques Spoede, a reference repeated by Adhémar as well as Macchia and Montagni. However, scholars have drawn no conclusion about this association. Certainly the style of L'Emploi du bel âge is unrelated to Spoede's manner. Dacier, Vuaflart and Hérold theorized that perhaps Spoede owned the Watteau painting but there is no evidence for this. Vanheck also sold Gillot prints, such as his Arlequin mecontent de son peintre and Arlequin esprit folet. That Spoede and the Vanhecks were neighbors is interesting and indicates something of the localized, fraternal nature of the members of the Franco-Flemish community in Paris, but perhaps nothing more.