Les Enfants de Sylène
Entered January 2022

Presumed lost
Oil on canvas
Approximately 61 x 87.6 cm
ALTERNATIVE TITLES
Un Jeu d'enfans
RELATED PRINTS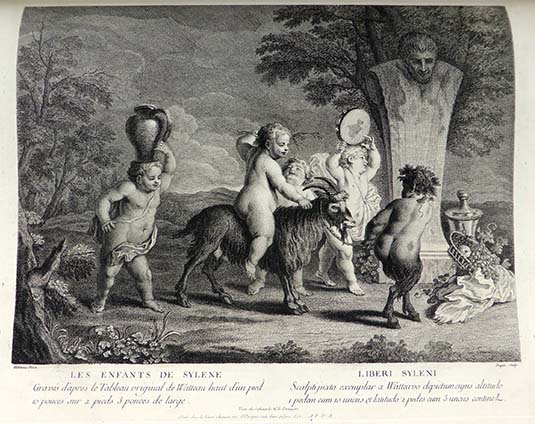 PROVENANCE
Paris, collection of Louis Quentin de Lorangère (d. 1743; greffier des présentations au Châtelet de Paris, receveur de la signature en chef du Châtelet de Paris). His ownership is announced on the Dupin engraving: "Tiré du Cabinet de Mr  de Lorangère." His sale, Paris, March 2ff, 1744, possibly lot 8: "Un jeu d'enfans; original de Watteau, de 2 pieds 2 pouces ¾ de large, sur un pied 2 pouces ½ de haut."
SELECT BIBLIOGRAPHY
Goncourt, L'Art au XVIIIème siècle (1860), 56.

Goncourt, Catalogue raisonné (1875), cat. 38.

Zimmermann, Watteau (1912), XI.   

Josz, Watteau (1903), 72

Gillet, Un Grand maître (1921), 30.

Dacier, Vuaflart, and Hérold, Jean de Jullienne et les graveurs (1921-29), I : 135 ; II : 45, 46, 52, 55, 142 ;  III : cat. 273.

Réau, "Watteau" (1928), cat. 16.

Adhémar, Watteau (1950), cat. 113.

Mathey, Watteau, peintures réapparues (1959), 66.

Macchia and Montagni, L'opera completa di Watteau (1968), cat. 73.

Ferré, Watteau (1972), cat.

Roland Michel, Watteau (1981), cat. 99.

Roland Michel, Watteau (1984), 151, 309.

Rosenberg and Prat, Watteau, Catalogue raisonné des dessins (1996), R246.

Glorieux, À l'Enseigne de Gersaint (2002), 366, 432.
RELATED DRAWINGS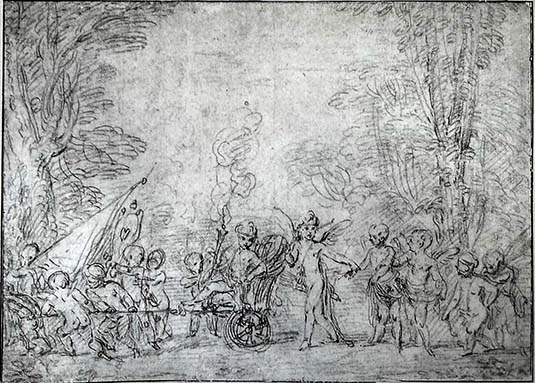 While there are no extant drawings by Watteau that can be related directly to Les Enfants de Sylène, an early compositional study for a Procession in Honor of Cupid (Rosenberg and Prat 14) shows that he did make drawings for these mock processions acted out by infants.
REMARKS
Dupuis engraved Les Enfants de Sylène and L'Amour mal accompagné as pendants, and both were described as being in the collection of Quentin de Lorangère. Yet when Lorangère's collection was sold on March 2ff, 1744, only one of the pictures was listed, although it is not evident which one. Lot 8—the only lot that could be assigned to either of these pictures –is frustratingly vague: "Un jeu d'enfans." This description could easily apply to either painting. Most scholars, unaware of this problem, have written as though the two pendants had appeared here together. It may have been sloppiness on the part of the cataloguer, who should have written "Deux jeux d'enfans," or perhaps one of the paintings had been damaged or given away. We cannot tell. Curiously, neither painting was ever seen again.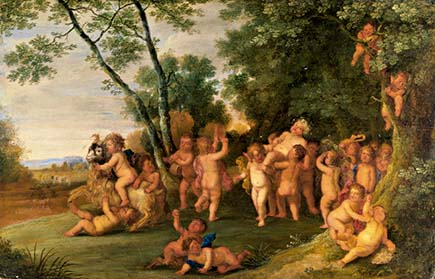 The classical subject of Watteau's painting strikes an unusual but not a unique note in his oeuvre. In fact he turned to the theme of children parodying classical gods, of course, in L'Amour mal accompagné and also Les Enfants de Bacchus. He also portrayed children parodying the commedia dell'arte as in Les Enfans de Momus and La Cause badine, and created charming allegories of the Four Seasons. He did not break new ground in what was a well-established genre but, rather, followed the lead of predecessors among the followers of both Poussin and Rubens. Peter van Avont's playful Bacchic Procession, for example, although painted more than a half century before Watteau's, contains similar paraphernalia and jocular activity as in Les Enfants de Sylène. More immediate, Watteau would have been schooled in such parodies of the classical gods by his master, Claude Gillot, who made countless drawings and engravings of this type.
Although Watteau's actual painting has not been seen firsthand in more than 300 years, critics are in agreement that this is an early work and Gillot's name has often been intoned to emphasize its earliness in Watteau's career. Mathey assigned a date around 1705-07, Macchia and Montagni suggested 1710, Roland Michel implied c. 1710-12, and Adhémar proposed c. 1715. While all these dates are prior to what could be considered Watteau's maturity, it should be stressed that without seeing the actual picture and its painted surface, such estimates are guesswork.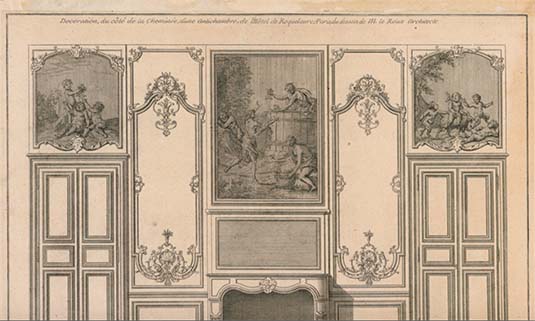 This painting was the type of picture that could be used as an overdoor, as is shown by the design of one wall in an antechamber of the Hôtel de Roquelaure, as engraved in Pierre Jean Mariette's L'Architecture françoise. The resemblance of the overdoor at the right to Watteau's Les Enfants de Sylène was noted by Dacier, Vuaflart, and Hérold. Indeed, a number of the wall paintings in Mariette's publication were inspired by the Jullienne engravings after Watteau's paintings and compositional drawings. Thus, apropos of this overdoor, the print does not bear upon the original whereabouts of the painting but it does imply something of how the painting might have been displayed in Lorangère's home.