L'Enlèvement d'Europe
Entered January 2022 Whereabouts unknown
Oil on canvas
48.6 x 72.9 cm
ALTERNATIVE TITLES
The Rape of Europa

Il ratto d'Europa
RELATED PRINTS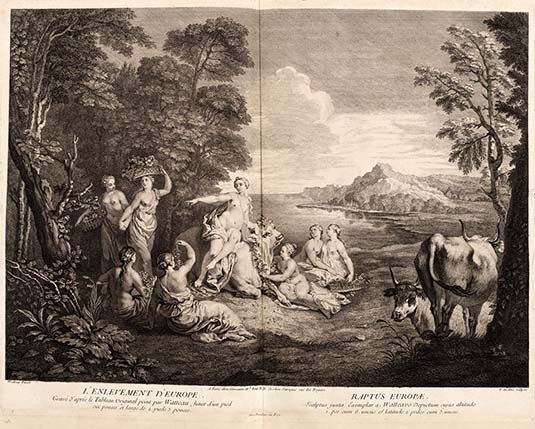 Watteau's painting of L'Enlèvement d'Europe was engraved in reverse by Pierre Aveline, and was announced for sale in the March 1730 issue of the Mercure, p. 552.
PROVENANCE
Paris, collection of Jacques André Joseph Aved (1702-1766; artist). His sale, Paris, November 24 ff, 1766, lot 114: "ANTOINE WATTEAU. . . . Sept femmes occupies à parer Jupiter sous la forme d'un tareau, sur lequel est  Europe; ce Tableau est agréable; il est peint sur toile, & porte 17 pouces & demi de haut, sur 25 de large." Sold for 241 livres to Remy, the dealer, according to annotated copies of the sale catalogue in the Frick Art Reference Library, New York, and the Bibliothèque nationale, Paris.

Paris, collection of Louis François de Bourbon, prince de Conti (1717-1776). His sale, Paris, April 8-June 6, 1777, lot 670: "[Antoine Watteau], L'Enlevement d'Europe. Ce tableau agréable & d'un charmant coloris, est composé de huit figures: hauteur 16 pouces, largeur 23 pouces, sur toile." Sold for 311 livres to Bagieux according to an annotated copy of the sale catalogue in the Philadelphia Museum of Art.

Gabriel de Saint-Aubin after Watteau, L'Enlèvement d'Europe, Bibliotheque nationale, Paris.
Gabriel de Saint-Aubin drew a sketch of the painting in his copy of the Conti sale catalogue. It accords with the composition engraved by Aveline, except that the print is in reverse.
Paris, collection M. His sale, March 28, 1792 [lot 46]: "Watteau L'enlèvement d'Europe; par Jupiter, sur toile, Hauteur, 16 pouces; largeur, 24 pouces."
Paris (?), de Bonnac collection. Sale, Paris, March 10, 1867. This provenance is reported by Edmond de Goncourt but, except fpr Réau, has not been repeated by subsequent authors. In that de Goncourt was reporting on a sale that had occurred just twelve years prior to his writing, in all probability he had seen it firsthand.  It has not been possible to locate a copy of the sale catalogue and it is not mentioned by Frits Lugt and other authorities.
Marseille, collection Escallone. He proposed a Watteau painting of the Rape of Europa to the Louvre in 1892 for 22,000 francs. This is reported by Adhémar, Watteau (1950) who was accessing the museum's records. We have no idea whether the picture was the one owned earlier by Bonnac, much less whether it Watteau's original painting.
SELECT BIBLIOGRAPHY
Hédouin, "Watteau" (1845), cat. 120.

Hédouin, Mosaïque (1856), cat. 122.

Goncourt, L'Art au XVIIIème siècle (1860), 56.

Goncourt, Catalogue raisonné (1875), cat. 39.

Zimmermann, Watteau (1912), 12-13.

Dacier, Vuaflart, and Hérold, Jean de Jullienne et les graveurs (1921-29), 1: 11, 28, 83; 2: 33, 62, 93, 133, 142; 3: cat. 109.

Réau, "Watteau" (1928), cat. 20.

Adhémar, Watteau (1950), cat. 106.

Lévy, "Une Vie inconnu" (1957), 203.

Mathey, Watteau, peintures réapparues (1959), 67.

Macchia and Montagni, L'opera completa di Watteau (1968), cat. 56.

Hendy, Paintings in the Gardner Museum (1974), 258.

Roland Michel, Watteau (1981), cat. 141.

Roland Michel, Watteau (1984), 151.

Posner, Watteau (1984), 76, 79.

Vidal, "Conversation as Literary and Painted Form" (1987), 173.

Bailey, The Loves of the Gods (1992), 346.

Michel, Le «célèbre Watteau» (2008), 76.
RELATED DRAWINGS
There are no known Watteau drawings associated with this painting.
REMARKS
The seeming uniqueness of this attempt by Watteau to try his hand at mythological painting is offset by his several other efforts in this genre, such a his Triomphe de Ceres, Acis et Galathée, Jupiter et Antiope, and the Saisons Crozat.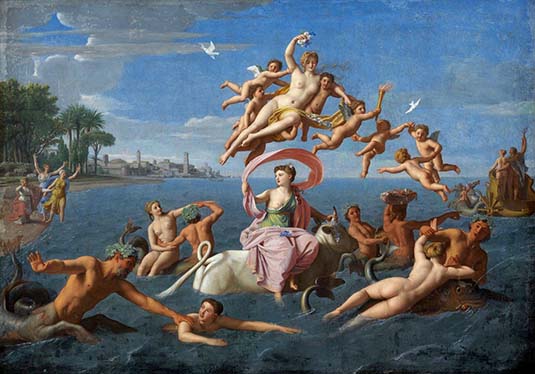 Nonetheless, L'Enlèvement d'Europe remains an exceptional work and one can only wonder what prompted him to try his hand at this higher genre. Certainly the subject was au courant among other French painters of the day. As Dacier, Vuaflart, and Hérold astutely noted, pictures with this subject by Alexandre Ubeleski, Christophe, and Nicolas Colombel were exhibited at the 1704 Salon, an event that the young Watteau was likely to have attended. Like Colombel's painting, which is frieze-like and symmetrical in composition, all vaguely inspired by the tradition of Poussin and Lebrun, Watteau's design is essentially conservative and staid.
More interesting models were available to Watteau. Most important was Titian's Rape of Europa, which entered the collection of Philippe, duc d'Orléans, in c. 1707. It is not impossible that Watteau saw it there, although Titian's energetic, voluptuous version is quite different from Watteau's almost academic treatment. Even when seen in relation to the Venetian, more Rococo version by his close friend, Nicolas Vleughels, Watteau's painting is remarkably frieze-like and academic, in short, old-fashioned.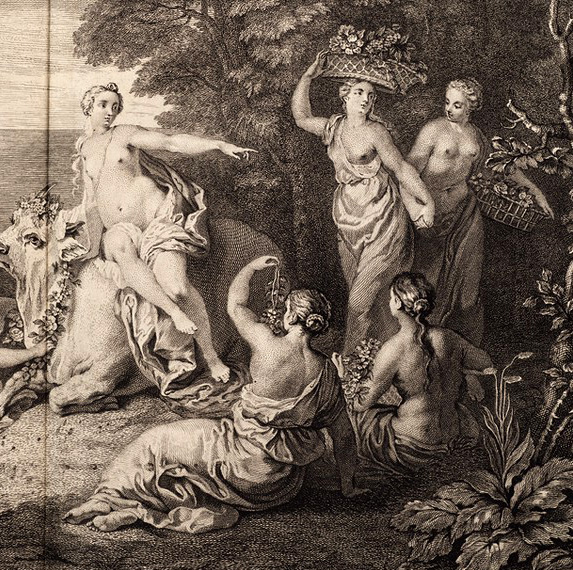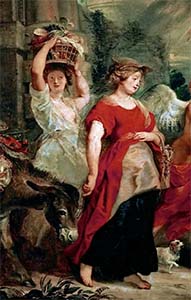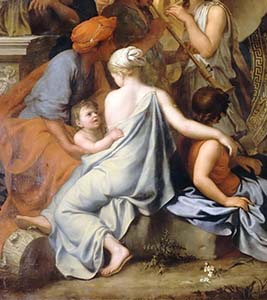 Christian Michel has noted the resemblance between the two women at the side of Watteau's composition, their hands entwined and one balancing a basket of flowers on her head, with a similar pair in Rubens' Lot and His Family Fleeing Sodom. Also, the woman in the foreground, seated on the ground with her back to us, is a device to close the composition used by Raphael and continued by Lebrun and the Académie royale. In short, Watteau fell back upon older traditions, more so than when painting his fêtes galantes.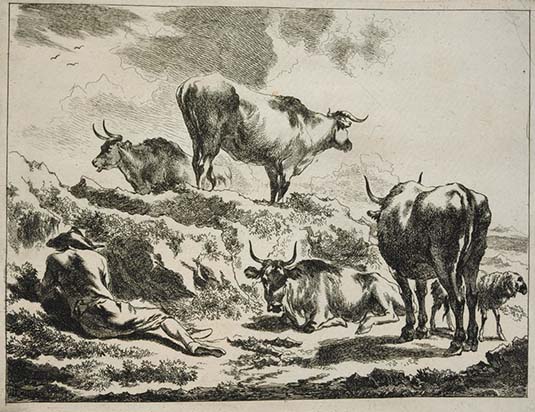 One of the unusual elements in Watteau's composition are the two additional cattle in the foreground. Traditionally, the only animal present in a painting of the Rape of Europa is a single bull (Jupiter in disguise)—an element crucial to the narrative. But Watteau has set the scene in a marshy pastureland, a setting like those in Dutch seventeenth-century landscapes. Indeed, Christian Michel has suggested that Watteau here depended on models such as the etchings of Johannes Visscher where the cattle strike interesting, varied postures—seen in profile, looking at the viewer, seen from behind. It may well be that Watteau borrowed his arrangement of cows from such Northern masters. Watteau similarly appropriated a grouping of peasants from another Dutch model for the peasant family he placed in the foreground of Veue de Vincennes.
For copies of L'Enlèvement d'Europe, CLICK HERE