Fêtes au dieu Pan (copy 1)
Entered May 2019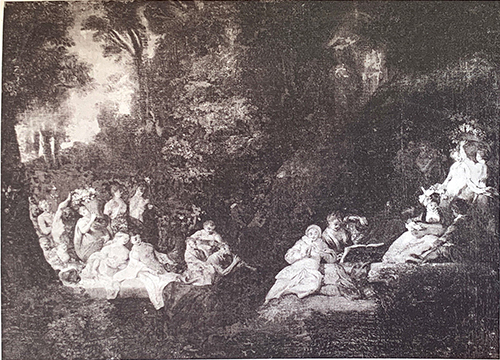 Stockholm, Hogskola
Oil on canvas
43.5 x 59 cm
ALTERNATIVE TITLES
Fest till Pans ära
PROVENANCE
Stockholm(?), collection of J. Jacobssons, cat. 25.

Stockholm, collection of J. A. Bergs
SELECT BIBLIOGRAPHY
Berg, Tafvelsamling (1880), cat. 79.

Dacier, Vuaflart, and Hérold, Jean de Jullienne et les graveurs de Watteau (1921-29), under cat. 226.

Réau, "Watteau" (1928), under cat. 18.

Adhémar, Watteau (1950), under cat. 10.

Macchia and Montagni, L'opera completa di Watteau (1968), under cat. 9.
REMARKS
This copy after Watteau's Fête au dieu Pan seems to have been copied from the painting and not the Aubert engraving.  As best as can be judged from an indistinct photograph, the composition has been reduced on all four sides, omitting some portions of the landscape and sky, and emphasizing the figural elements. The two nymphs at the far right, carrying baskets on their heads, are not present in Watteau's composition.
In the late nineteenth century, the painting was attributed to Jérôme François Chantereau (c. 1710-1757), one of Watteau's lesser-known satellites. However, the Stockholm painting has none of the stylistic characteristics of that charming artist.
For Fêtes au dieu Pan, CLICK HERE