La Fileuse (copy 1)
Entered April 2023 Whereabouts unknown
Medium unknown
Measurements unknown
PROVENANCE
Paris, collection of M. Vieux de Viller collection. He possibly is to be identified with Etienne August Baude, Seigneur de Vieuville et de Saint-Père, marquis de Chateauneuf. His sale, Paris, February 18, 1788, lot 218: "Quatre autres [Tableaux], dont une copie du Corrège; une Fileuse, d'après Watteau; un Tableau de M. de Machy, oval; un Paysage, marine & architecture, en travers." Sold in two lots, the first for 58 livres, the second for 40 livres, according to an annotated copy of the sale catalogue in the Frick Art Reference Library, New York.


           
REMARKS
Given the paucity of information about this copy of La Fileuse, little can be said about it.
La Fileuse (copy 2)
Entered April 2023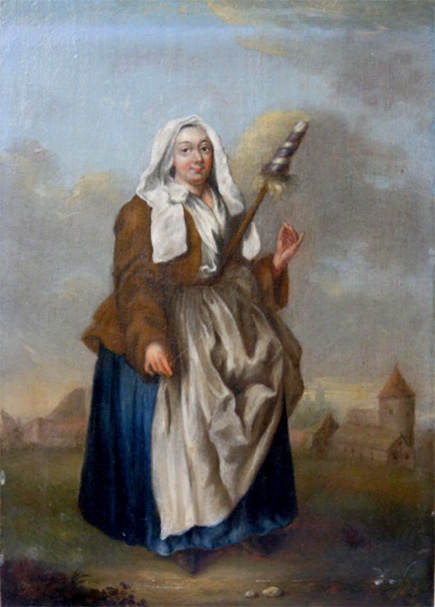 Whereabouts unknown
Oil on panel
25 x 18 cm
           
ALTERNATIVE TITLES
           
Landschap met spinster
PROVENANCE
Lochem, Netherlands, with S. Nystad or Nijstad (dealer). When this picture was with this dealer, he attributed it to Jan Anton Gaermihn (1712-1799), without reference to Watteau. This is noted on the reverse of an old photograph on file at the Rijksbureau voor Kunsthistorische Dokumentatie.

The Hague, sale, Peintures et dessins classiques, February 28, 2021, lot 272: "Naar Jean Antoine Watteau (19e eeuw). Landschap met spinster, olieverf op panel, 25x18 cm (met lijst 32x27 cm). Conditie: Geparketteerd. Naar Jean Antoine Watteau, verworpen toeschrjving Jan Anton Gaermijn (zie RKD nr 0351896). Herkomst: --Voorhen bij art dealer S. Nijsted, Lochem, alwaar gekocht door famile van de inszender. . . Est. 600-800 Eur."


           
REMARKS
This copy of La Fileuse is in the same direction as Watteau's original picture. Since that painting was still visible in the mid-nineteenth century, it is possible that this copy was based directly on Watteau's canvas. Whether it copies Watteau's color scheme is moot.