Frère Blaise, feuillant

Entered February 2023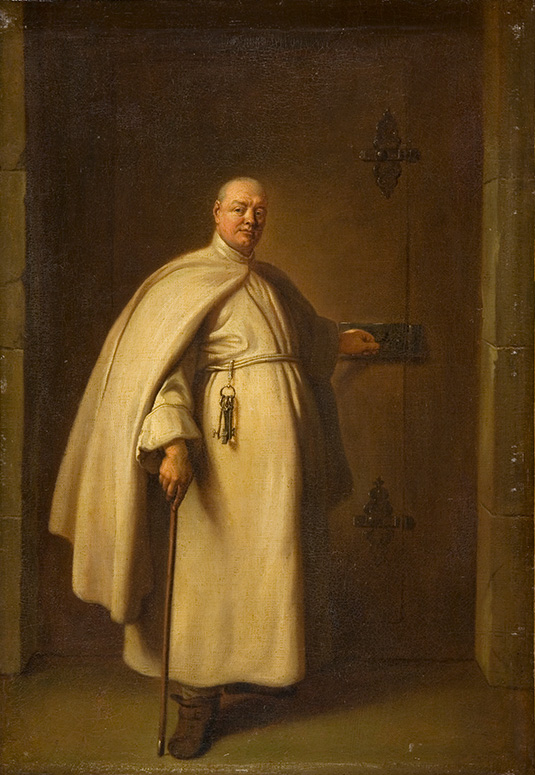 Muncie, Indiana, Ball State University Art Gallery.
Oil on canvas
53.9 × 36.7 cm
ALTERNATIVE TITLES
Frère Blaise, feuillan

Ritratto di un frate fogliante
RELATED PRINTS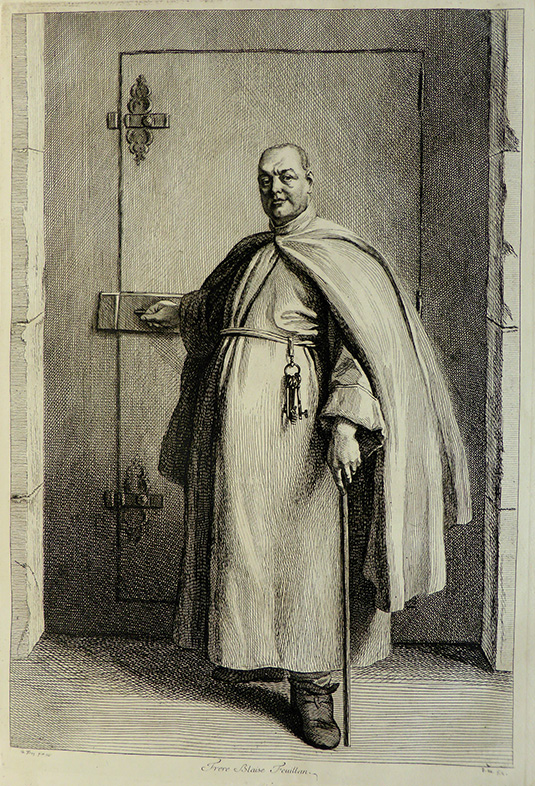 Apparently Bernard Audran engraved Watteau's copy after a portrait of Frère Blaise painted by François de Troy. At the left the caption reads, "de Troy pin." At the right it declares, "Au f. sc." and at the center is the title "Frère Blaise, feuillan." Exceptionally, Watteau's name is not present in the caption, but the print was included in Jean de Jullienne's Oeuvre gravé, generally as the last plate of the first volume.
PROVENANCE
Paris, collection of Colette de Beauvilliers, marquise de la Roche-Aymon (1749-1831). An inscription on the stretcher reads "Mme La Ctesse de la Roche-aymon / rue St Guillaume No 29." By descent to her son, the marquis de La Roche-Aymon.

Paris, collection of Antoine-Charles-Paul-Etienne de La Roche-Aymon, marquis de la Roche-Aymon (1772-1849; military officer and politician). Descended to the duc de Feltre.

Paris, collection of Charles-Marie-Michel de Goyon, duc de Feltre (1844-1930; diplomat and politician).

Paris and New York, with Wildenstein and Company, c. 1930.

Muncie, Indiana, collection of Edmund Arthur Ball (1894-1947; manufacturer), c. 1950; transferred to the Ball Brothers Foundation, Muncie, Indiana.

Muncie, Ball State University Museum of Art, gift of the Ball Brothers Foundation,1995.
EXHIBITIONS
London, Wildenstein, Watteau and His Contemporaries (1936), cat. 32 (as by Watteau, Frère Blaise, feuillant).

Muncie, Paintings from the E. Arthur Ball Estate (1951), 5.
SELECT BIBLIOGRAPHY
Le Blanc, Manuel de l'amateur d'estampes (1854), 1: 78.

Goncourt, Catalogue raisonné (1875), 27.

Dacier, Vuaflart, and Hérold, Jean de Jullienne et les graveurs (1921-29), 2: 56, 58, 59, 68, 69, 121, 122, 133; 3: cat. 117.

Réau, "Watteau" (1928), 9.

Roux, Fonds français (1930-77), 1: 234-35.

Blunt, "Watteau and His Contemporaries" (1936), 230.

Wildenstein, "Le Portrait de Frère Blaise" (1936), 149-55.

Barker, Watteau (1939), 181.

Adhémar, Watteau (1950), cat. 150.

Macchia and Montagni, L'opera completa di Watteau (1968), cat. 149.

Roland Michel, Watteau (1981), cat. 256.

Washington, Paris, Berlin, Watteau 1684-1721 (1984), under cat. 49.

Brême, "Le portrait de Frère Blaise" (1987), 85-91.

Huth and Joyaux, European and American Paintings (1994), 84-87.

Tillerot, "Engraving Watteau" (2011), 39.

Baetjer, French Paintings (2019), 71.
REMARKS
Watteau's portrait of the monk Frère Blaise (d. 1709) is a highly problematic work on many levels. Were it not for the Audran engraving, the Muncie painting might not have been attributed to Watteau. At the same time, the refined, painterly execution of the Muncie portrait sustains the attribution to Watteau.
The general belief is that Audran's engraving records a Watteau copy after a lost portrait of the monk painted by François de Troy (1645-1730). However, there are competing theories, encouraged by the fact that de Troy's picture has not survived and Watteau's name is not cited on the engraving. Does the engraving represent a Watteau drawing after a portrait painted by de Troy, or was this a de Troy painting after a Watteau drawing? Typical of the confusion, Barker and Roland Michel have discussed the Muncie picture as a painting by Watteau but wrote that the Audran engraving may have been based on a Watteau drawing. Although de Troy's painting is not extant, Audran's engraving specifies that there was a painting. Indeed, there is a record of it in the July 1,1754, sale of the Marin Delahaye collection; there it was measured at 18 x 14 pouces, that is, 45.7 x 35.6 cm. Although Audran's engraving does not indicate Watteau's medium, the evidence of the Muncie picture establishes that Watteau executed a painting, one almost the same size as the portrait by de Troy. Nowhere is there a reference to a drawing, neither by de Troy nor Watteau. The simplest and most direct explanation is that Audran's engraving was based on the Muncie painting, and that picture was based on a lost de Troy painting.
Frère Blaise (d. 1709) was a member of the Feuillant order whose home was on the rue Saint-Honoré. He retained the post of porter or doorman for forty years, which is why his keys are shown prominently and he holds the door handle. Over the course of his long career De Troy was in contact with other monks from the order of Feuillants, and drew and painted portraits of them. But we know nothing of an association between Watteau and de Troy or with these monks. We cannot explain why Watteau copied de Troy's portrait.