Galants propos
Entered January 2023

Whereabouts unknown
Materials unknown
Measurements unknown
RELATED PRINTS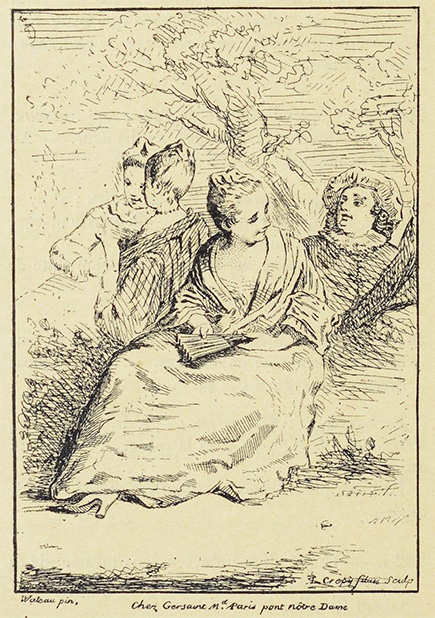 This engraving after Watteau's composition is special because it predates Jean de Jullienne's full-fledged Oeuvre gravé. The inscriptions at the bottom recognize that it is after a Watteau painting ("Wateau pinx.") and that it was engraved by Louis Crépy (Crepy filius Sculp.), but it does not include a title for the painting as would become customary in the Jullienne corpus. At the bottom, at the center, the text reads: "Chez Gersaint  Md A Paris pont nôtre Dame." Apparently the print was issued in a small run since few exemplars have come down to us. When Gersaint's first wife died in 1725, her estate included the engraving plate and 50 proofs.
SELECT BIBLIOGRAPHY
Goncourt, Catalogue raisonné (1875), 368.

Dacier, Vuaflart, and Hérold, Jean de Jullienne et les graveurs (1921-29), II: 79, III: 21, 124, 138, cat. 293 bis.

Réau, "Watteau" (1928), cat. 131.

Roux, Fonds français (1930-77), 5: 385-86, cat. 2.

Adhémar, Watteau (1950), cat. 199.

Macchia and Montagni, L'opera completa di Watteau (1968), under cat. 180.

Rosenberg and Prat, Watteau, Catalogue raisonné des dessins (1996), cat. G94.

Glorieux, À l'Enseigne de Gersaint (2002), 182, 185, 190.



RELATED DRAWINGS
As discussed below, Galants propos was based on figures that Watteau had already painted in Fêtes vénitiennes. The question that remains is whether Watteau created this new work by copying the existing painting or did he revert to his original drawings. The former seems more likely since he was preserving the unity of the ensemble, something that would not have been possible from his original drawings from the model.
REMARKS
A most notable aspect of Galants propos is that this Watteau composition has not been mentioned, much less discussed, by most Watteau scholars. Not only was it bypassed by early scholars such as Hédouin, Zimmerman, Mantz, and Fourcaud, but also by more recent critics such as Mathey, Brookner, Ferré, Posner, Roland Michel, and Temperini. Even though the seated woman with a fan in her lap, a prominent figure in this composition, was based on a now-lost drawing recorded in the Figures de différents caractères, this is not cited by Rosenberg and Prat. Indeed, were it not for the engraving after Galants propos by Louis Crépy, we might not even be aware of its existence. By itself, the engraving is rare and Goncourt only became aware of it belatedly, adding it to his Additions section. No name was attached to the composition when it was engraved, and Goncourt did not apply one either. Thus, if it appeared in eighteenth- or nineteenth-century sales, we might be unable to recognize it. The title Galant propos (Gallant Talk or Conversation) was not introduced until the 1920s, when it  was used by Dacier, Vuaflart, and Hérold, as well as by Réau.
Without the painting itself and without supporting documentation, it is difficult to reach firm conclusions about Galants propos but some surmises are possible. Crépy's engraving specifies "Wateau pin.," that is, it copies a painted composition by Watteau. This is significant and rules out the possibility that the engraved composition was based on a drawing. Almost all scholars who have considered Galants propos have labeled it an "étude" or "esquisse," with the implicit suggestion that it represents a preliminary stage for a more finished painting. Yet except for Dacier and Vuaflart, scholars have not proposed what painting the study might have been intended for. Dacier and Vuaflart rightly recognized that Crépy's scene corresponds to a group at the right side of Fêtes vénitiennes. A major difference between the two is that in Crépy's engraving the figures are set within a clump of trees and hastily indicated shrubbery, none of which is present in the Edinburg painting.