Le Lorgneur
Entered July 2020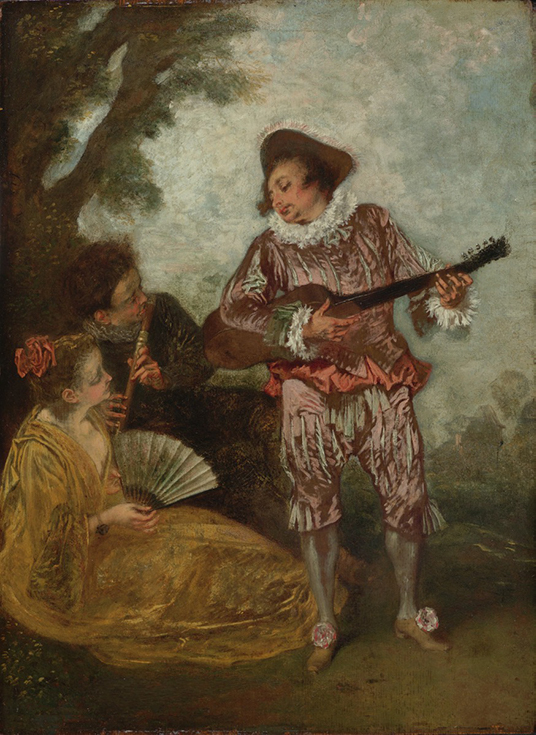 Richmond, Virginia, Virginia Museum of Fine Art, inv. no. 55.22
Oil on panel
32.4 × 24 cm
ALTERNATIVE TITLES    
The Gazer

The Ogler
RELATED PRINTS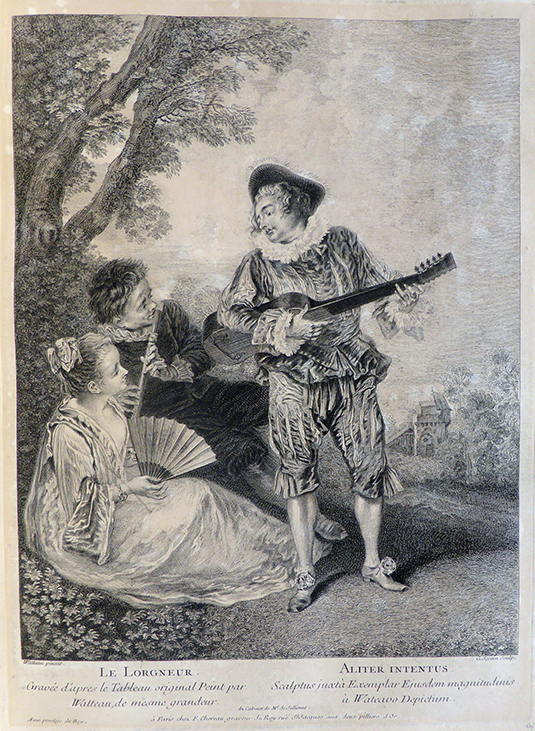 Le Lorgneur was engraved in the same direction as the painting by Gérard Jean-Baptiste Scotin. It was announced for sale in the December 1727 issue of the Mercure de France, p. 2677.
PROVENANCE
Paris, collection of Jean de Jullienne (1686-1766; director of a tapestry factory). Jullienne's ownership of the painting is noted on the engraving: "du Cabinet de Mr de Jullienne." The painting left Jullienne's collection prior to 1756 when the illustrated manuscript inventory of his collection was created; now in the Morgan Library & Museum, New York.

Paris, collection of Denis Pierre Jean Papillon de La Ferté (1727-1794; intendant des Menus-Plaisirs du Roi). His sale, February 20, 1797, lot 75: "ANT. WATTEAU . . . Deux tableaux, l'un composé de six figures, dont un Scapin vu jusqu'aux genoux debout  & jouant de la guittare; le fond offre un portique d'architecture & fond de paysage. L'autre offre un mézettin jouant de la guittare, tandis qu'un homme assis l'accompagne de la flûte; et sur le devant, une femme tenant son éventail. Ces deux bons tableaux sont de la couleur brilliante de ce maître.—Haut.r  10 po ½, larg.r  8 ½. B." Sold together for 268 francs to Jean-Baptiste Pierre Lebrun.

Paris, sale, December 12-13, 1831, lot 67: "WATTEAU (Antoine). . . . trois personnages dans un jardin: l'un d'eux joue de la guitare. Ce tableau est remarquable par la richesse et le brilliant des couleurs, ainsi que par la fermeté et la facilité de pinceau. Il est gravé."

Paris, collection of Monsieur de St. Denis; his sale, London, Phillips, March 23-24, 1842, lot 150: "WATTEAU. A Lady with a fan listens to a Cavalier, who is playing on the Guitar; engraved."

Collection of Monsieur Duval of Geneva. His sale, London, Phillips, May 12-13, 1846, lot 95: "WATTEAU. . . . The Lorgneur. A man, standing up, is playing on the guitar; another, sitting, is playing on the flute; and near them is a lady flirting her fan, and essaying the power of her eyes. From the Cabinet of Mons. de Julienne.  On panel: size 12½  by 9½ in."
A French-language edition of the sale catalogue was also published: "WATTEAU. . . . Tableau connu sous le nom du Lorgneur: un homme debout pince de la guitare: un autre assis joue de la flûte, près de lui on voit une dame agitant son éventail, lançant de tendres regards au galant guitarist. (Du cabinet de M. de JULLIENNE). Sur bois, haut. 52 cent., larg. 24 cent." Five different annotated copies of the sale catalogue at the Rijksbureau voor Kunsthistorische Dokumentatie list the sale price as £215.5, but the French-language examples vary from 5,393.75 to 3,380 francs. Some catalogues list the buyer of lot 95 as "Heritier" (heir) but the cover of one states that the whole collection was "Acheté par le duc de Morny" and, indeed, the painting did subsequently enter de Morny's collection. Duval's red wax seal was still on the verso of the panel in 1954.

Paris, collection of Charles Auguste Louis Joseph, duc de Morny (1811-1865). His sale, London,  June 20-21, 1848, lot 68: "WATTEAU (A.). Le Lorgneur. A man, standing up, is playing on a guitar; another, sitting, is playing on a flute; and near them is a lady flirting her fan, and essaying the power of her eyes. From the Cabinet of Mons. de Julienne. Panel, 12½ in. by 9½ in." Sold for £3,441.

Paris, sale, Phillips, May 24, 1852, lot 32: " WATTEAU (Antoine). Le Lorgneur. Deux musiciens: l'un debout avec sa guitare, l'autre assis et tenant une flûte, une jeune femme qui joue de l'eventail, en regardant l'homme à la guitare: tel est le sujet de cet gracieuse composition. (Du Cabinet de M. de Julienne). Bois." Sold for £2,150 to Niveneuse.

London, with Wertheimer, c. 1902.

Paris, collection of Ernest Cronier (1840 – 1905; sugar magnate). His sale, Paris, Galerie Georges Petit, December 4-5, 1905, lot 26: "WATTEAU (JEAN-ANTOINE) . . . Le Lorgneur. Tandis que l'un des personnages, vêtu de noir, joue de la flûte et que la jeune femme, sa compagne, vêtue de jaune et assise au pied d'un arbre, l'éoute avec une admiration recueillie, le joueur de luth, tout en faisant courir ses doigts sur les cordes, jette des regards pénétrants dans le corsage ouvert de la jeune femme. Il porte un costume de mezzetin rose à crevés blancs, et ne semble nullement attentive aux harmonies qui partent de son instrument, non plus qu'à la mélodie que souffle son compagnon. Cadre en bois sculpté, époque Louis XV. Panneau. Haut. 32 cent. ½; larg., 24 cent." Sold for 16,100 francs to A. Mame. An annotated copy of the catalogue (in Paris?) has the notation "attribué à" adjacent to Watteau's name.

Paris, collection of Arman Mame (1864-1926; publisher).

London, sale, Christies, June 26, 1925, lot 159: "A. WATTEAU . . . . TWO YOUNG GENTLEMEN, one holding a guitar, conversing with a lady, who is seated under some trees. On panel—12½ in. by 9 in." Sold for £ 714 to Smith
 
Paris, with Joseph (or Jean) Darmon. Sold to the Virginia Museum of Fine Arts, June 1955.
EXHIBITIONS
London, Guildhall (1898), cat. 58 lent by Wertheimer.

London, Guildhall, French and English Painters (1902), cat. 110 (Watteau, Le Lorgneur, lent by Wertheimer).

Richmond, Virginia Museum of Fine Arts, Les Fêtes Galantes (1956).

San Francisco, California Palace of the Legion of Honor, DeYoung Museum and San Francisco Museum, The Human Form in Art (1964).

Bordeaux, Galerie des beaux-arts, La Peinture française dans les collections americaines, (1966).

Richmond, Virginia Museum of Fine Arts, The Age of Elegance and Grandeur (1967).

Richmond, Virginia Museum of Fine Arts, John Singer Sargent: Portraits of the Wertheimer Family, Richmond, VA, (2000).
SELECT BIBLIOGRAPHY
Mariette, "Notes manuscrites," 9: fol. 192.

Hédouin, "Watteau" (1845), cat. 60.

Hédouin, Mosaïque (1856), cat. 61.

Goncourt, L'Art au XVIIIème siècle (1860), 57.

Goncourt, Catalogue raisonné (1875), cat. 146.

Phillips, "Imperial German Pavilion" (1901), 357.

"Asher Wertheimer's Exhibition" (April 1903), 301.

Fourcaud, "Scènes et figures théatrales" (1904), 197-98.

Zimmermann, Watteau (1912), pl. 123.

Dacier, Vuaflart, and Hérold, Jean de Jullienne et les graveurs (1921-29), 1: 183, 259, 2: 26, 61, 97, 121, 131, 142, 159, 3: cat. 14.

Réau, "Watteau" (1928), cat. 104.

Paris, Orangerie, Les Chefs-d'oeuvre (1946), under cat. 3.

Adhémar, Watteau (1950), cat. 171.

Mathey, Watteau, peintures réapparues (1959), 16, 19.

Macchia and Montagni, L'opera completa di Watteau (1968), cat. 115.

Roland Michel, Watteau (1981), cat. 147.

Roland Michel, Watteau (1984), 52, 266.

Posner, Watteau (1984), 154-55, 285 n. 66.

Rosenberg and Prat, Watteau, Catalogue raisonné des dessins (1996), cat. 455, 509, 536, 541, 544.

Eidelberg, Rêveries italiennes (2015), 98.
RELATED DRAWINGS
Remarkably, all three figures in this painting can be traced to Watteau's drawings, which is very rare.
The figure of the guitarist who dominates this composition was taken wholly from a drawing known only from an old, unsatisfactory photograph (Rosenberg and Prat 509). The page evidently was cut at both sides and originally the figure may have been accompanied by other studies, full or partial, of the musician.
The flutist was taken from a sheet of studies of a man, one of which is the flutist (Rosenberg and Prat 536). Watteau evidently liked this sketch and came back to it on another occasion, for the figure in the landscape painting, now in Grenoble, that he painted with Francisque Millet fils.
The woman seated on the ground, fanning herself (or flirting, as older texts emphasized), was based on a sheet with two studies of the woman with a fan, now in the Clark Art Institute (Rosenberg and Prat 544). Here again Watteau borrowed the image without change.
One of the hidden surprises in the Virginia Museum's painting was revealed in x-rays taken in the 1950s: originally Watteau painted a different woman seated on the ground, exactly under the woman who is there now. This figure, though seen only with difficulty in the x-ray, corresponds to a Watteau drawing in the British Museum (Rosenberg and Prat 541).
In short, all the elements in Le Lorgneur are traceable to the artist's preliminary studies. Such correspondences doubtless existed for all the figures in his paintings, though today there are relatively few painted figures with drawn counterparts, suggesting the extent of the corpus of his drawings that has not survived.
REMARKS
Certain problems arise in tracing the provenance of Le Lorgneur. At times the Virginia Museum has listed the picture as having been in the collection and sale of Madame de Jullienne, but there is no proof of this. More than likely, the museum was misled by the presence of another small Watteau painting in her sale showing a guitarist dressed as Mezzetin, lot 40. That picture is the Donneur du sérénade, now in the Musée Condé, Chantilly.
 
Likewise, Mariette cited Le Lorgneur as being in the collection of Charles Antoine Coypel (1694-1752), and this reference has been repeated by all subsequent scholars including Dacier, Vuaflart, and Hérold, Réau, Adhémar, and Lévy. Yet there is no listing of Le Lorgneur in the artist's will or in his sale of 1753. The  only potential candidate in the Coypel sale, often cited by modern scholars—a Joueur  de guittare (lot 80)—was identified as having been engraved by Audran and measuring 1 pied by 9 pouces. This description corresponds to the Mezzetin now in the Metropolitan Museum, New York, not to Le Lorgneur. This Mezzetin was undoubtedly the picture that Mariette was thinking of when he wrote that Le Lorgneur was in Coypel's collection. Both paintings are relatively small and both feature guitar players.
The more recent history of our picture is no less obscure. We do not know much about Mame's ownership of the painting, especially how long it remained with him. Likewise, we cannot be certain if it was the same version that then appeared at Christie's in 1925—a sale unmentioned in the Watteau literature. That painting sold for the high price of £714, indicating that there were some who believed the attribution to Watteau. The size of the Christie's picture accords with the painting now in Virginia.
At the turn into the twentieth century, it was wrongly believed that the version of the painting in the Rothschild collection in Paris (our copy 1) was the original. That painting was confiscated by the Germans in World War II, and when it was repatriated after World War II and exhibited at the Orangerie in 1946, together with other art stolen by the Nazis, it was celebrated as a work from Watteau's hand. Moreover, the provenance of the original version and the Rothschild version were merged. Things were not righted until the 1950s when the Virginia Museum's painting came to light and was published by Jean Lévy. Even though it was (and still is) overpainted in parts, it was still  recognizable as the original. Moreover, the discovery of pentimenti, especially of a different  woman painted beneath the woman in the lower left corner, helped demonstrate that the Virginia Museum's version is the original.
Adhémar dated the painting c. 1715-16; Macchia and Montagni as well as Roland Michel chose 1715; Whittingham preferred 1716. However, a still later dating was implied by Rosenberg and Prat's dating most of the preliminary drawings to 1717.
Most Watteau scholars have presumed that Le Lorgneur and La Lorgneuse were pendants. They were engraved as pendant images, their titles correspond, they are both on panel, and their measurements are almost identical: Le Lorgneur is 32.4 cm × 24 cm, while La Lorgneuse is 32.6 x 23.8 cm. Both compositions contain just a few figures, some of whom are instrumentalists. Not least of all,  both were in Jean de Jullienne's collection when they were engraved. As seemingly authoritative as these facts might seem, the paintings were not actual pendants, and this is demonstrated in their provenance. Throughout the eighteenth century La Lorgneuse, whose whereabouts are better documented, was coupled with L'Accord parfait, not with Le Lorgneur. Likewise, when we first  sight Le Lorgneur at the end of the eighteenth century, it was paired with Sous un habit de Mezzetin.  In short, although Le Lorgneur and La Lorgneuse were engraved as a pair and were given names to emphasize that idea, Watteau nevertheless conceived of them as separate, independent works.
Click here for copies of Le Lorgneur