La Lorgneuse (copy 1)
Entered July 2020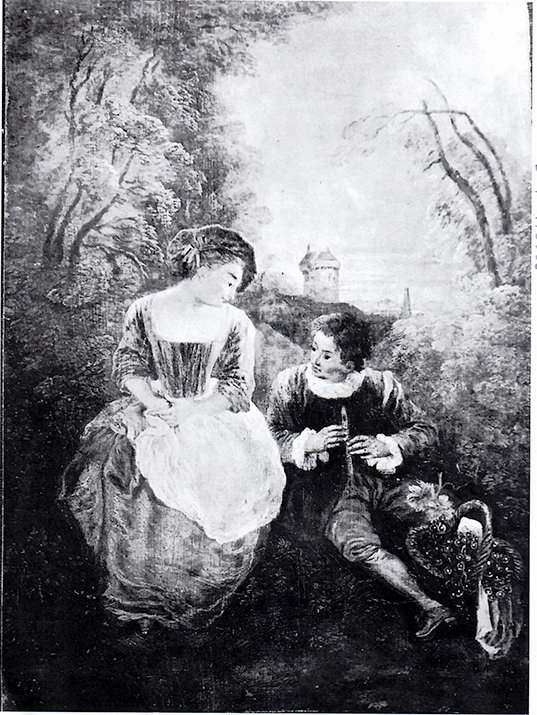 Whereabouts unknown
Oil on panel
 41 x 29 cm
ALTERNATIVE TITLES
Berger et bergère

La Leçon de flûte
PROVENANCE
Paris, collection of A. Febvre (art expert). His sale, Paris, Hôtel Drouot, April 17-20, 1882, lot 37: "WATTEAU (Attribué à Antoine) . . . Le Leçon de flûte. Un berger assis sur l'herbe, un panier de raisins entre les jambes, s'apprête à jouer de la flûte. Il adresse un propos galant à une jeune femme assise à côté de lui. Elle est coiffée d'un toque rose et porte un corsage de raies à couleurs, et un jupe rouge sur laquelle elle retrousse son tabilier. Bois. Haut., 40 cent.; larg. 28 cent." Paired with a copy after Le Lorgneur (lot 36), each sold for 230 francs to Brown.
REMARKS
Although the 1882 sale catalogue does not list the Watteau composition as La Lorgneuse, its identity is certain because it was sold with a copy of Le Lorgneur (lot 36)  and the description is quite specific. The measurements of the two pendants are slightly larger in each dimension than the original Watteau paintings.
The photograph comes from the Frick Art Reference Library, where it is filed under "Lancret." The photo was a gift from Durand-Ruel, but it is not evident whether the firm handled the work or just possessed the photo. The dimensions written on the back of the photo accord with those of the painting sold in 1882. As might have been expected, the photograph reveals that the painting was based on the Scotin engraving.
La Lorgneuse (copy 2)
Entered July 2020 Whereabouts unknown
Oil on canvas
51 x 40 cm
PROVENANCE
Bern, Switzerland, sale, Galerie Jürg Stuker, November 30 – December 9, 1972, lot 378 / 379: "Zwei Parkszenen im Stile Watteaus. Junge Dame, einem flötenspielenden Kavalier lauschend / Ein ländliches Paar im Gespräch mit einer sitzenden Dame mit Fächer und schwarzem Schal. Öl auf Leinwand. Je ca. 51 : 40 cm. Dekoratives Pendants. Zu restaurieren.  zus. 1500.—.
REMARKS
That the two paintings were described as "in the style of Watteau" strongly suggests that they were not of the first order.