Paysage enrichi de plusieurs fabriques
Entered December 2018; revised January 2020

Whereabouts unknown
Oil on canvas
97.2 x 75.6 cm or 113.4 x 81 cm
PROVENANCE
Paris, collection of Jean de Jullienne (1686-1766; director of a tapestry factory). His sale, Paris, March 30ff, 1767, lot 254: "Antoine Watteau . . . Un Paysage enrichi de plusieurs Fabriques: on remarque sur le premier plan à gauche un groupe de figures, de 6 pouces de proportion, composé de deux Paysannes assises, dont une tient un panier, un Berger debout appuyé sur son bâton; trois moutons & un bélier. Ce Tableau peint sur toile porte 3 pieds de haut, sur 2 pieds 4 pouces de large." According to the annotated copy of the sale catalogue in the Rijksbureau voor Kunsthistorische Documentatie, the painting sold to Mme. de Jullienne for 900 livres.

Paris, collection of Marie Louise de Brécey, Madame de Jullienne (1697-1778). Her sale, Paris, November 5ff, 1778, lot 39: "ANTOINE WATTEAU. . . Un grand Paysage. Hauteur 3 pieds 6 pouces, largeur 2 pieds 6 pouces."  According to an annotated copy of the sale catalogue in the the Rijksbureau voor Kunsthistorische Documentatie, the painting sold for 10 livres, 4 sols.
SELECT BIBLIOGRAPHY
Dacier, Vuaflart, and Hérold, Jean de Jullienne et les graveurs (1921-29), under cat. 3.

Réau, "Watteau" (1929), cat. 202.

Adhémar, Watteau (1950), cat., 69.

Macchia and Montagni, L'opera completa di Watteau (1968), cat. 78.
REMARKS
The 1767 description of this painting is remarkably precise. It was evidently a pastoral landscape showing two peasants seated, one with a basket, a standing shepherd with a shepherd's crook, three sheep, one goat, and a complex of buildings. While it would have been beneficial if its owner, Jean de Jullienne, had had it engraved in his Oeuvre gravé, still, it is easy to imagine its appearance. Equally important, Julienne's authority gives us confidence to believe in Watteau's authorship.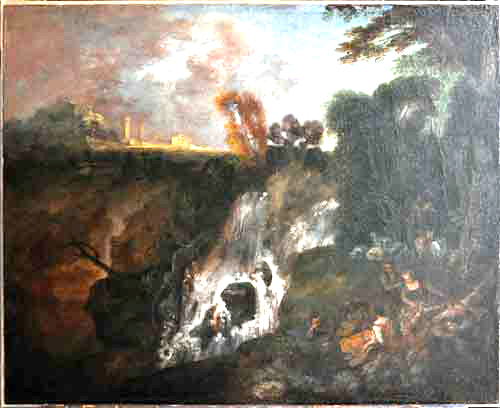 Although such landscapes and pastoral subjects are rare in Watteau's oeuvre, nonetheless, Jullienne's painting appears to have been closely analogous to La Chute d'eau. That painting also has several peasants (although not at the left), including a woman resting on a basket, a standing shepherd holding his crook, a complex of buildings, and some animals. However, La Chute d'eau has a different number of peasants, a different count of animals, and a prominent waterfall whose formidable presence would not have been overlooked in any description. Moreover, Paysage enrichi de plusieurs fabriques was vertical in format and essentially twice the size, especially if one accepts the slightly larger dimensions cited when it was sold from the collection of Jullienne's widow.
There is no trace of this painting after it was sold from the collection of Mme. de Jullienne. Was it destroyed during the French Revolution or did it lose its identity as an anonymous French or Dutch landscape? Although there have been attempts to identify this work with the painting depicted on the easel in Assis au près de toy, the double portrait of Watteau and Jullienne, that picture within a picture, generally known under the name Le Parc à la statue, bears no relation whatsoever to Jullienne's landscape.