Veuë de Vincennes
Entered March 2020

Presumed lost
Materials
Measurements
ALTERNATIVE TITLES
Vue de Vincennes

Vûë de Vincennes
RELATED PRINTS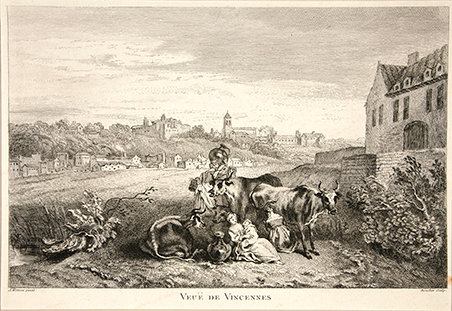 Watteau's landscape was engraved by François Boucher and was announced for sale in the December 1727 issue of the Mercure de France, p. 2677.
SELECT BIBLIOGRAPHY
Mariette, "Notes manuscrites," 9: fol. 192.

Hédouin, "Watteau" (1845), 50.

Hédouin, Mosaïque (1856), cat. 51.

Goncourt, L'Art au XVIIIème siècle (1860), 58.

Goncourt, Catalogue raisonné (1875), cat. 197.

Fossa, Le Château historique de Vincennes (1908), 1:316.

Dacier, Vuaflart, and Hérold, Jean de Jullienne et les graveurs (1921-29), I: 110; II: 26, 61, 83, 93, 122, 131, 135, 157; cat. 211.

Réau, "Watteau" (1928), cat. 199.

Adhémar, Watteau (1950), cat. 105.

Parker and Mathey, Watteau, son oeuvre dessiné (1957),

Macchia and Montagni, L'opera completa di Watteau (1968), cat. 122.

Roland Michel, Watteau (1981), cat. 111.

Roland Michel, Watteau (1984), 160, 304.

Washington, Paris, Berlin, Watteau 1684-1721 (1984)

Posner, Watteau (1984), 283 n. 68.

Plomp and Sonnabend, Watteau: der Zeichner (2016), 33.
REMARKS
Almost nothing is known about the painting's early whereabouts. Normally the Jullienne engraving offers some indication of the first owner, even if it is just Julienne, but in this instance the engraving passes over the question in silence. Nor has it been possible to identify the painting's passage in any eighteenth-century sale.
While Watteau is not known for painting landscapes, there are a few parallels. The closest in format and style are the two rustic scenes, L'Abreuvoir and Le Marais. Both depict farmland in the area just outside of the walls of Paris.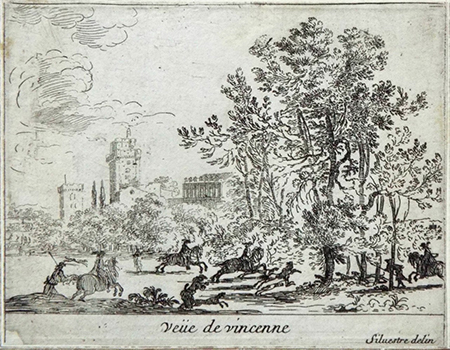 The topographical accuracy of Watteau's subject needs to be considered. Vincennes is normally identified with the great castle that stands there, and which is depicted in Israel Silvestre's etching; the castellated walls and towers dominate the flat terrain on which it is raised. However, Watteau's rendering focuses on a large barn, a distant town nestled in a valley, and churches high on the hills. Were it not for the caption on the Jullienne engraving, we would be hard put to identify the site. Some modern scholars have sought to identify the scene as the Bourg de la Pissotte, a small locality there, but have not aligned Watteau's rendering with any specific landmarks.
We are on much firmer ground in regard to the peasants and animals in the foreground of Watteau's composition. Michiel Plomp is to be credited with the important discovery that the entire group is taken from a print after Nicolaes Berchem. This is a rare type pf borrowing; Watteau rarely copied from prints, but turned instead to drawings and paintings by other artists. In adapting Berchem's design, Watteau kept the placement and posture of the figures but added a third woman, carrying a pitcher on her head and seen from behind. Whereas Berchem portrayed the mother suckling her child as a heavy set farm woman, Watteau showed her as younger and prettier.
The Veuë de Vincennes, like L'Abreuvoir and Le Marais, is a type of landscape that should be associated with a Netherlandish tradition. Weighted in the right foreground by the barn and group of woman and cattle, and balanced by the distant town at the left, its emphasis is on the expansiveness of the land and sky. It is the type of simple, straight forward landscape we might expect from the young artist.
Relatively few Watteau scholars have considered the painting. Roland Michel would date the painting c. 1712, Posner after 1712, Adhémar proposed 1712-15, while Macchia and Montagni pushed the chronology to 1715. Unfortunately, even though there is some agreement amongst these critics that the painting is relatively early, nothing binds their estimates to works which are securely dated.