X. Les Agréments de l'été
Entered May 2022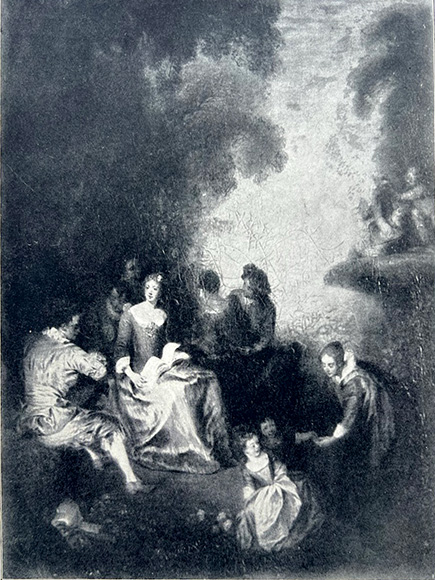 Whereabouts unknown
Oil on canvas
54.5 x 45 cm
ALTERNATIVE TITLES
Le Concert

A Musical Party
PROVENANCE
London, collection of Cromatie Sutherland-Leveson, 4th duke of Sutherland (1851-1913). His sale, London, Christie's, July 11, 1913, lot 37: "A. WATTEAU. . . . A MUSICAL PARTY / A garden scene, with a lady holding a book of music, while a gentleman, seated opposite her, plays a guitar; other figures by a fountain 21½ in. by 18 in." Sold for £567 to Nicholson according to annotated copies of the sale catalogue in the Frick Art Reference Library, New York.
SELECT BIBLIOGRAPHY
Lejeune, Guide théorique et pratique (1864-65), 214.

Goncourt, Catalogue raisonné (1875), 471.

Mourey, "La Collection du duc de Sutherland" (1913), 30.

Zimmerman, Watteau (1912), no. 153.

Ingersoll-Smouse, Pater (1928), cat. 71 bis.

Nemilova, French Painting Eighteenth Century (1986), 249.
REMARKS
Like so many fêtes galantes and scenes of bathing women in England that masqueraded under Watteau's name in the late eighteenth and nineteenth centuries, this picture also enjoyed its moment of glory and was recognized by Goncourt and Mourey as a work by the master. As we have almost no information about the painting's provenance, we cannot gauge how far back this misattribution went. If there is little documentation about the collection amassed by his ancestors such as the 2nd Duke of Stafford (later the 1st Duke of Sutherland), a good indication of the family's wealth is that Stafford House was then taxed as the most valuable private house in London.
Today it is apparent that the painting is by Pater, but this was not evident a century ago, especially since so many other Paters were also given to Watteau. These misattributions helped reinforce each other's claims. Thus the Hermitage's version of this same composition used the Sutherland painting to bolster its attribution, though both were executed by Pater.
To Zimmerman's credit, he questioned the attribution of the Sutherland painting to Watteau. At the very same time that Mourey was publishing it as the master's, Zimmerman astutely noted that the figures resembled more the work of Pater. The following year the painting was sold at auction under the traditional attribution to Watteau, but Christie's did not fully endorse it; indeed, they did not cite the artist's given name, their code for expressing doubt. It remained only for Ingersoll-Smouse to include the Sutherland painting in her 1928 catalogue of Pater's works. Since then, the question has not been raised again, and the picture itself has not been seen since the 1913 auction.