X. L'Amant repoussé
Entered April 2020 Whereabouts unknown
Medium unknown
Measurements unknown
RELATED PRINTS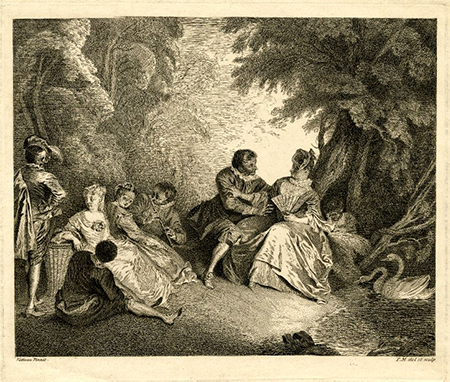 The composition was etched by Philippe Mercier in 1724, presumably in London. The caption states, "Vatteau Pinxit" at the left, and "P. M. del. & sculp." at the right.
ALTERNATIVE TITLES
L'innamorata respinto

Rejected Lover

Repulsed Lover
EXHIBITIONS
York, Philip Mercier (1969), cat. 9 (as by Mercier, L'Amant repoussé, lent by the Victoria and Albert Museum).
SELECT BIBLIOGRAPHY
Mariette, "Notes manuscrites," vol. 9, fol.192.

Goncourt, L'Art du XVIIIème siècle (1860), 57.

Goncourt, Catalogue raisonné (1875), cat. 101.

Fourcaud, "Scènes et figures théatrales" (1904), 353.

Dacier, Vuaflart, and Hérold, Jean de Jullienne et les graveurs (1921-29), cat. 3: 308.

Réau, "Watteau" (1928), cat. 134.

Rey, Quelques satellites (1931), 93.

Adhémar, Watteau (1950), cat. 219.

Macchia and Montagni, L'opera completa di Watteau (1968), cat. 111.

Ingamells and Raines, "Catalogue of Mercier" (1976-78)  

Roland Michel, Watteau (1981), cat. 159.

Washington, Paris, Berlin, Watteau, 1684-1721 (1984), under cat. 35.

Roland Michel, "Watteau and England" (1986), 53.

Rosenberg and Prat, Watteau, catalogue raisonné des dessins (1996), cat. 99, 271, 543, 560.

Brussels, Palais de beaux-arts, Watteau, Leçon de musique (2013), under cat. 90.



RELATED DRAWINGS
Although we do not believe that L'Amant repoussé is by Watteau, nonetheless, several figures in this composition ultimately derive from Watteau's drawings.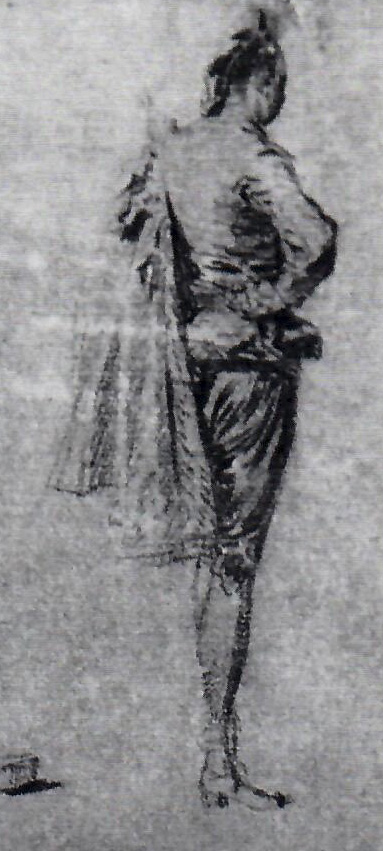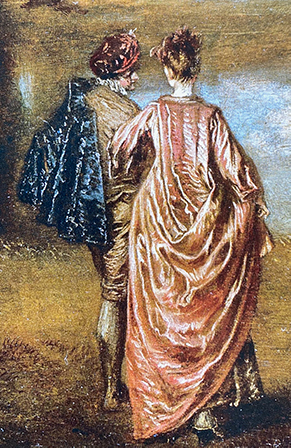 The man standing at the left side of L'Amant repoussé is closely related to a Watteau drawing in Valenciennes (Rosenberg and Prat 271). In his etching Mercier turned the head, however, so that the man awkwardly looks down at the figures in the foreground. Also, this figure resembles the man at the far left in Watteau's L'Assemblée dans un parc. The resemblance is manifest in the way the character seemingly balances on one leg, negligently drapes his cape over one shoulder, turns slightly downward look at his companion, and his right arm is bent at the elbow. Not least of all, in both Mercier's etching and Watteau's painting, this figure is posed to the far left, both terminating that side and guiding our eye back to the center of the composition. Intriguingly, as discussed below, the woman at the center of Mercier's etching is also analogous to another figure in Watteau's L'Assemblée dans un parc.
The man seated on the grass in the foreground can be traced to a drawing no longer extant but which was copied by an anonymous draftsman on a sheet of miscellaneous studies after Watteau. He appears at the top right corner of the sheet.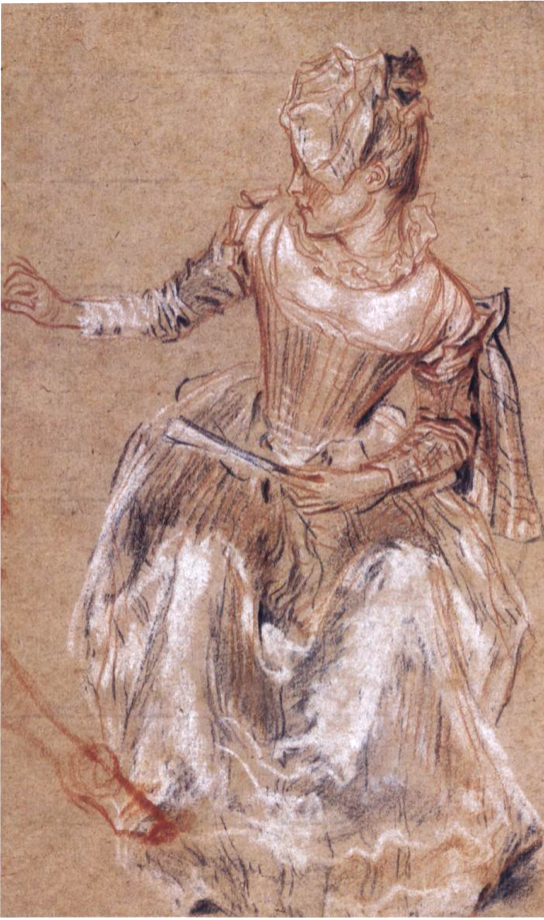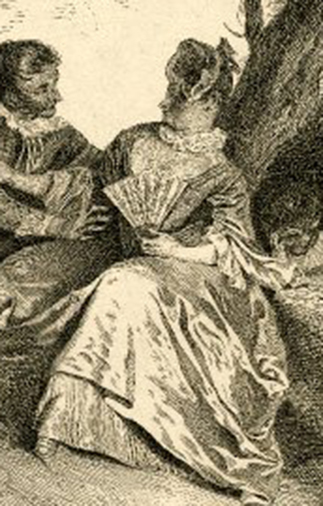 The protesting woman at the center of L'Amant repoussé is related to a drawing in an American private collection (Rosenberg and Prat 543) and a figure in Watteau's L'Assemblée dans un parc in the Louvre.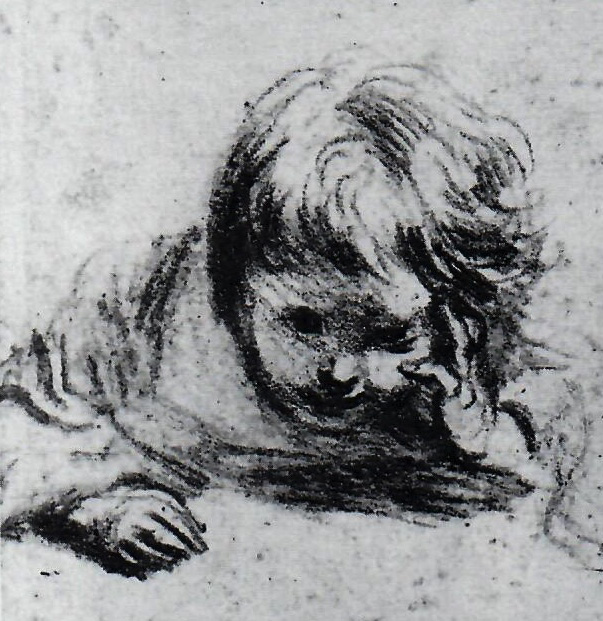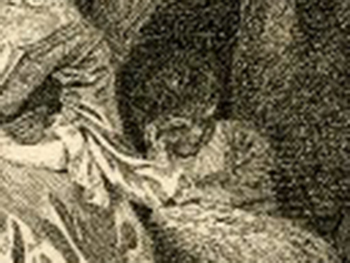 Although a minor motif, the young child seen beyond the central woman, half-hidden in the shadow, is based on a Watteau drawing—a study of three children in the Musée Bonnat in Bayonne (Rosenberg and Prat 560). One of them, resting its hand on its cheek, matches the child in Mercier's composition. But whereas Watteau's child looks directly forward, Mercier's child turns and looks to the side.
REMARKS
The fact that Mercier and not one of the members of Jullienne's team of artists made this etching of L'Amant repoussé is at the core of the problem. Whereas any declaration of "Watteau pinxit" would normally lead us to think that the engraving records a Watteau painting, in this instance it has the opposite effect. Mercier proves to have been something of a charlatan. Sometimes he reproduced paintings by Watteau but on other occasions he created compositions that merely evoke Watteau's work. These inventions by Mercier were ones that he evidently was trying to pass off as genuine works by Watteau.  The label "Watteau pinxit" on his prints after La Boudeuse and L'île de Cythère, are truthful whereas  the same inscriptions on L'Amant repoussé and Le Danseur aux castagnettes are falsehoods.
L'Amant repoussé has enjoyed a place in Watteau's oeuvre almost since it was created. In his "Notes manuscrites," Mariette accepted Mercier's claim and included the etching in his list of Watteau's works, adding that the print had been executed in 1724. This is just three years after Watteau's death and, in effect, a contemporaneous declaration. Edmond de Goncourt accepted the print without hesitation, as did Réau and Roland Michel. To their credit, Adhémar, followed by Macchia and Montagni, rightly doubted the attribution. In 1984 Grasselli acknowledged that L'Amant repoussé "is now generally excluded from Watteau's oeuvre." In my 2013 study of Mercier's relationship to Watteau I also denied that Watteau had a hand in creating this composition.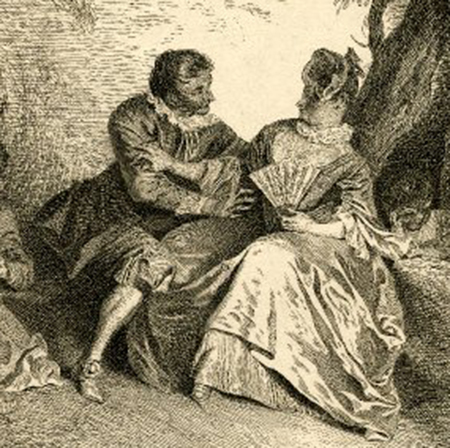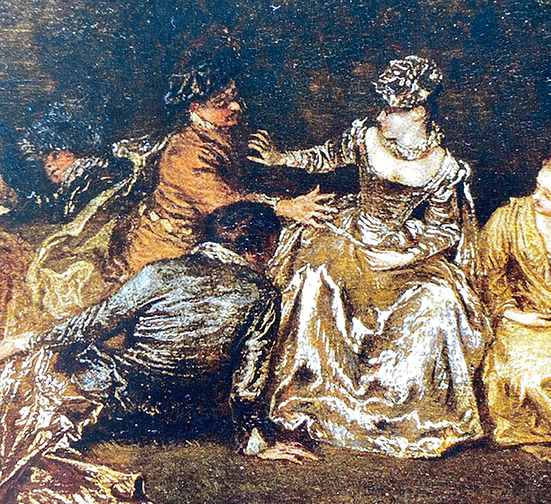 L'Amant repoussé is a pastiche composed by Mercier. As has been demonstrated above, some of the individual figures are traceable to Watteau's drawings, but it is also possible that some of the figures were borrowed in clusters from Watteau's paintings. Indeed, there is a strange disparity between the larger scale of the couple at the right, and the smaller scale of the five figures at the left—as though they came from different sources. In fact, in regard to the couple at the right, the overly aggressive man and the woman he grabs at, are analogous to but not identical with a couple in Watteau's Assemblée dans un parc.
Despite Mercier's attempt to pass this composition off as one by Watteau, L'Amant repoussé misses the mark. While Watteau's fêtes galantes do not depend on a specific narrative, here there is much physicality at the right but too little  emotional relationship between the other actors. The figures at the left side have vacuous expressions, as does the child who abstractedly looks off to the side. Also, the swans are atypical and intrusive elements for Watteau, but are similar to the anecdotal dogs and ducks in the foreground of Mercier's La Troupe italienne en vacances. Little in this composition recommends it. It simply records how Watteau's art was being transformed just three years after his death.
Click here for copies of L'Amante repoussé (copies)