X. L'Amour paisible
Entered July 2016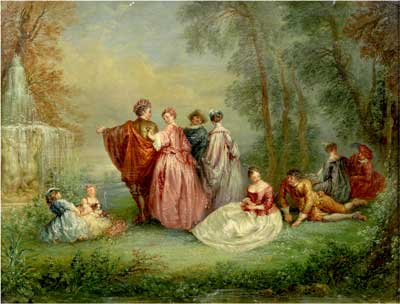 Whereabouts unknown
Oil on panel
38.8 x 49.6 cm
PROVENANCE
London, Bonhams, October 28, 2015, lot 131: "MANNER OF JEAN ANTOINE WATTEAU, 19TH CENTURY, L'Amour paisible / oil on panel / 36.8 x 49.6 cm (15 ¼ x 19 ½ in). £2,000 – 3,000 / €2,700 – 4,100 / The central and left-hand figures of the present composition are based on an engraving, which in turn is after a lost original by Watteau." Sold for £2,125.
REMARKS
This painting is more complex than just a copy after Bernard Baron's engraving after Watteau's L'Amour paisible. Rather, it is a clever pastiche which draws up two distinct sources—both reflecting Watteau's art. It utilizes the Baron print for the standing couple, the two children, and the fountain, but moves the children to the far left of the composition, under the fountain.
The remaining six figures in this pastiche are derived from the Henri Simon Thomassin engraving after Watteau's Entretiens amoureux. Only the figure of the standing man has been modified to fit the new composition: he now walks to the left, and tilts his head back at a different angle.