X. Amusements champêtres
Entered August 2017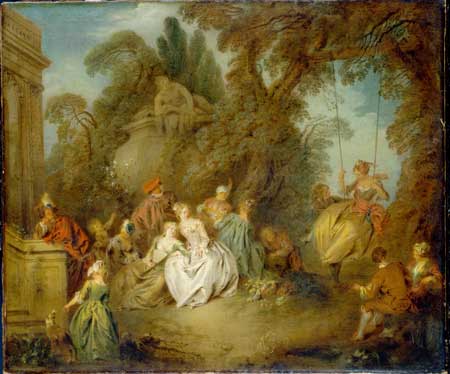 Frankfurt-am-Main, Städel Museum, inv. 1772
Oil on canvas
49.5 x 59.1 cm
ALTERNATIVE TITLES
La Balançoire

Ländliches Fest
RELATED PRINTS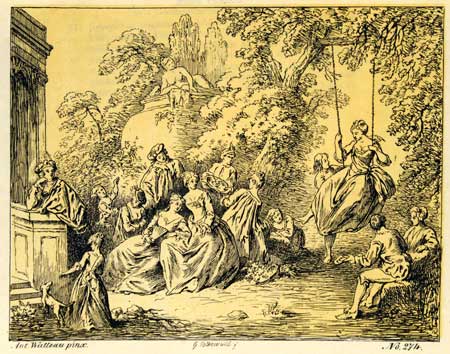 The painting was engraved in the same direction by Georg Osterwald (1803-1884) at the time of the Essingh sale in 1865.
PROVENANCE
Cologne, collection of Anton Josef Essingh (1787-1864; a person of means). His sale, Cologne, Heberle, September 18, 1865, lot 274: "Antoine  Watteau . . . Amusements champêtres d'une société de haut rang du temps de Louis XIV. Des groupes de jeunes dames en riches robes de soie, les cheveux ornés de fleurs, munies d'eventails etc. se trouvent, en de charmants attitudes, au milieu d'un paysage, accompagnés de leurs cavaliers. A droite, une jeune dame se fait balancer par un jeune homme; à côté d'eux il y a un autre couple assis, le seigneur jouant de la guitare. Dans l'arrière-fond des parterres et des statues de marbre; à gauche, appuyé à une colonne un cavalier qui regarde ce qui se passé.
    Oeuvre précieuse de cet illustre maître, et qui se distingue tant par la composition aisée et agreeable, que par la facture spirituelle. Le dessin ci-contre en est une reproduction. Sur toile. Haut. 49 c., larg. 58½ c. En cadre doré."

Frankfurt, collection of Wilhelm Carl von Rothschild (1828-1901) and Freifrau Mathilde von Rothschild (1832-1924); donated by the latter to the Städelsche Kunstinstitut in 1924.
EXHIBITIONS
Frankfurt, Liebieghaus, Gefährliche Liebschaften (2015) (as by Pater, Ländliches Fest).
SELECT BIBLIOGRAPHY
Frankfurt, Städelsches Kunstinstitut, Verzeichnis der Gemälde (1924), 154.

Ingersoll-Smouse, Pater (1928), cat. 280 bis.

Frankfurt, Städelsches Kunstinstitut, Verzeichnis der Gemälde (1966), 94.

Sander and Hollein, Alte Meister 1300-1800 (2011), 199.         
REMARKS
Although the painting passed under Watteau's name in the middle of the nineteenth century (and probably earlier), that merely points up how confused the conception of the master's art was. At some point when it was in the Rothschild collection, the picture was rightly recognized to be by Pater. That attribution was duly noted by Ingersoll-Smouse and, rightly, the attribution to Pater has remained unchallenged ever since.