X. Le Bain rustique
Entered June 2020; revised May 2021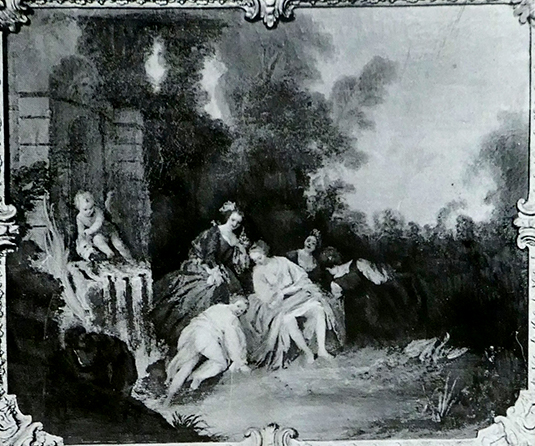 Brussels, Arenberg collection
Oil on canvas
46 x 56 cm
ALTERNATIVE TITLES
Le Bain en plein air

Le Bain froid

Seven Bathers Near a Fountain
PROVENANCE
Brussels, collection of Charles Marie Raymond, duc d'Arenberg (1721-1778); by descent in the Arenberg family collection.
RELATED PRINTS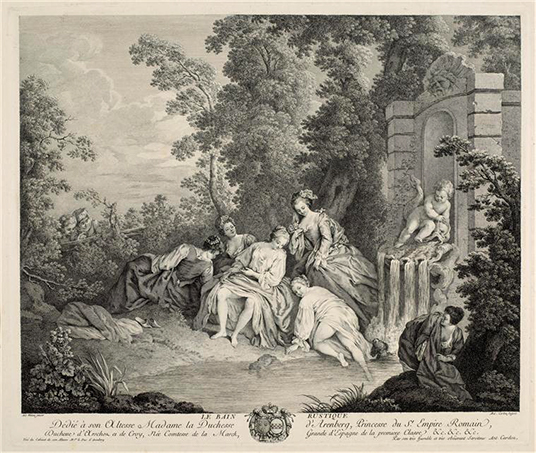 This painting was engraved by the Belgian artist Joseph Cardon (1739-1822). The engraving is dedicated to the duchess of Arenberg, born countess de la Marc [Marck]; this refers to Louise Marguerite d'Arenberg (1730-1820), born countess de la Marck, and who did not marry Charles Marie Raymond, count of Arenberg, until 1748. Moreover, since Cardon was only nine years old in 1748, the engraving must have been executed at least two decades still later, c.1770 or thereafter.
EXHIBITIONS
Berlin, Königliche Akademie, Exposition d'oeuvres de l'art français (1910), cat. 102 (as by Pater, Le Bain en plein air, collection of the duke of Arensberg).



SELECT BIBLIOGRAPHY
Thoré-Bürger, Catalogue de la galerie d'Arenberg" (1858-59), 532-33, cat. 110-11.

Thoré-Burger, "Exposition de tableaux" (1860) , 276.

Goncourt, Catalogue (1875), cat. 110.

Alfassa, "L'Exposition de l'art franaçais" (1910) .

Dacier, Vuaflart, and Hérold, Jean de Jullienne et les graveurs (1921-29),  cat. 319. 

Ingersoll-Smouse, Pater (1928), cat. 311.

Adhémar, Watteau (1950), cat. 243.

Montagni and Macchia, L'opera completa di Watteau (1968), cat. 2o-A.

Vogtherr, Französische Gemälde (2011), under cat. 44, A 10.
REMARKS
Thoré-Bürger accepted the painting as being by Watteau, undoubtedly misguided by both Cardon's engraving and probably a tradition within the Arenberg collection that this family's collection of Watteau paintings had come directly from the artist. Shortly thereafter de Goncourt dismissed the  validity of the engraving's claim and argued that everything about the painting—the composition, the draperies, the types of figures—argued for an attribution to Pater. Other critics, such as Alfassa, agreed. Dacier, Vuaflart, and Hérold were also among the nay-sayers and reported that most critics rejected the attribution to Watteau. Expectably, Ingersoll-Smouse listed the painting as a work of Pater. Indeed, for more than a century no scholar has claimed the painting for Watteau.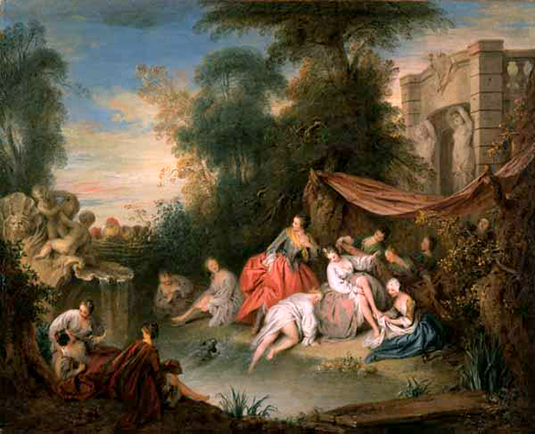 Pater was prone to repeat himself several times over. This is especially true of his scenes of bathing women. A very close repetition of this composition, especially for the figures but not for the architectural elements, was formerly in the collection of Frederick the Great and today is in the collection of the Toledo Museum of Art.
One is frequently impressed by aristocratic provenance and patronage, but not in this instance. Moreover, he Arenberg family was duped in other instances. When they bought La Signature du contrat de la noce de village they evidently believe they were buying a painting by Watteau, and Cardon engraved it under Watteau's name, but the picture they owned was actually executed by Bonaventure de Bar.