X. Le Concert
Entered December 2020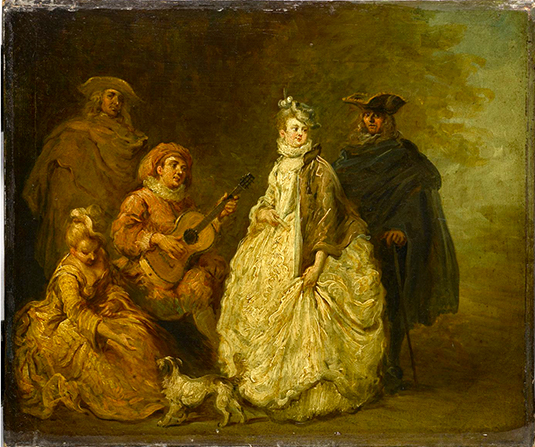 Heirs of Marguerite Stern
Oil on canvas
34 x 39 cm
ALTERNATIVE TITLES
Concert dans un parc
PROVENANCE
Paris, collection of Edgar-Salomon Stern (1854-1937; banker) and Marguerite-Louise-Delphine Fould Stern (1870-1956).

Seized by the German authorities in 1941.

Darmstadt, collection of Ewald Bäulke (dance master) until 1947. In World War II Bäulke had served in the Kriegsmarine, whose Paris headquarters were in the Sterns' house.

Paris, Musées nationaux Récuperation since 1947, inv. MNR 890. Returned to the heirs of Marguerite Stern in December 2020.
SELECT BIBLIOGRAPHY
"Sept oeuvres spoliées" (2020), 6.

Hakoun, "Spoliation nazie" (2020), https://www.connaissancedesarts.com/musees/musee-louvre/spoliation-nazie-7-oeuvres-dart-volees-a-paris-sous-loccupation-restituees-aux-ayants-droit-11149655/
REMARKS
We cannot be sure how this charming painting was attributed when it was in the Stern collection; quite possibly it was given to Watteau himself. Also, in the Stern collection was the reduced-in-scale version of L'Enseigne de Gersaint (our copy 1). After the war this small fête was classified as a copy after Watteau but, in fact, there is no such Watteau composition that it could be copying. Nor does it reflect any work by Pater, Lancret, or other known Watteau satellites. Instead, I believe that this work should be understood as a new invention by an otherwise unknown, independent master working in Paris toward the middle of the eighteenth century. It is to be hoped that with time other works by him will be uncovered.