X. Concert dans un parc
Entered June 2020; revised April 2021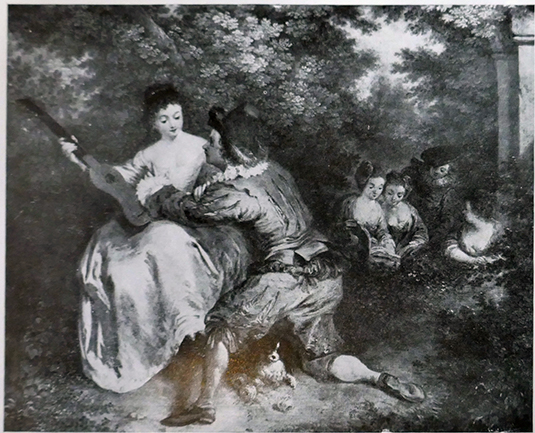 Whereabouts unknown
Oil on copper
23 x 28.5 cm
PROVENANCE
Paris, sale, Galerie Charpentier, collection of L. Lelong and others, lot 200: "WATTEAU (Suite d'Antoine) . . . Le Conteur. Un homme en habit rouge à crevés s'agenouille devant une jeune joueuse de guitare et lui déclare son amour. A droite, au fond, trois jeunes femmes et un jeune homme apparaissent dans un encadrement de feuillage.
     Métal. Haut. 0m 23; Larg. Cadre en bois sculpté. 0m 285.
     Composition inspirée par le tableau de Watteau intitulé «Le Conteur» et où les deux personnages ci-dessus ainsi que le chien se retrouvent en sens inverse. (cf. Hélène Adhémar, Watteau, Paris, 1950, No 168, pl. 96). Le groupe de droite se rapprocherait plus de Lancret."

Paris, sale, Tajan, March 26, 2003, lot 73: "ATTRIBUÉ Á BONAVENTURE DE BAR. SCÈNE GALANTE DANS UN  PARC. Cuivre. 23,5 x 29 cm   12 000/15 000 €." Sold for €18,050 ($19, 284).
SELECT BIBLIOGRAPHY
"Cours de tableaux anciens" (1960), 44.

Eidelberg, "De Bar" (2011-13): Part 2, cat. X20.
REMARKS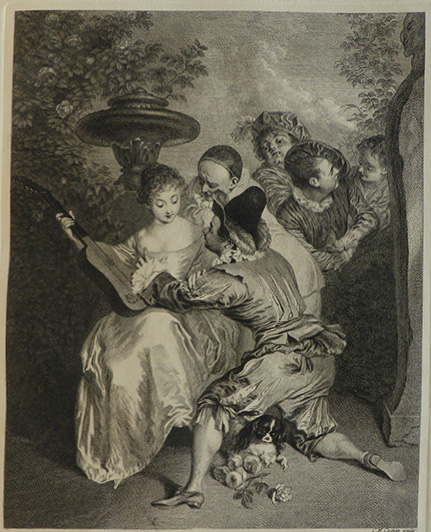 As has been noted in the past, this painting is based closely upon Watteau's Le Conteur, not the actual painting but, as the reversed direction shows, it is based on Charles Nicolas Cochin's engraving after Watteau's composition. However, many changes were introduced. While the artist kept the two principal figures and the dog, he omitted the four other figures. Moreover, the painter extended the painting into a horizontal format, and added four different and more subsidiary figures in the extra space. Although they have been described as Lancret-like, a specific source has proven elusive.