X. La Danse
Entered June 2020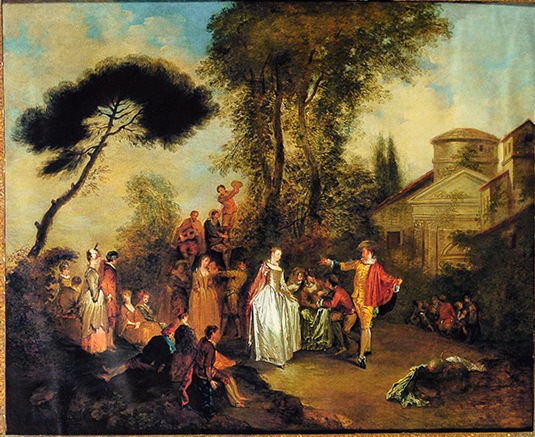 Whereabouts unknown
Oil on canvas
80.5 x 99.6 cm
ALTERNATIVE TITLES
Elegant Figures Merrymaking in a Wooded Landscape
PROVENANCE
Collection of James Edward Hamilton, 4th Duke of Abercorn (1904-1979).

London, sale, Christie's, February 6, 1976, from the Marquess of Hamilton,  lot 62: "Bonaventure de Bar . . .  ELEGANT FIGURES MERRYMAKING IN A WOODED LANDSCAPE, 31 x 38¼in. (79 x 97 cm.) Plate 9"  Sold for £1,200.

London, Sotheby's, sale, December 11, 1991, lot 73: "Circle of Jean Antoine Watteau / La Dance / Oil on canvas, in a carved and gilt wood frame / 80.5 by 99.6 cm.; 31¾ x 39¼ in. The central group takes, in reverse, figures from Watteau's Fêtes Venitiennes at Edinburgh, National Gallery of Scotland, whilst the damaged La mariée de village at Berlin, Gemäldegalerie, provides a source for the buildings in the background and, also in reverse of the original, the figures and tree to the left of our picture. Provenance: The Duke of Albercorn. £20,000-30,000"
EXHIBITIONS
Paris, Musée de la monnaie, Pèlerinage (1977), cat. 185 (École française du XVIIIe siècle, La Danse, lent by a private collection, London).
REMARKS
When the painting came up at auction in 1991, the cataloguers rightly pointed out that it was inspired by known Watteau paintings, but in reverse. Indeed, the picture is derived from several Watteau compositions but the pasticheur consistently turned to the Jullienne engravings after Watteau's paintings rather than the actual paintings.
Much of this picture is based on the Cochin engraving after Watteau's La Mariée de village, including most of the foreground figures the domed temple, and even the umbrella pine tree at the left.
The 1991 sale catalogue claimed that the central group of dancers was derived from the engraving after Watteau's Fêtes vénitiennes but in reverse. That is only partially true. The female dancer  is fairly close to her counterpart in Cars' engraving after Fêtes vénitiennes, and the couple behind her is also from that composition. But the male dancer is not from Fêtes vénitiennes, neither in his pose nor in his costume. Rather, he is an awkward adaptation of the Scotin  engraving after Watteau's L'Indifférent, with the head turned in profile view. Whereas Watteau's figure is delicately balanced, the pasticheur created a dancer whose head, arms, and feet are awkwardly at odds with each other.
The 1976 attribution to Bonaventure de Bar is without merit. Even the 1991 suggested attribution to the circle of Watteau seems too generous. First, the pasticheur's reliance on the Jullienne prints puts him at a chronological distance: the dates of the engravings show that the painting could not have been executed until the miod-1730s at the earliest. Second, and admittedly more subjective, the painting seems more like the work of a nineteenth-century artist and less a work of the eighteenth century. It would be instructive to trace the earlier history of the painting and learn when the painting entered the Hamilton family's collection; can the provenance be pushed back to even the early nineteenth century?
This picture has as a pendant another fête galante, a complex design that draws upon figures from several of Watteau's compositions.