X. La Danse
Entered October 2021; revised May 2022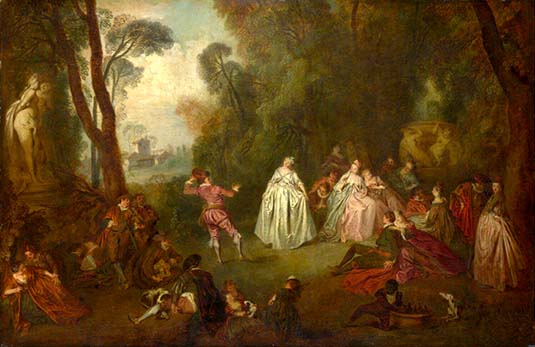 London, National Gallery, inv. 4079
Oil on canvas
75 x 145 cm
ALTERNATIVE TITLES
Fête champêtre

La Danse


Danse champêtre

Fête Galante with a Couple Dancing, Musicians and Onlookers
PROVENANCE
London, collection of John Webb (1799-1880; cabinet maker and dealer); by descent to his daughter, Mrs. Edith Cragg.

London, collection of Edith Cragg (d. 1925). Bequeathed in 1925 to the museum by Mrs. Cragg.
SELECT BIBLIOGRAPHY
Ingersoll-Smouse, Pater (1928), 55, under cat 234 bis

National Gallery, Illustrations, Continental School (1937), 396.

Davies, French School (1946), 95.

Adhémar, Watteau (1950), cat. 248.

Davies, National Gallery Catalogues, French (1957), 165, cat. 4079.
           
Ferré, Watteau (1972), cat. P 53.

National Gallery, Illustrated General Catalogue (1973), 548.

National Gallery, Complete Illustrated Catalogue (1995).

Gimpel, Journal d'un collectioneur (2011), 597.

Vogtherr, Französische Gemälde (2011), under cat. 16.

Wine, Eighteenth Century French Paintings (2018), 361-69.
REMARKS
This large, multi-figured composition apparently went under an ascription to Watteau or his school in the nineteenth century and the museum continued that tradition until World War II. However, in the early twentieth century, when our sense of Watteau's and Pater's oeuvres were clearer, the attribution slowly but rightly changed to Pater and his school. Ingersoll-Smouse correctly saw that the painting was a variation of several well-known Pater compositions but wrongly thought that this was a nineteenth-century imitation. In 1930 when René Gimpel saw this painting hanging in the National Gallery, it was still attributed to the "Ecole de Watteau" but in his diary he too asserted that it was by Pater, by the young artist when he was still with Watteau. Following the lead of Ingersoll-Smouse, but going in a quite different direction, Adhémar proposed that the London painting was by someone from the school of Watteau, perhaps Bonaventure de Bar. More sensibly, the National Gallery and Martin Davies came out in favor of an attribution to Pater and his school. Starting in 1947 the picture was officially classified as "Imitator of Pater." In the National Gallery's subsequent catalogues of 1973 and 1995 it was given to an "Imitator of Pater." In the most recent catalogue, Humphrey Wine's of 2018 it was restored to Pater himself. The laboratory examination and restoration of the painting has greatly improved its appearance, but it still suffers in comparison with Pater's best works.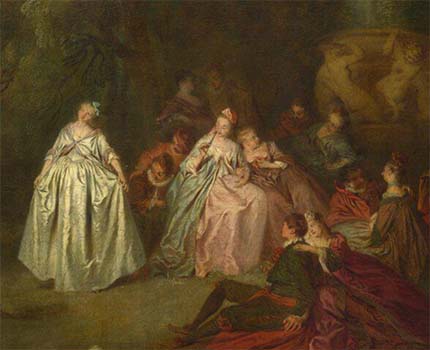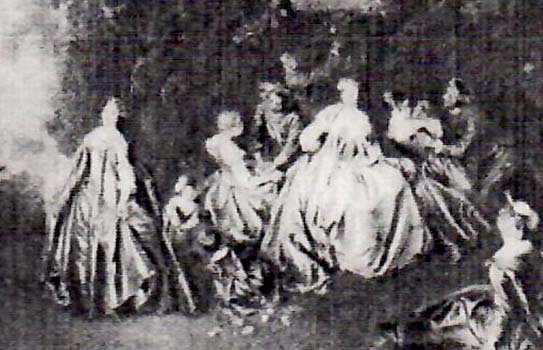 In his analysis of the painting, Davies focused on finding figures in Watteau's paintings that corresponded to ones in the London painting and though he adduced comparable ones, he did not find exact matches. Wine's analysis follows similar lines. This is a curious exercise since so many of the figures in Pater's paintings correspond in general ways to his master's work. The more telling question is whether the National Gallery's painting shares figures in common with established paintings by Pater. First, as Ingersoll-Smouse initially pointed out, there is the analogy between this composition and the Pater painting in the Lambert collection in Brussels, not only in the figures of the woman dancing but also in the seated woman and the recoiling woman behind her.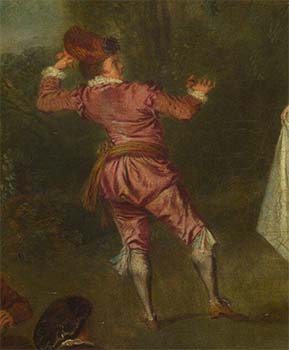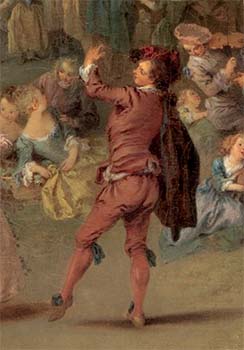 The featured male dancer in the London painting strikes a distinctive pose, more angular than graceful, that more closely conforms to Pater's configurations than to Watteau's.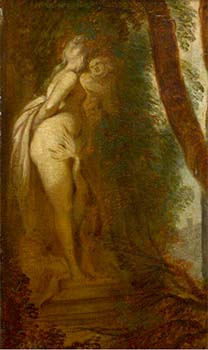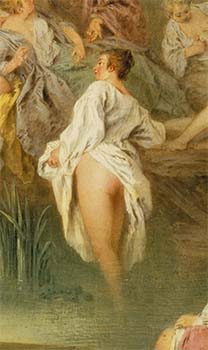 The sculpture at the left of the London painting is a telltale motif. This indecorous nude, seen from behind and with a burst of light on her buttocks, reminds us of Pater's predilection for such poses, as in his many scenes of bathing women.
It is remarkable that a century ago scholars were willing to ascribe the National Gallery painting to Watteau—an excellent example of how vague and inclusive the stylistic boundaries were. Moreover, the errors were self-reinforcing: the attribution of this painting to Watteau reinforced the misattribution of The Dance in the Hermitage to him, and vice-versa.