X. Blindekuhspiel
Entered July 2018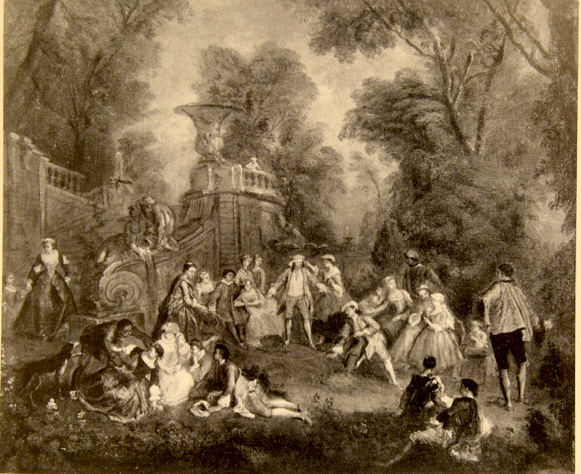 Whereabouts unknown
Oil on canvas
54 x 64½ cm
PROVENANCE
Munich, sale, Weinmüller Münchner Kunstausteigerungshaus, October 3, 1962, lot 1229: "Watteau-Nachahmer, um 1725 . . . Blindekuh. Unter hohen Parkbaümen, am Fusse einer mächitgen Freitreppe (l. im Bild) vergnügt sich ene Gesellschaft von jungen Herren und Damen. Vor der Blindekuh spielende Gruppe haben sich links und rechts zwei kleinere Gruppen gelagert. Ganz rechts steht ein junger Mann in rotseidenen Umhang, der dem Treiben zuschaut. Öl auf Lwd. H. 54, B. 64,5 cm. G. R. beschädigt. (3000.—) Abbildung Tafel 100".
SELECT BIBLIOGRAPHY
 Wildenstein, Lancret (1924), cat. 226.
REMARKS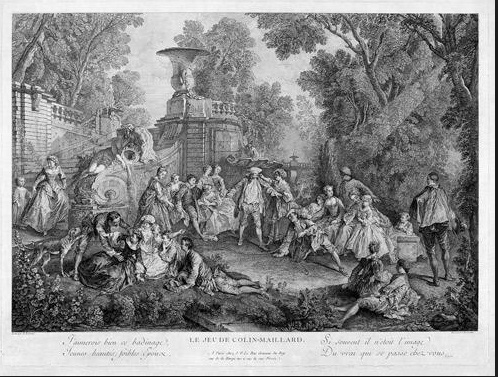 This picture is not related to Watteau but, rather, is a straightforward imitation of Le jeu du colin-maillard, Nicolas Lancret's celebrated composition now in Sans-Souci. Moreover, it copies not the original painting but, as the placement of the staircase at the left proves, it copies the engraving by Charles Nicolas Cochin.