X. Fête champêtre
Entered May 2020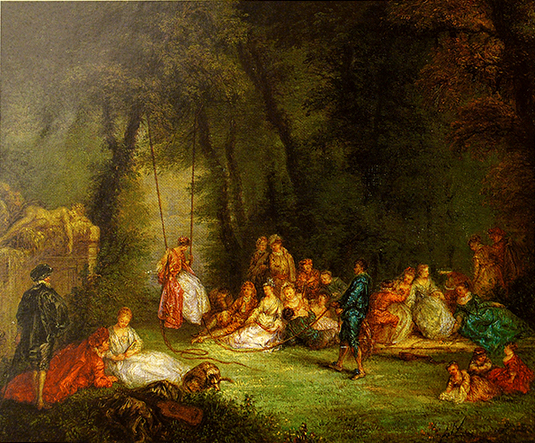 Whereabouts unknown
Oil on canvas, mounted on panel
37.5 x 48 cm
PROVENANCE
Vienna, sale, Dorotheum, June 7, 1994, lot 176: "Jean Antoine Watteau . . .  Nachahmer / Une fête Champêtre, Öl auf Leinwand auf Holz, 37,5 x 48 cm, ger., (Wo).   50,000 x 70,000"
REMARKS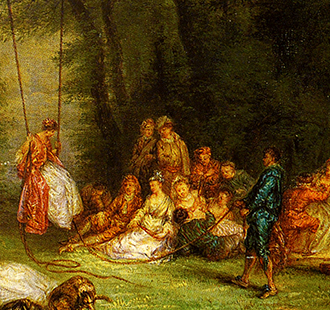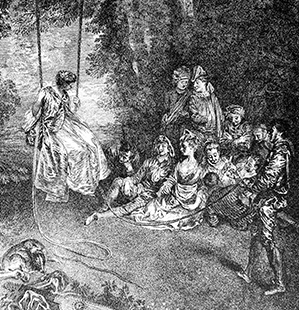 This ambitious fête galante is a pastiche that draws upon three principal sources, all prints from the Jullienne Oeuvre gravé. The central group of eleven figures in this pastiche is taken from François Joullain's engraving after Watteau's Les Agrémens de l'été. From the woman on the swing to the man who pulls the swing, and including all those between them, they all are derived from Watteau's composition. So too, the pasticheur emulated some aspects of Watteau's trees, including the clever idea of opening the dense foliage behind the woman on the swing, so as to create a halo of light around her.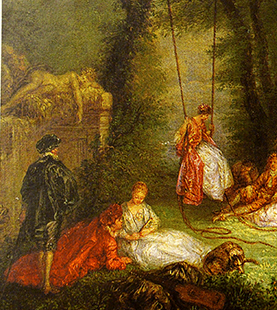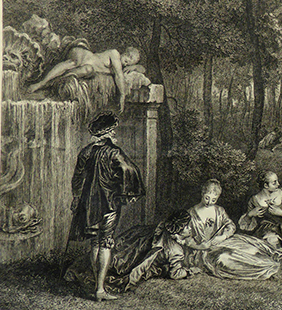 The three people at the left of the Dorotheum painting, as well as the fountain with a sleeping nymph, are taken directly from Watteau's Les Champs-Elysées, but in reverse.  The implication, of course, is that the pasticheur was copying the engraving by Tardieu.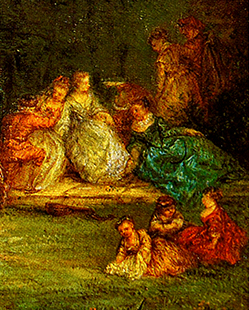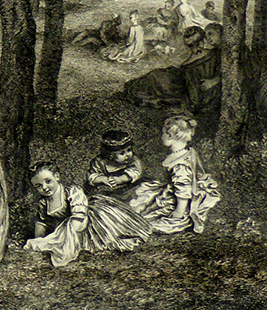 The remaining figures, all at the right side of the Dorotheum pastiche, were likewise based on engravings after Watteau. The primary source here was Le Bas' print after L'Assemblée galante. The kneeling man grasping his female companion's breast, the two women reclining on the ground, and the couple strolling away are all from LeBas's engraving, although the pasticheur has changed their order slightly.
The cluster of three children in the lower right corner of the Dorotheum painting are similar, but only in a general way, to the children appearing in the lower corner of Assemblée galante. Yet that was not the painter's source. Rather, he copied the children from the print after Les Champs-Elysées, the same engraving used for the left side of the painting. 
This eclectic picking and choosing from several of Watteau's compositions, and working solely from the engravings after the paintings typifies the work of certain pasticheurs. That they were able to organize these unrelated motifs into new, pleasant combinations testify to their skill. It would be informative to know where they were located (was it Paris?) and when they worked (was it close to Watteau's lifetime or were they active in the nineteenth century?).