X. Fête galante
Entered October 2021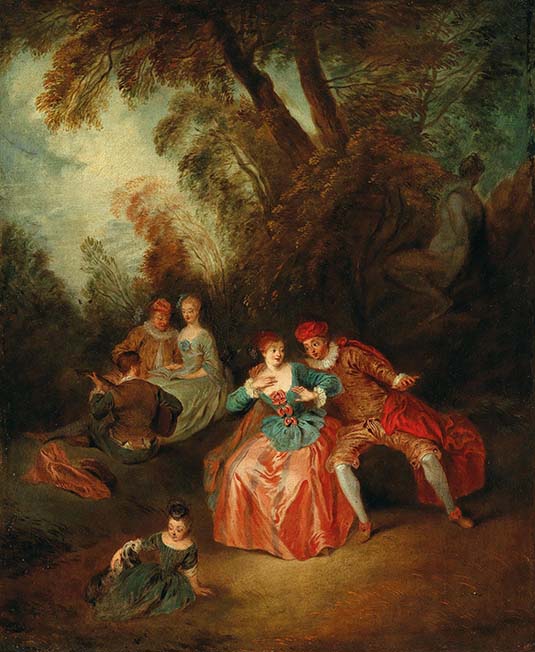 Whereabouts unknown
Oil on canvas
55.3 x 46 cm
ALTERNATIVE TITLES
Don Juan
PROVENANCE
London, Sotheby's, April 20, 1994, lot 123: "Follower of Jean-Baptiste Pater / FETE GALANTE / Oil on canvas, in a carved and gilt wood frame / 55.3 by 46 cm.: 21¾ by 18 in. / £3,000-4,000".

Switzerland, private collection.

Vienna, sale, Dorotheum, December 11, 2018, lot 354: "Circle of Jean Baptiste Pater . . . Fête Champêtre / oil on canvas / 55 x 46 cm. framed / €6,000-8,000 / Provenance / Private collection, Switzerland." Sold for €8,360.
SELECT BIBLIOGRAPHY
Ferré, Watteau (1972), cat. B 15.
REMARKS
Ferré classifies this painting as possibly by Watteau (his "B" category). Its format and composition correspond to Watteau paintings such as Voulez-vous trimpher des belles? where Harlaquin makes unwanted advances on his female companion and she recoils, her hand to her breast. Reduced in scale, a secondary group behind them consists of a guitarist seen from behind, a woman reading a part book, and as well a man looking down at the book. While the narrative is essentially the same in this anonymous fête galante, the rendering is naïve and far removed from Watteau. Even if a comparison is made with works by Pater, an artist to whom this painting has been attributed (and justly so), this painter still falls far short of the mark. Whether he worked with Pater or imitated him at a slight remove, this painter shows a definite and spirited personality.
Although the identity of this anonymous painter is unknown, he quite possibly was responsible for a pair of fêtes galantes that appeared at a Sotheby's auction held in Monaco, November 30, 1896, lot 529. At the time the two paintings were given to Michel Barthélemy Ollivier, but they are too schematic and  naïve—especially the grinning smiles and pinched facial features—to be ascribed to Ollivier. On the other hand, they have much in common with the painting catalogued here, so much so that I believe that they are by one artist. Ferré titled our fête galante "Don Juan" and while that is a distinctive but not necessarily fitting title for these paintings, I propose calling our anonymous artist "The Don Juan Master."