X. Fête galante with a Dancing Couple
Entered September 2021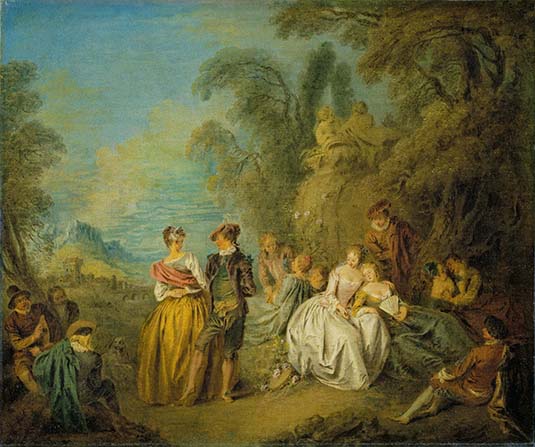 London, The Wallace Collection, inv. P 380
Oil on canvas
                                                   
53.5 x 64.4 cm
ALTERNATIVE TITLE
Watching the Dance
PROVENANCE
Shelton, collection of Charles Meigh (d. 1865; ceramic manufacturer). It was described in situ in the 1843 catalogue of Grove House, Shelton. His sale, London, Christie's, June 9, 1855, lot 61; bought by S. Caw for Richard Seymour Conway, 4th Marquess of Herford, for £ 65.3.

London, collection of Richard Seymour Conway, 4th Marquess of Herford.
SELECT BIBLIOGRAPHY
Grove House, Collection of Pictures (1843), cat. 60.

Ingersoll-Smouse, Pater (1929), cat 231.

Ferré, Watteau (1972), 3: cat. P52.

Ingamells, The Wallace Collection (1985), 285.

Duffy and Hedley, Wallace Collection's Pictures (2004), 315.
REMARKS
In style and theme, this painting is self-evidently by Pater. Yet in the nineteenth century it was thought to be by Watteau. The catalogue published in 1843 for the Meigh collection ascribed two paintings to Anthony Watteau: one which it listed as a "Pastoral Scene" and another described as a "Scene from the Decameron of Boccacio." Unfortunately no measurements were listed for any of the paintings, and although the title of "Pastoral Scene" seems better suited to this painting, one cannot be certain. The picture was still attributed to Watteau when it was sold with the Meigh collection in 1855 and it probably continued to be catalogued that way in its first years in the Wallace Collection. By 1900 the attribution had correctly been changed to Pater.
There are several closely related versions of this composition by Pater and his studio; one is in the Louvre, another was with the Rothschild family, and a third was sold in New York, Sotheby's, May 29, 2003, lot 61.