X. Figures by a Wooded Waterfall
Entered January 2019; revised Augusut 2020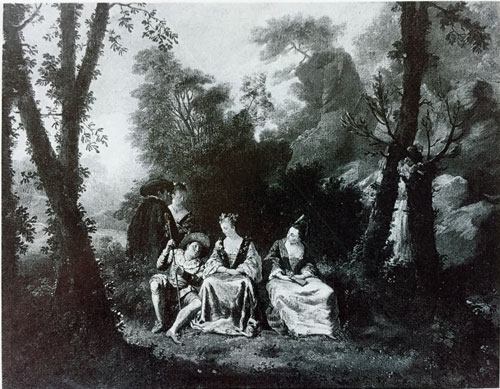 Whereabouts unknown
Oil on canvas
61 x 78.7 cm
PROVENANCE
London, sale, Christie's, May 7, 1926: C. W. E. Dietricy, A Fête Champêtre, Five Ladies and Gentlemen Conversing in a Glade, 25½ by 31½." Bought by Field Brothers.

Alabama, private collection.

New York, sale, Sotheby's, January 14, 1994, lot 167: "Property from an Alabama Estate . . . Manner of Jean Antoine Watteau  . . .  FIGURES BY A WOODED WATERFALL / oil on canvas / 24 by 31 in.  61 x 78.7 cm     $6,000-8,000." Sold for $4,600.
REMARKS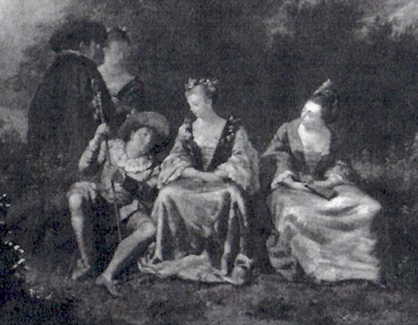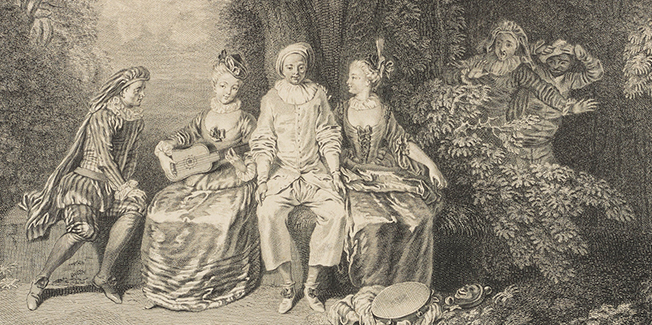 Although presented in 1926 under the name of Christian Wilhelm Ernst Dietricy (1712-1774), in all likelihood this fête galante had previously traveled under Watteau's. The painting has little to do with Dietricy, but it is closely dependent on Watteau's inventions, as was suggested when the painting came up at auction in 1994. The overall composition, with its centralized group of seated figures arranged across the picture plane is akin to certain early Watteau compositions such as Les Jaloux.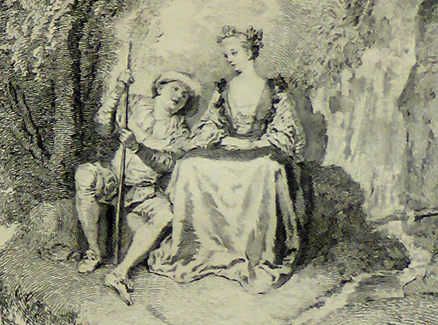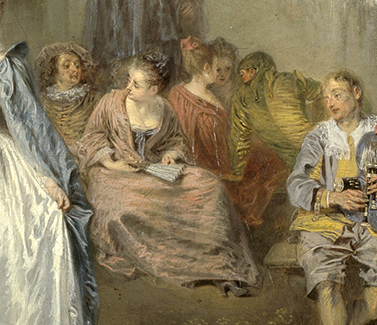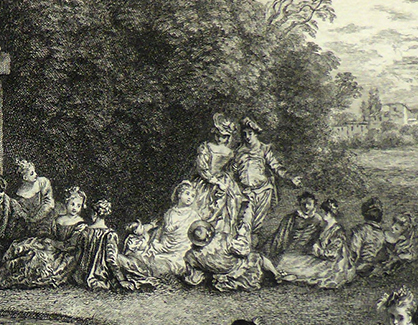 However, the specific sources for the figures is more complex. The seated man courting his companion is based on the central motif of a Watteau arabesque, Le Printemps, that originally was part of a series for the Hôtel Chauvelin. Our copyist's source would have been the engraving made after the original painting. The woman seated at the right comes from a very different model, namely a woman in Watteau's Fetes venitiennes. While the woman in this painting agrees in direction with Watteau's original painting, in all likelihood the copyist turned to the engraving in the Jullienne Oeuvre gravé. The standing couple at the left, stopping and momentarily looking back, is a common motif in Watteau's early paintings, and could have been inspired by any of the many examples, such as the figures in Le Bosquet de Bacchus.
The handsome landscape is not at all in the manner of Watteau.