X. Garden Scene
Entered September 2021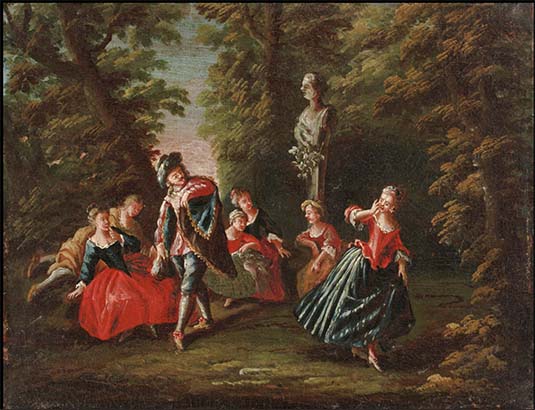 Worcester, Massachusetts, Art Museum, inv. 1907.87
oil on canvas
33.3 x 42.5 cm
ALTERNATIVE TITLES
            Le Jeu de cache-cache-mitoulas
PROVENANCE
Worcester, Massachusetts, collection of Stephen Salisbury III (1835-1905; businessman). Bequeathed to the museum
SELECT BIBLIOGRAPHY
Wildenstein, Lancret (1924), cat. 220.
REMARKS
Although classified today as "after Watteau," and probably attributed to Watteau himself in the nineteenth century, this picture has nothing to do with Watteau. Rather it is a poorly executed copy after a Lancret composition, Le Jeu de cache-cache-mitoulas. Interestingly, it was not derived from the Larmessin print after Lancret's painting but, as its direction indicates, it must have been copied from a painted copy, of which there are several examples. Another version of this same composition, also associated with Watteau's name, has been on the market.
While the Worcester museum considers their painting to be from the first half of the nineteenth century, it could as well be from the second half of that century.