X. A Man Playing a Hurdy-Gurdy
Entered March 2015; revised August 2018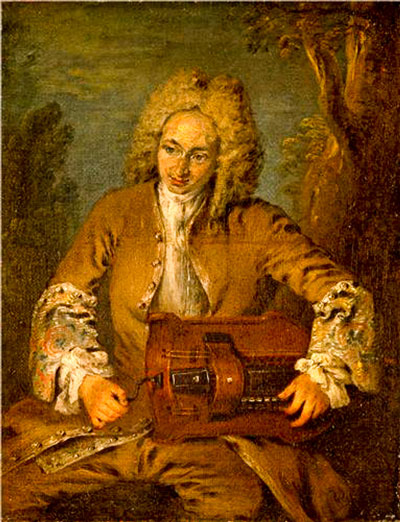 Birmingham, Birmingham University, Barber Institute, inv. 56.9
Oil on canvas
22.7 x 18 cm
ALTERNATIVE TITLES
A Gentleman with a German Organ

Man with a Hurdy-Gurdy

Portrait d'homme

Portrait d'homme, jouant de la vielle

Portrait of a Man Playing a Hurdy-Gurdy

Portrait of the Painter Playing a Hurdy-Gurdy

Portrait of Watteau
PROVENANCE
London, collection of William Kent (c. 1685-1748, architect and painter); his sale, London, February 13, 1749, lot 125: "WATTEAU . . . A Gentleman with a German Organ." Sold for £5.5.0

London, collection of John George Brabazon Ponsonby, Fifth Earl of Bessborough (1809-1880, politician); his sale, London, Christie's, July 10-11, 1850, lot 181: "WATTEAU . . . Portrait of the painter playing the hurdy-gurdy—small. Very elegant." Sold for £22.1.0 according to an annotated copy of the catalogue in the Rijksbureau voor Kunsthistorische Documentatie. It was bought by Frederick, Fourth Earl of Spencer.

Althorp, collection of the Earls of Spencer; sold in 1956 by Edward John, Eighth Earl of Spencer (1924-1992) for £12,500 via Agnew's to the Barber Institute.
EXHIBITIONS
London, Burlington Fine Arts Club, French Art (1913), cat. 7 (as by Watteau, Portrait Believed to be that of Watteau, lent by Earl Spencer).

London, Burlington Fine Arts Club, A Collection of Pictures and Drawings (1913), cat. 18 (as by Watteau, Supposed Portrait of Watteau, lent by Earl Spencer).

London, Royal Academy, French Art (1932), cat. 202 (as by Watteau, Portrait d'homme jouant de la vielle, lent by Earl Spencer).

Manchester, French Art Exhibition (1932), cat. 104 (as by Watteau, A Man Playing a Hurdy-Gurdy, lent by Earl Spencer).

Birmingham, Birmingham Museum, Art Treasures of the Midlands (1934), cat. 128 (as by Watteau, A Man Playing a Hurdy-Gurdy, lent by the Earl Spencer).

Paris, Palais national, Chefs-d'oeuvres (1937), cat. 232 (as by Watteau, Portrait d'homme, jouant de la vielle, lent by Earl Spencer).

London, Agnew's, The Althorp Collection (1947), cat. 30 (as by Watteau, A Man with a Hurdy-Gurdy, lent by Earl Spencer).

London, Royal Academy, European Masters of the Eighteenth Century (1954), cat. 239 (as by Watteau, Portrait of a Man Playing a Hurdy-Gurdy, lent by the Earl Spencer).

London, Royal Academy, France in the XVIIIth Century (1968), cat. 726 (as by Watteau, Portrait of a Man Playing a Hurdy Gurdy, lent by the Barber Institute of Fine Arts, Birmingham University).
SELECT BIBLIOGRAPHY
Zimmerman, Watteau (1912), no. 32.

Réau, "Watteau" (1928), cat. 191.

Adhémar, Watteau (1950), cat. 229.

Barber Institute, Some of the Pictures, (1964?), 38-39.

Macchia and Montagni, L'opera completa di Watteau (1968), cat. 8o-G.

Ferré, Watteau (1972), cat. X2.

Raines, "Watteaus and 'Watteaus'" (1977), no. 38.

Leppert, Arcadia at Versailles (1978), 78.

Spencer-Longhurst, Barber Institute, Handbook (1993), 71.
REMARKS
In 1912, when Zimmerman denied seeing "Watteaus Züge" in this painting, he was referring not to Watteau's stylistic features but his facial features, since this was supposed to a self-portrait. Adhemar's misunderstood this passage and, as a result, she claimed that Zimerman had been the first to deny Watteau's authorship of this painting. Her mistake has been repeated by modern critics such as Macchia and Montagni, as well as Raines.
As it happens, Adhémar was the first scholar to propose that the painting was by Lancret. The attribution to Watteau nonetheless stood for several decades more. The picture was still given to Watteau in the Royal Academy's 1954 exhibition and the 1964 catalogue. But then the critical climate changed. Raines listed it equivocally in 1971 as "Watteau or Lancret." Similarly, in his 1993 handbook of the Barber Institute's collection, Spencer-Longhurst listed the painting as "ascribed to Watteau" but, almost as an afterthought, noted that the painting might have been executed by Lancret. Georges Wildenstein would have known at least an image of this composition by the 1920s when he compiled his catalogue raisonné of Lancret's oeuvre, but he did not cite it. More recently, in 2012, Christoph Vogtherr suggested that this portrait was executed not by Lancret but by Pater. This seems more on target. Whereas Lancret's heads are more expressive, the face here seems bland and in accord with Pater's work. Also, the way in which the drapery is somewhat monochromatic, with the shadows of the folds rendered almost as applied stripes on the surface is typical of Pater's shorthand system.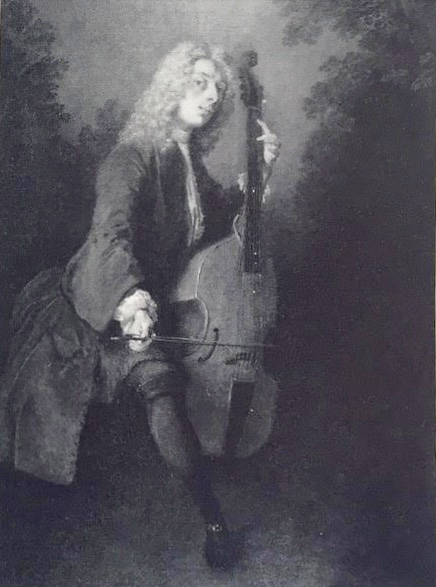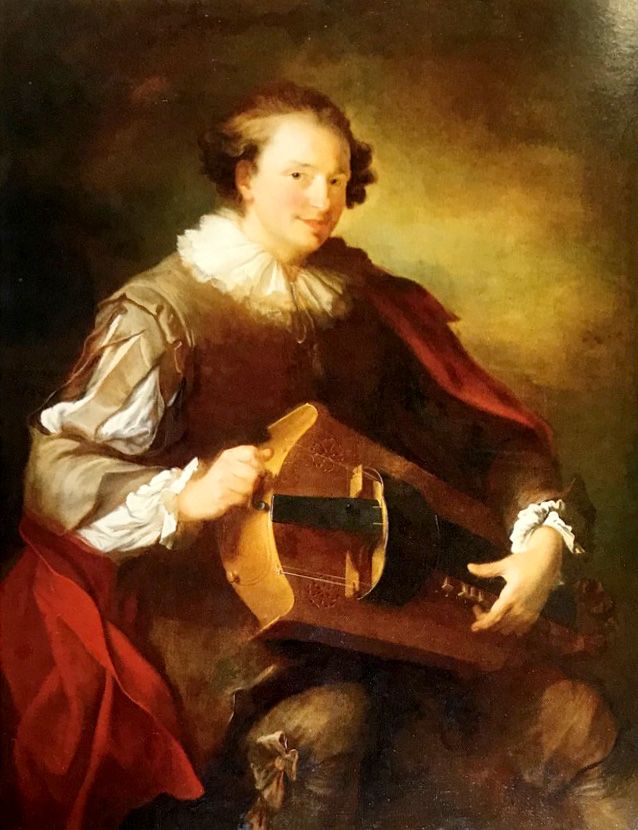 When the painting was thought to be by Watteau, it was believed that it was the artist's self-portrait. This notion, as we have seen, was challenged by Zimmerman, who instead proposed that it was a portrait of one of the artist's friends. Since 1950 and the changed attribution to Lancret, the identity of the sitter has been left open. While the rendering of the head does not seem especially portraitistic, other presumed Lancret portraits such as his A Man with a Cello have equally bland facial features. Moreover, the innovative, informal mode of eighteenth-century portraits showing ladies and gentlemen at leisure, encouraged the theme of sitters playing music. This can be seen in Grimou's portrait of a man playing a hurdy-gurdy. On the other hand, this picture may have been just a fancy subject, like other eighteenth-century genre scenes showing single figures of male and female instrumentalists. The 1749 reference to the picture, the earliest known citation of the painting, describes it simply as A Gentleman Playing a German Organ. In short, the subject matter of this picture remains moot.. 
In trying to trace the early provenance of this portrait, Denys Sutton suggested that it might be identified with a picture sold from the collection of William Hubert on May 2, 1742, lot 62, listed as "A man playing a guitar by Watteau." This idea has been repeated by most modern scholars. While this is a tempting idea, the description of the musical instrument is troubling. Other supposed Watteau compositions showing a man with a guitar were sold in England a century later: one on June 18-20, 1827, and another on June 23, 1837. The painting sold in 1827 was even identified as a self-portrait by Watteau, the same claim that was later made for the Earl of Bessborough's painting. This claim makes it even more tempting to identify the pictures in the London sales with the one now in Birmingham. But all three of these featured a man with a guitar, not a hurdy-gurdy, and that, for the present, is too insurmountable an obstacle.