X. The Island of Cytherea
Entered June 2020

Whereabouts unknown
Oil on canvas (presumed)
Measurements unknown
ALTERNATIVE TITLES
Bain de femmes

The Bath

L'Île de Cythère

Les Plaisirs de l'été
PROVENANCE
London, collection of R. Dimsdale, c. 1787.
RELATED PRINTS
Victor Marie Picot "after Watteau," The Island of Cytherea,1787, engraving .

This composition was engraved in reverse in London in 1787 by Victor Marie Picot (1744-1805). The caption reads: "Watteau pinxit," "The Island of Cytherea," and the notice, "Collection of R. Dimsdale, Esq."
PROVENANCE
London, collection of R. Dimsdale, c. 1787.
SELECT BIBLIOGRAPHY
Goncourt, Watteau (1875), cat. 141.

Josz, Watteau (1903), 428.

Dacier, Vuaflart, and Hérold,  Jean de Jullienne et les graveurs (1921-29), cat. 332.

Ingersoll-Smouse, Pater (1928), cat. 315.

Adhémar, Watteau (1950), cat. 242.

Macchia and Montagn, L'opera completa di Watteau (1968), cat. 2o-O.

Ferré, Watteau (1972), cat. P.98.

Paris, Musée de la monnaie, Pèlerinage (1977), cat. 163.
REMARKS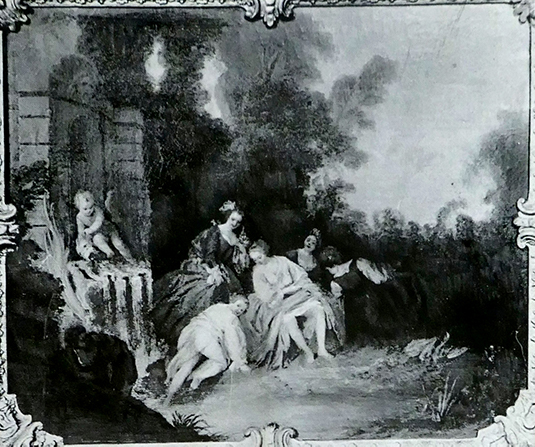 In the 1780s, when this painting was engraved, it was accepted as a work of Watteau. While this may seem strange today, at the time it probably seemed reasonable—especially when one considers other paintings wrongly attributed to Watteau at that time, such as Le Bain rustique. The misattribution still was not evident to Edmond de Goncourt one hundred and fifty years ago. Likewise, Josz not only wrongly believed that Island of Cytherea was by Watteau, he compounded the error by suggesting that it might have painted when Watteau was in London in 1719-20, and that this is how it came to be in London when Picot engraved it. Almost all twentieth-century scholars have rightly excluded the composition from Watteau's oeuvre.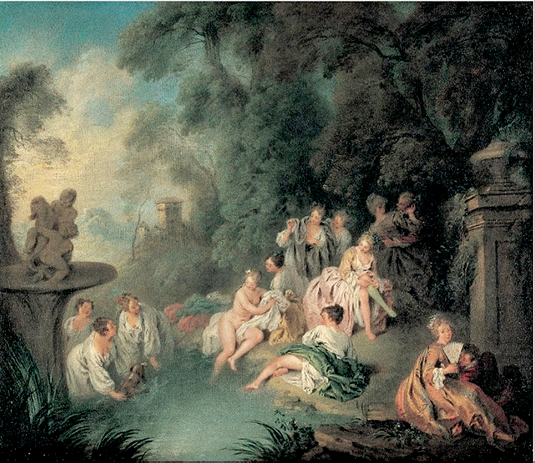 Pater and his studio produced a great many paintings of women bathers, many of which have figures, even groups of figures, in common with The Island of Cytherea. One of the closest analogies is a painting that was in the collection of Rodolphe Kann in the first years of the twentieth century, and is now in Tokyo. The major difference between the two paintings is that the Tokyo version also includes a fountain at the far left side.