X. Masquerade au clair de flambeaux
Entered May 2015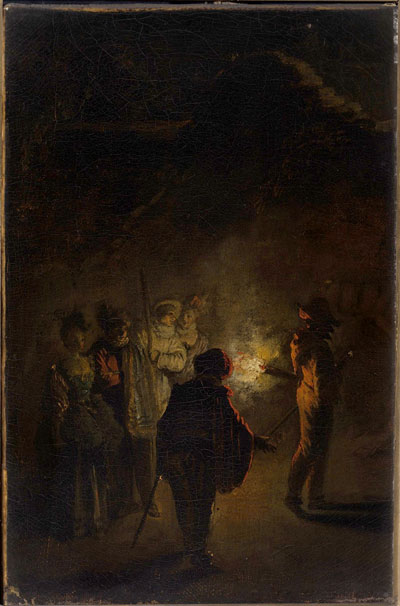 Prague, Narodni Galerie V Praze (National Gallery in Prague), inv. O 152
Oil on canvas
27.5 x 18.5 cm
ALTERNATIVE TITLES
Die Heimkehr vom Maskenballe

Masquerade

Masquerade nocturne

Scène de carneval
PROVENANCE
Vienna, the collection of Mr. de Hoppé (d. c. 1821; Imperial and Royal Counselor). His sale, Vienna, January 8ff, 1822, lot 80: "Watteau… Masquerade au clair de flambeaux. Haut: 9 pouces; large: 6 dto." [Dacier, Vuaflart, and Hérold list the collector as "Hope."]

Prague, collection of Josef Karl Eduard Hoser (1770-1848; naturalist and doctor to Archduke Charles of Austria); donated to the Society of the Patriotic Friends of Art, the association of the Rudolfinum. Transferred to the National Gallery in Prague. Adhémar mistranscribed Hoser's name as "Moser."
SELECT BIBLIOGRAPHY
Hoser, Catalogue raisonné (1846), 72.

Prague, Verzeichniss der Kunswerke (1856), 58.

Lejeune, Guide théorique et pratique (1864), 2: 323.

Prague, Katalog der Gemälde-Galerie, Rudolphinum (1888), cat. 721.

Barvitius, Katalog Obrazárny (1889), 231.

Bergner, Katalog Obrazárny (1912), 639.

Zimmerman, Watteau (1912), pl. 159.

Dacier, Vuaflart, and Hérold, Jean de Jullienne et les graveurs, under cat. 271.

Montagni and Macchia, L'opera completa di Watteau (1968), under cat. 188.

Washington, Paris, and Berlin, Watteau 1684-1721 (1984), under cat. P65.
REMARKS
Knowing only the 1822 sale catalogue and its description of a nocturnal scene with costumed characters, Dacier, Vuaflart, and Hérold presumed that Hoppé's picture was a version of Watteau's celebrated L'Amour au théâtre italien. Subsequent twentieth-century scholars made the same presumption. However, Hoppé's painting had a decidedly vertical format whereas Watteau's composition is horizontal.
Instead, we would propose that Hoppé's painting, sold in 1822, should be linked with this painting, also wrongly given to Watteau. Hoser owned it less than two decades later, they share a vertical format and the same small scale (although Hoppé's was measured at approximately 22.9 x 15.2 cm., which is slightly smaller than Hoser's picture). Moreover, the relative geographical proximity of Vienna and Prague should not be discounted, and Hoser traveled a great deal.
Although not in good condition, the painting has a certain charm. It seems to be by an as-yet-unidentified French artist active in the first half of the eighteenth century.