X. Une Nymphe
Entered September 2017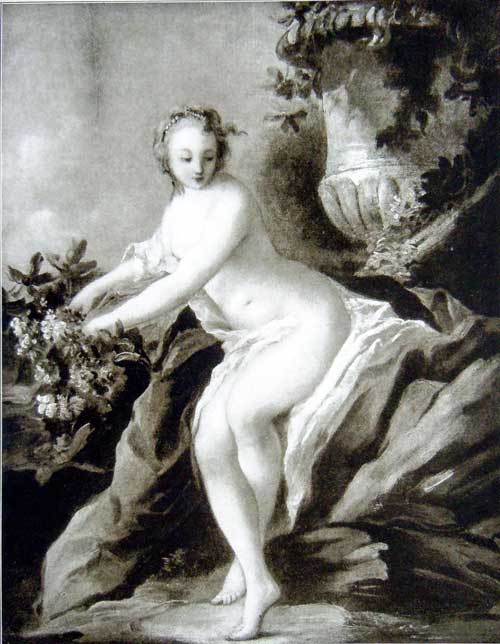 Whereabouts unknown
Oil on canvas
60 x 48 cm
PROVENANCE
Paris, Hôtel Drouot, sale, June 17, 1910, lot 64: "WATTEAU (ATTRIBUÉ A)  . . . Une Nymphe. Elle est assise sur un rocher, recouvert de draperies blanches et bleues et inclinant harmonieusement le haut de son corps à gauche. Elle s'appuie de ses deux mains sur un bouquet de fleurs. Quelques perles sont passées  dans ses cheveux blonds. A droite, un gros vase de pierre, recouvert de feuillage. Toile. Haut., 60 cent.; larg., 48 cent. Cadre en bois sculpté."

Paris, with Eugène Fischoff; his sale, Paris, Galerie George Petit, June 14, 1913, lot 47: "WATTEAU . . . La Nymphe. Une jeune femme est representée dans un parc. Assise sur des étoffes blanches et bleues drapées sur un rocher, au pied d'un vase de pierre, les cheveux blonds retenus par des chaînes de perles, elle s'appuie de ses deux mains sur un bouquet de fleurs posé à côté d'elle. Au premier plan et à droite, une source. Toile. Haut.: 59 cent. Larg.: 47 cent. "
SELECT BIBLIOGRAPHY
Macchia and Montagni, Tutti l'opera di Watteau (1968), cat. 8o–B.
REMARKS
Despite attempts before World War I to attribute Une Nymphe to Watteau, the idea rightly gained no traction. At best it is a frivolous picture executed by someone working in the wake of the generation of François Lemoyne and François Boucher. The elongated proportions of the body and the exaggerated hip-shot pose suggest analogies with painters of that later generation. Lemoyne's Venus and Adonis and Boucher's Hercules and Omphale embody this new style, and any comparison of Une Nymphe with these stellar works reveals the far lesser skills of the unnamed artist.
The idea of attributing Une Nymphe to Watteau seems to have been revived in the middle of the twentieth century. In 1959 a Mme. Laroche presented a photograph of a small nude painting to the Société de l'histoire de l'art français. The report of her presentation is quite summary, lacks her photographs, and describes the supposed Watteau simply as a small "Baigneuse." It does not offer any data regarding provenance or measurements. Laroche's painting may well have been the one previously owned by Dubreuil and Fischoff. Laroche noted that her painting resembled the famous Lemoyne Baigneuse in the Louvre. (That nude is posed more vertically, however, whereas the nude Venus in the Stockholm Venus and Adonis has the fully developed hip-shot pose.) In any event, Laroche claimed that when Lemoyne learned that Watteau's paintings were being engraved by Jullienne, he feared that if this nude were engraved, the public would see his plagiarism. To avoid the shame, he committed suicide. Laroche's theory is preposterous, not least because when he committed suicide he was one of France's leading artists with major royal commissions. A minor borrowing would not have been sufficient reason for suicide. In response to Laroche's presentation, Louis Hautecoeur sagely announced that the attribution of the Baigneuse to Watteau had not been demonstrated, and he rejected her explanation of the painter's suicide.