X. L'Occupation champêtre
Entered August 2018 Whereabouts unknown
Medium unknown
Measurements unknown
RELATED PRINTS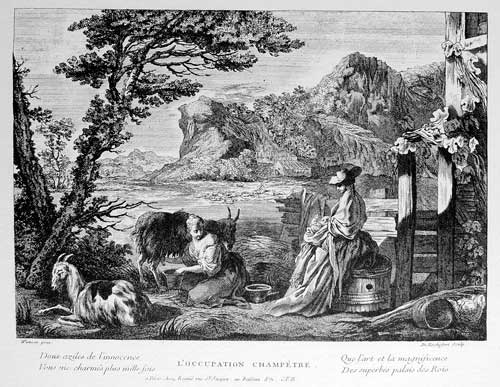 The painting was engraved by Pierre Rochefort (c. 1673- c. 1740), but not for the Jullienne Oeuvre gravé. The inscription beneath declares "Watteau pinx. –  De Rochefort Sculp." The first state of the engraving, issued probably in the late 1720s or in the 1730s, bears the editor's address "A Paris, chez Roguié rue St Jacques au Boisseau d'or. C.P.R." Another state of the print bears the address, "à Londres chez Major. C.P.R."
SELECT BIBLIOGRAPHY
Goncourt, L'Art au XVIIIème siècle (1860), 58.

Goncourt, Catalogue raisonné (1875), cat. 190.

Dacier, Vuaflart, and Hérold, Les Graveurs de Watteau (1921-29), 1: 266; 3: cat. 312.

Réau, "Watteau" (1928), cat. 82.

Adhémar, Watteau (1950), cat. 326.

Mathey, Watteau, peintures réapparues (1959), 66.

Macchia and Montagni, L'opera completa di Watteau, cat. 8o-E.
REMARKS
The Rochefort engraving bears the inscription "Watteau pinxit," and most of the earlier Watteau scholars— Goncourt, Réau, and Mathey—accepted the attribution to him. Adhémar classified the painting under "École de Watteau, Douteux, Incertains" and Macchia and Montagni, almost always following her lead, agreed. Roland Michel, Posner, Glorieux, and other more recent critics do not discuss the engraving but they have generally not paid attention to what might be considered peripheral works, especially in this instance since the engraving was not included in the Jullienne Oeuvre gravé.  
Nothing about this pastoral scene recalls Watteau's art. Certainly the peasant at the right has no parallel in Watteau's art, nor does the tree at the left. The rustic nature of the subject probably inspired Mathey to date the painting to 1704-05 when, presumably, the young Watteau, fresh from the Hainault, was still painting Flemish-style pictures but there is nothing comparable in Watteau's juvenilia.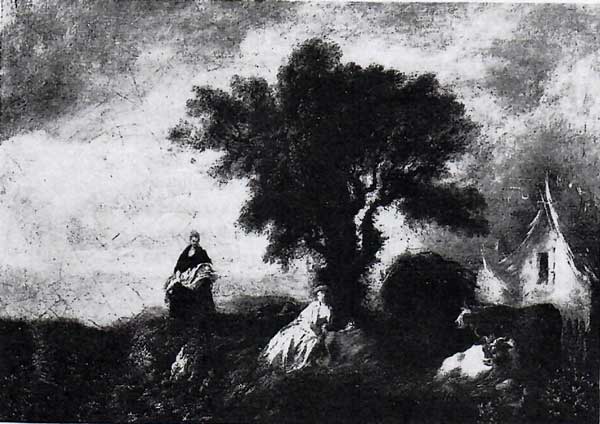 The answer to the conundrum is quite simple: Watteau did not execute the painting recorded in Rochefort's engraving. Rather, we believe that it was painted by his student, Pierre Antoine Quillard (c. 1704-1733). In fact, this has been proposed before. No one seems to have noticed that while Dacier, Vuaflart, and Hérold first accepted the work, in the last volume of their corpus they corrected themselves and rightly declared the work to be by Quillard. A comparison of L'Occupation champêtre with Quillard's L'Heure du berger, formerly in the Jules Strauss collection, reveals a striking similarity in subject and style.
Quillard's and Rochefort's careers quite probably crossed, perhaps in Paris or, even more likely, in Lisbon. Quillard left for Portugal in 1726 and Rochefort supposedly left for Portugal just two years later (although some maintain that he died in 1728). Quillard remained in Lisbon until his death in 1733, but the circumstances of Rochefort's later life and career are not well established. His death date has been reported both as 1735 and 1740. Given the two artist's prominence in the Portuguese capital, they could easily have known each other, especially since both French artists profited from royal patronage and Quillard was active at the royal court as both a painter and an engraver. Whether Rochefort intentionally or accidentally misattributed the composition to Watteau cannot be resolved. In the same way, since we are particularly uninformed about Rochefort's later life, we cannot be certain that he returned to Paris with the painting and executed the engraving there. Nor can we explain how his engraving came to be issued in London. The one thing that is apparent is that Quillard and not Watteau painted L'Occupation champêtre.