X. Par une tendre chansonette
Entered August 2018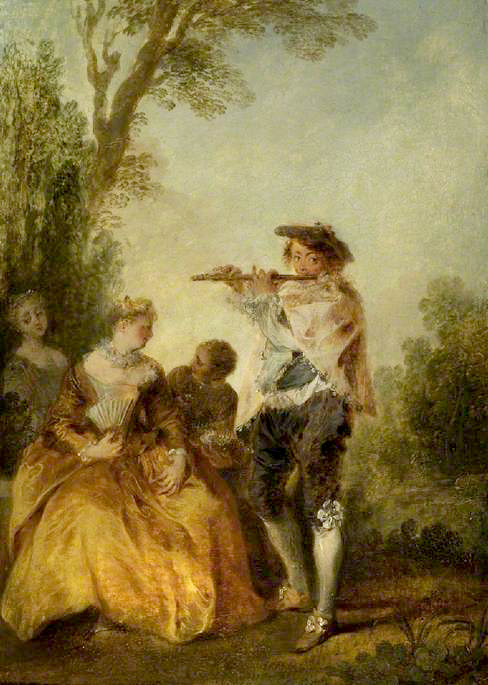 Cambridge, Fitzwilliam Museum, inv. 317
Oil on panel
27 x 19 cm
ALTERNATIVE TITLES    
Conversation

With a Tender Little Song . . .
RELATED PRINTS
This composition was engraved in reverse by Charles Nicolas Cochin the Elder (1688-1754) with the declaration "N. Lancret pinxit" and with a poem beginning "Par une tendre chansonette .. ." In turn, Cochin's engraving was copied in reverse by Jean Louis Daudet (1695-1756).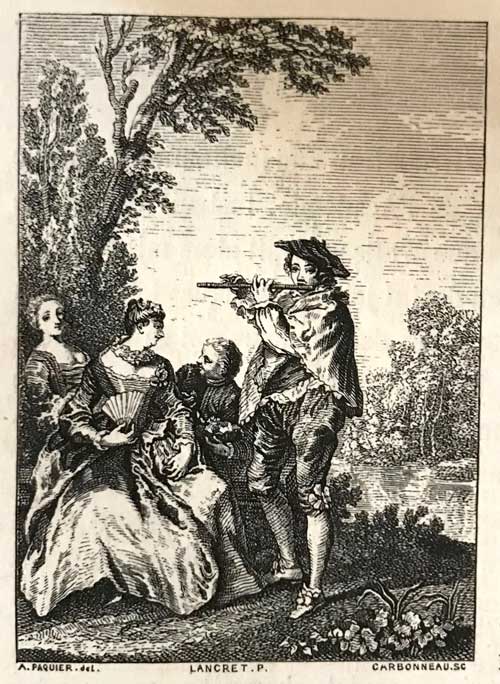 Lancret's composition was also engraved by Jean-Baptiste Charles Carbonneau (b. 1815), probably copying Cochin's engraving, for an illustration in Charles Blanc, Histoire des peintres, École française, vol. 2 (1862), "Nicolas Lancret," p. 1.
PROVENANCE
Richmond (near London), collection of Richard, Seventh Viscount Fitzwilliam (1754-1816); bequeathed by him to the newly created Fitzwilliam Museum in 1816.
SELECT BIBLIOGRAPHY
Blanc, Histoire des peintres francaise (1862-63), 2: "Lancret," 1.

Goncourt, Watteau (1875), 174.

Cambridge, Fitzwilliam Museum, The Principal Pictures (1912), xix, 206.

Wildenstein, Lancret (1924), cat. 328.

Roe, Oil Paintings in Public Ownership in Cambridgeshire (2006), 106.
REMARKS
When this painting and its pendant, Dans cette aimable solitude, were bequeathed  to the museum in 1816, they were ascribed to Watteau. Although they were not discussed in the nineteenth century, when listing the Watteau paintings in England, Edmond de Goncourt referred to them as "deux Conversations au Musée Fitz-William." In 1912, when a catalogue of the museum's collection was issued, they still were listed as "attributed to Watteau."  Although Charles Blanc chose to illustrate Par une tendre chansonette in his essay on Lancret, his artist was probably copying the Cochin print; they were undoubtedly unaware that the actual painting was in Cambridge and that it was given to Watteau.  Quite understandably, these pendants were passed over by late nineteenth and twentieth-century scholars of Watteau's art.
Matters were not properly rectified until 1924 when  Georges Wildenstein  not only included the two pendants in his monograph on Lancret; he rightly noted that the pictures had been engraved under Lancret's name by Cochin, and that there were several preliminary drawings by Lancret for Par une tendre chansonette. Curiously, Adhémar followed Wildenstein's lead in restoring Dans cette aimable solitude to Lancret (cat. 227), but somehow neglected to cite Par une tendre chansonette.
While Lancret's authorship is evident to us today, it would have been less so in the late eighteenth or early nineteenth centuries when the paintings were sold to Viscount Fitzwilliam. At that time, dealers could easily upgrade an attribution form Lancret to Watteau since there were so few guidelines to warn potential customers. Whether this sleight of hand was intentional or accidental, whether it occurred in Paris or London, it reminds us of the unreliability of even century-old attributions.