X. Le Parc à la statue
Entered December 2018

SELECT BIBLIOGRAPHY
 
Dacier, Vuaflart, and Hérold, Jean de Jullienne et les graveurs (1921-29), 3: under cat. 3.


Réau, "Watteau" (1929), cat. 202.


Adhémar, Watteau  (1950), cat., 69.


Macchia and Montagni, L'opera completa di Watteau (1968), cat. 78.
REMARKS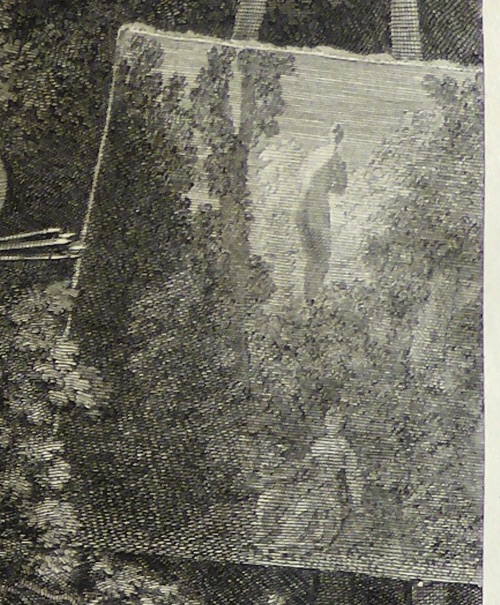 As this entry concerns a painting which, we believe never existed, nothing can be said about its size or medium. The idea that there was such a painting can be traced to Dacier and Vuaflart's discussion of Assis au près de toy, a composition known through an engraving in the Jullienne Oeuvre gravé. Dacier and Vuaflart argued that this composition was a pastiche created by the engraver, Tardieu, to serve as the frontispiece for the Oeuvre gravé. The critics proposed that the principal elements in the painting—Jean de Jullienne playing the cello and Watteau standing at his easel—were taken from separate sources in Watteau's oeuvre. They also theorized there must once have been a painting, now lost, corresponding to the one depicted one on the easel in Assis au près de toy. It is a rudimentary fête galante showing a seated woman and in the distance a statue of the Knidian Aphrodite seen from behind. However, as discussed elsewhere, there actually was a Watteau portrait of himself and Jullienne, the composition engraved under the title of Assis au près de toy.

Dacier and Vuaflart further speculated that the painting posed on the easel was to be identified with a landscape that had been in the Jullienne collection and then was in the collection of his widow. It was a logical extension of their basic idea: if the figures of Jullienne and Watteau were derived from portraits in the Jullienne collection, then the picture on the easel may also have been derived from a work in the Jullienne collection. In fact, Dacier and Vuaflart focused on a specific landscape that was described in the 1767 inventory of his collection: "Un Paysage enrichi de plusieurs fabriques; on remarque sur le premier plan, à gauche, un groupe de figures de 6 pouces de proportion, compose de deux paysannes assises dont une tient un panier, un berger débout appuyé sur son bâton, trois moutons & un belier."   The painting was not sold with the majority of his paintings but was, instead, sold with the same description at the sale of his widow's collection in 1778. Dacier and Vuaflart's decision to identify this picture with the one that is on the easel does not seem rational. The Jullienne landscape was a pastoral subject with, among other features, a standing shepherd resting om a staff, a complex of buildings, and several animals including three sheep and a ram. It was not at all comparable in subject to the fête galante depicted on the easel.

Once Dacier and Vuaflart proposed this identification, several prominent critics followed their lead, including Adhémar, Réau, and Macchia and Montagni. However, we propose listing Jullienne's pastoral landscape as a work unto itself, using the title Un Paysage enrichi de plusieurs fabriques. As for the canvas posed on the easel, this was just a generalized idea of the sort of painting that the master painted.