X. Parkszene
Entered September 2017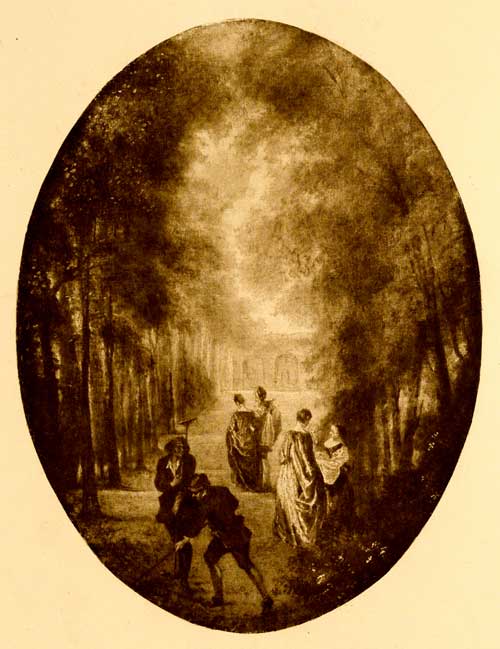 Whereabouts unknown
Oil on canvas, mounted on panel
50 x 38 cm
ALTERNATIVE TITLES
Le Printemps    

Scène dans un parc
PROVENANCE
Berlin, collection of Ritter Gaston von Mallmann (1860-1917; collector and dealer). His sale, Berlin, Rudolph Lepke, June 12, 1918, cat. 41: "Antoine Watteau (Art) . . . Parkszene. In einer Allee, die in die Tiefe führt, stehen vorn links zwei Gärtner, von denen der eine Rechen halt, während der andere Laub zusammenkehrt. Weiter nach dem Hintergrunde zu auf dem Wege zwei von Rücken gesehene Damen  und ein wandelendes Paar.   In der Ferne Gebäude mit Torbögen. Leinwand auf Holz. 50X38 cm (oval).  Abbilding Tafel 12. (dort versehentlich als Original von Watteau bezeichnet)."
SELECT BIBLIOGRAPHY
Ingersoll-Smouse, Pater (1928), cat. 583.

Ferré, Watteau (1972), cat. P 74.
REMARKS
The caption under the image in the 1918 sale catalogue gives the painting to Watteau without any qualification, whereas the text of the catalogue only claims it to be in the style of Watteau. Evidently there was a change of heart about the attribution in the interim between printing the illustrations and the text.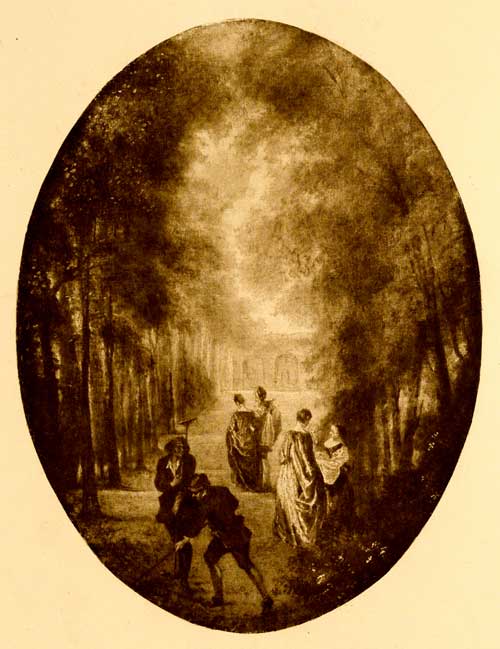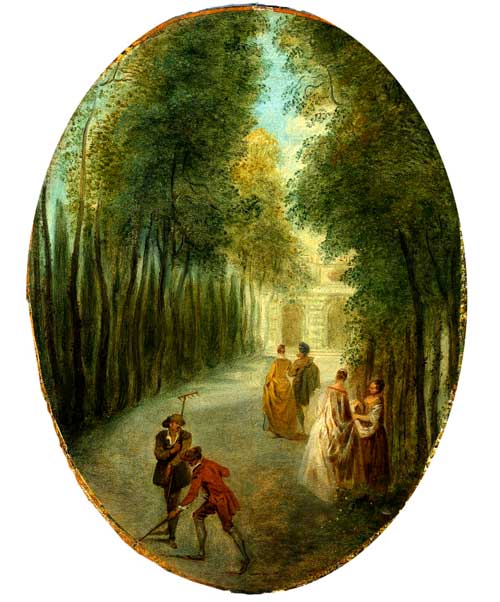 In fact, this painting is by Pater. Ingersoll-Smouse, who apparently knew the work only from the Mallman catalogue, thought it was probably by Pater. It is a smaller but complete duplication of a composition formerly with Wildenstein, New York (Ingersoll-Smouse, Pater, cat. 578), and now in the Cleveland Museum of Art.  The larger painting is one of a set of Four Seasons. Quite possibly, the Mallman painting was also part of such a suite and, like its larger counterpart, constituted an allegory of Spring.
When the painting was catalogued in the Mallman sale, it was specified as being on canvas mounted on wood. Ferré, probably wrongly, claimed it is painted on wood.