X. Paysage avec personnages
Entered August 2018; revised October 2021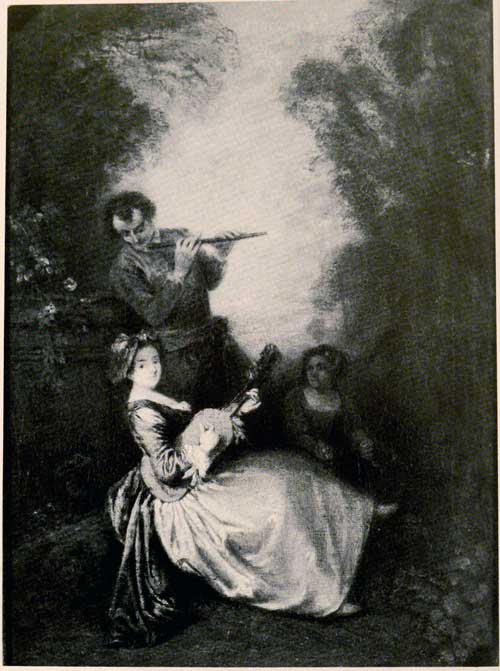 Whereabouts unknown
Oil on canvas
35.5 x 26 cm
PROVENANCE
Krakow, Czartoryski Museum, c. 1910.

Paris, collection of Monsieur Dornhelm, c. 1947 (noted on the reverse side of a photograph in the Service de documentation, Musée du Louvre, Département des peintures).

New York, sale, Sotheby's, March 27, 1987, lot 115: "Follower of Antoine Watteau . . . A SEATED WOMAN PLAYING GUITAR WITH A STANDING MAN PLAYING THE FLUTE AND ANOTHER FIGURE IN A LANDSCAPE / oil on canvas / 14 by 10¼  in.   35.5 by 26 cm. / $1,500-2,000."
SELECT BIBLIOGRAPHY
Zimmerman, Watteau (1912), no. 161.

Adhémar, Watteau (1950), cat. 235-36.  
REMARKS
When Zimmerman presented this painting in his catalogue of Watteau's oeuvre, he rightly noted that it was "a weak painting, recalling Lancret's types [of characters]. Nothing here, not even the composition, is by Watteau." Following Zimmerman's lead, Adhémar classified the painting under Lancret's name. However, she muddied the water by mistranscribing Zimmerman's title as "Deux payages avec personnages," and concluded there were two pictures.
Although known only through a fuzzy reproduction, the work would seem to be overpainted, allowing the possibility that if it were cleaned it might reveal more of what we would hope for from an authentic work from Lancret's hand. Until then the painting should probably be classified as being by a follower of Lancret.
The remarkable things is that when the painting came up at auction in 1987, its history of having been in the Czartoryski Museum had been lost, as well as it having been published. Yet the association with Watteau's name persisted.