X. Pèlerin aidant une pèlerine à se relever
Entered May 2021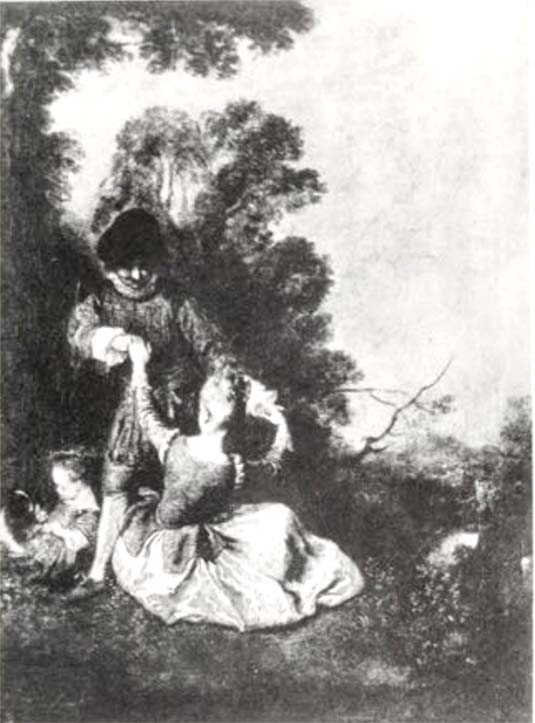 Whereabouts unknown
Oil on paper, mounted on panel
33 x 22 cm
ALTERNATIVE TITLES
Jeune homme relevant une femme assise
PROVENANCE
Paris, Ricketts collection. His sale, Paris, December 8, 1846, lot 412: "ANTOINE WATTEAU . . . . Jeune homme relevant une femme assise par terre. Esquisse d'un groupe du Voyage à Cythère, du Louvre, no. 315.—Sur bois. H. 33, L. 22." According to an annotated copy of the sale catalogue in the Rijksbureau voor Kunsthistorsche Dokumentatie, the painting was bought by Théophile Thoré for 85 francs.

Paris, collection of Théophile Thoré  (1807-1869; journalist).

Paris, sale, Hôtel des ventes, December 10-11, 1847, lot 94: "WATTEAU . . . Jeune homme relevant une femme assise. Groupe de l'île de Cythère don't le tableau est au Louvre. Sur bois. Bordure sculptée."

Paris, Henri Coïc collection. His sale, Paris, February 5-7, 1872, lot 41: "Watteau . . . Pèlerin aidant une pèlerine à se relever. Étude sur papier, pour son tableau de l'embarquement de Cythère."

Paris, collection of M. Boulet (grammarian). His sale, Paris, December 8-9, 1873, lot 21: "WATTEAU (ANTOINE) . . . Pèlerin courtisant une jeune dame. Étude sur papier, pour son tableau de l'embarquement de Cythère."
SELECT BIBLIOGRAPHY
Dacier, Vuaflart, and Hérold, Jean de Jullienne et les graveurs (1921-29), 3: under cat. 110.

Ferré, Watteau (1972), cat. P 21.
REMARKS
It appears that the four sales listed in the provenance all refer to the same painting, but that is not certain. The picture sold in 1846 and 1847 was supposedly on wood but the work sold in 1872 and 1873 was described as on paper. Seemingly, then, it was only by the later dates that the medium was properly recognized as paper mounted on wood. In 1847 and 1872 the painting was described as a male pilgrim helping a woman rise, while in 1873 it was described less specifically as a male pilgrim courting a female pilgrim. Despite the minor change all three references probably denote one painting.
Although photographed by the beginning of the twentieth century, the painting seems to have entirely dropped from sight.
The painting was often discussed as a study by Watteau for his Pèlerinage à l'isle de Cythère but, in fact, it is a pastiche derived from elements in two Watteau painting. The principal couple is based on the one at the right of the Pélerinage. However, the small child playing with a dog comes from one of two Watteau fêtes galantes: La Récreation champêtre (Berlin, Schloss Charlottenburg) or Les Charmes de la vie (London, Wallace Collection).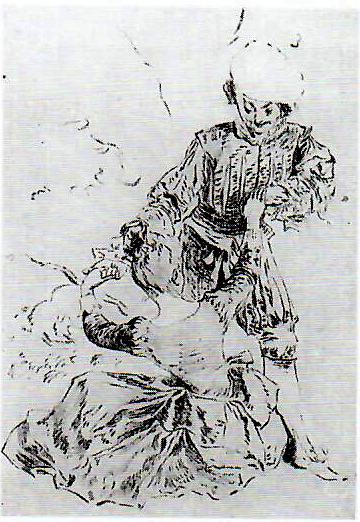 An oil counterproof that appeared in the sale of Adolphe-Narcisse Thibaudeau, April 20-25, 1857, lot 659, appears to have been pulled from this painting. But the fuzziness of the photographs and our inability to compare measurements exactly pose problems.
The poor quality of the figures—especially their overly large heads—warns against any attribution to Watteau or his immediate followers.