X. Mademoiselle Haranger
Entered February 2017; revised August 2019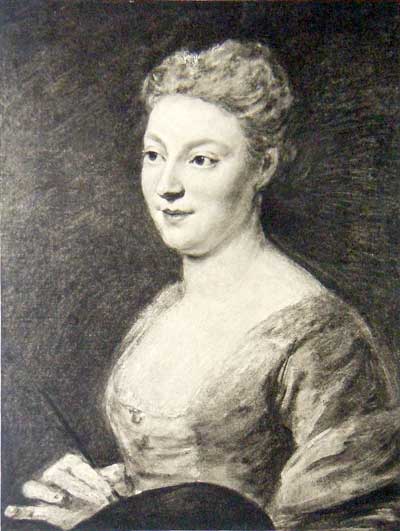 Whereabouts unknown
Oil on canvas
65 x 54 cm
ALTERNATIVE TITLES
Mlle Haranger, peintre, tenant une palette et une brosse

Portrait de jeune peintre

Portrait d'une femme-peintre
PROVENANCE
Paris, collection of Madame Cottini

Paris, collection of G. Cain. Sold by Cain to Sedelmeyer on January 6, 1900, for 7,600 francs. This information comes from Adhémar but with no indication of her source.

Paris, collection of Charles Sedelmeyer (1837-1925; Austrian-born art dealer established in Paris). The painting was published in Galerie Sedelmeyer, Sixth Series of 100 Paintings by Old Masters (1900), cat. 80: "WATTEAU (JEAN-ANTOINE) . . . Portrait of Mademoiselle Haranger. Sister of the Abbé Haranger. Seated in a red chair, turned three-quarters to the left, and looking in the same direction. She wears a pale lilac bodice, cut low in front, and holds a palette in her left hand and a brush in her right. Bust. Life-size. Canvas, 24 ¾ in. by 20 ¾ in. From the Collection of Madame Cottini."

London, collection of Reginald Vaile. According to Adhémar, the painting was bought by Vaile on April 21, 1900, for 13,000 francs but the source of her information is not disclosed. His sale, London, Christie's, May 23, 1903, lot 55:  "A. WATTEAU. . . . PORTRAIT OF MADEMOISELLE HARENGER, sister of the Abbé Harenger, a great personal friend of the artist. In mauve dress, holding a palette and brush / 24 in. by 20 in. / From the Collection of Madame Cottini, Paris / Exhibited at Sheffield, 1901 / Exhibited at Glasgow, 1902." According to Christie's own annotated copy of the sale catalogue, now in the National Arts Library, London, the painting sold for £231 to Sedelmeyer.

Paris, Galerie Sedelmeyer.

Paris, collection of Docteur Paul Müller. His sale, Paris, Hôtel Drouot, May 25, 1910, lot 19: "ÉCOLE FRANÇAISE XVIIIe  siècle. . . . Portrait de Mlle Haranger. Elle est assise, occupé à peindre, vue de trois quarts. Les yeux se portent  au loin devant elle sur modèle, et déjà son pinceau court sur la palette. Cependant que son regard, plein de vie, s'éclaire d'un sourire que soulignent les plis de la bouche. Les cheveux sont rejetés en arrière: elle porte une robe de satin gris. La lumière vient baigner son visage et sa gorge opulente. Toile. Haut., 65 cent.; 54 cent. Cadre en bois sculpté. Collection de Mme Cottini, Paris / Collection R. Vaile, Londres."

Budapest, collection of Marczell de Nemes (1866-1930; financier and art dealer). His sale, Amsterdam, Frederick Muller & Cie., November 13-14, 1928, lot 47: "JEAN-ANTOINE WATTEAU . . . Portrait d'une femme-peintre. On la voit en buste, de trois quarts tournée vers la gauche. Physionomie fine et souriante. Petite chevelure blonde. Son corsage qui tire sur la mauve est décolleté en carré. Une main tient un pinceau. Le fond est neutre. Toile. – Haut. 55, larg. 43 centim. Voir la reproduction."

Munich, sale, Böhler, June 9-10, 1937, lot 714: "JEAN ANTOINE WATTEAU ZUGESCHRIEBEN. . . . Bildnis der Malerin Mademoiselle Haranger. Brustbild. Die Malerin ist schräg nach links gewendet. In der Rechten halt sie den Pinsel, davor ist ein Teil der Palette sichtbar. Leinwand, Höhe 55 cm, Breite 43 cm. Früher Sammlung Madame Cottini, Paris. — Sammlung R. Vaile, London 1903. — Sammlung Dr. Paul Müller, Paris 1900, Nr. 19. Ausgestellt: Sheffield 1901, Glasgow 1902.  Tafel 77." 
EXHIBITIONS
Sheffield, Mappin Art Gallery, 1901 (Watteau, Portrait of Mademoiselle Harenger, lent by Reginald Vaile). No catalogue for this exhibition has been found. However, the painting's presence there is cited in "French Paintings at the Mappin Art Gallery," Sheffield Daily Independent, December 7, 1901, and also in the 1903 sale of the Vaile collection

Glasgow, Kelvingrove, French and British Artists (1902), cat. 36 (Watteau, Portrait of Mademoiselle Harenger, owner not cited).

           
SELECT BIBLIOGRAPHY
Gillet, Un Grand maître (1921), 136-38.

Adhémar, Watteau (1950), cat. 292.

Macchia and Montagni, L'opera completa di Watteau (1968), cat. 3o-O.

Baticle, "Le Chanoine Haranger" (1985), 58.
REMARKS
The notion that this portrait was executed by Watteau extends back as far as the late nineteenth century but, except for Gillet's assent, it has not been embraced by Watteau scholars. The attribution was also promoted when the picture came up for sale from 1900 onward through 1928, yet when it appeared at auction in 1937, the attribution was downgraded to "attributed to Watteau." While the picture may well be French and of the early eighteenth century, it does not exhibit Watteau's personal mannerisms or charm.
A long-standing tradition, extending back to the late nineteenth century, has coupled this portrait of a female painter with that of a cleric, and both have been attributed to Watteau. As far as is known, they were first hung together by Sedelmeyer in 1900. However, they are not pendants. They are almost but not exactly comparable in size, yet their proportions and formats are dissimilar. The abbé is fully frontal and close to the surface, whereas the artist is turned at an angle and set farther back. He looms large while she is more diminutive. Even the supposed blood relation of the sitters, either as siblings or as aunt and son, is without basis.
There is no compelling reason to accept the century-old identification of the woman as Mademoiselle Haranger. The abbé Hranger did have a sister, Catherine Thérèse (c. 1660-1740) but, as far as is known, she was not a painter. Once the attribution to Watteau is rejected, the sitter's identity need not be limited to Watteau's circle. In that there were so few female painters in France in the early eighteenth century, it can be hoped that the sitter's identity will eventually be established.