X. Vieille femme

Entered December 2016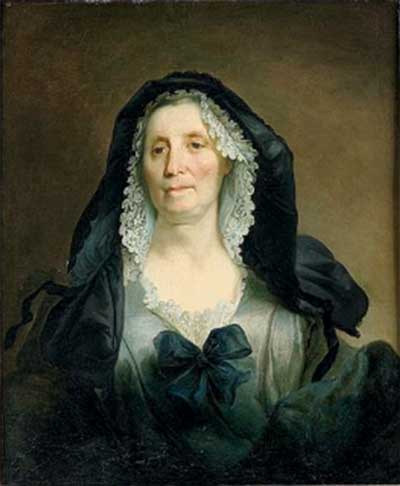 Whereabouts unknown
Oil on canvas
74 x 61 cm
ALTERNATIVE TITLES
Bildnis der Elizabeth Desfontaines

Portrait de femme agée

Portrait de Jeanne d'Albert de Luynes, comtesse de Verrue
PROVENANCE
Paris, collection of Anthony Francis Reyre (1882-1955; art dealer).

Paris, Hôtel Drouot (Tajan), April 6, 2016, lot 109: "ÉCOLE FRANCAISE, VERS 1720, ENTOURAGE DE HYACINTHE RIGAUD / PORTRAIT DIT DE LA COMTESSE DE VERRUE / Toile / Restaurations anciennes / Dans un cadre en bois sculpté et doré, travail français du XVIIIe siècle /  FRENCH SCHOOL, CIRCA 1720, CIRCLE OF H. RIGAUD, PORTRAIT OF THE COUNTESS DE VERRUE, CANVAS (IN AN 18TH CENTURY CARVED AND GILTWOOD FRAME) 6000/8000 €
   Provenance: Collection Reyre en 1909 et au moins jusqu'en 1956, Paris
   Exposition: Exposition de cent portraits de femmes. Salle du Jeu de Paume. Paris 23 avril – 1e      
 juillet 1909, p. 29, no 100 (peintre anonyme, portrait de Jeanne d'Albert de Luynes, Comtesse de Verrue (1670—1736), collection de M. A. Reyres; Exposition d'oeuvres de l'art français, Académie Royale des Arts, Berlin, 1910, p. 38, no 153(Jean-Antoine Watteau, portrait d'Elisabeth Desfontaines, la femme du sculpteur A. Pater. Collection de M. A. Reyre, Paris); La femme dans l'Art Français, Bruxelles, 1953, no 135. Le cabinet de l'amateur, musée de l'orangerie, février – avril 1956, p. 31, no 104 (attribué à Jean-Antoine Watteau, Portrait de femme agée, Collection Reyre).
   74 x 61 cm (29 1/8 x 24 in.)"
EXHIBITIONS
Paris, Jeu de paume, Cent portraits (1909), cat. 100 (Maître inconnu, Portrait de Jeanne d'Albert de Luynes, Comtesse de Verrue, lent by M. A Reyre).

Berlin, Königliche Akademie, Werken französicher Kunst (1910), cat. 87 (by Watteau, Bildnis der Elizabeth Desfontaines, Frau des Bildhauers A. Pater, lent by A. Reyre, Paris).

Brussels, Palais des beaux-arts, La Femme (1953), cat. 135 ("Attribué à" Watteau, Portrait de femme agée, private collection).

Paris, Orangerie, Le Cabinet de l'amateur (1956), cat. 104 ("Attribué à" Watteau, Portrait de femme agée, without designation of ownership).
SELECT BIBLIOGRAPHY
Tourneux, "Exposition de cents portraits" (1909), 484, 487.

Alfassa, "L'Exposition d'art français" (1910), p. 173.

Ingersoll-Smouse, Pater (1928), under cat. 555.

Adhémar, Watteau (1950), cat. 296.

Macchia and Montagni, L'opera completa di Watteau (1968), cat. 3o-M.
REMARKS
The attribution of the painting has changed dramatically over the course of the last century. When shown in 1909, it was presented as the work of an unknown artist. However, in his review of the exhibition, Tourneux suggested the name of Jacques Aved. When the painting was shown the following year in Berlin, it was given to Watteau, a change that Alfassa thought was unjustified because he saw nothing of Watteau in it. The painting essentially went unmentioned in the subsequent Watteau literature. At least not until the mid-twentieth century, when Adhémar, followed by Macchia and Montagni, rejected the attribution to Watteau and pronounced it to be late eighteenth-century in origin. Nonetheless, when it was shown in Brussels in 1953, it still was listed officially as "attribué à Watteau," but the author of the catalogue entry noted that the authorship of the portrait was elusive. The same opinion was expressed when the portrait was shown in Paris in 1956, although an attribution to Pater was rejected. Most recently, when it came up for sale in 2016, it was classified as having been painted by someone in the circle of Hyacinthe Rigaud, c. 1720.
The determination of the sitter has been equally difficult to resolve, and has generally been dependent on the artist to whom the painting was given. When shown in 1909, it was claimed to be a portrait of the comtesse de Verrue, Watteau's blue stocking patron. Because the sitter wears the apparel of a widow and Verrue became a widow in 1704, this theory had a modicum of plausibility, and one can appreciate why this identification was still repeated in the 2016 auction catalogue. However, the comtesse died at the age of sixty-six, while the woman in this portrait looks older. When the painting was shown in 1910, she was identified as Elisabeth Desfontaines, the wife of the sculptor Antoine Pater and the mother of Watteau's pupil, Jean-Baptiste Pater. But the sitter in our picture does not resemble her portrait in the Musée des beaux-arts of Valenciennes.