X. Le Rendé-vous comique
Entered May 2020; revised July 2021 Whereabouts unknown
Medium unknown
Measurements unknown
ALTERNATIVE TITLES    
Flute Player, Pierrot, and Two Couples
RELATED PRINTS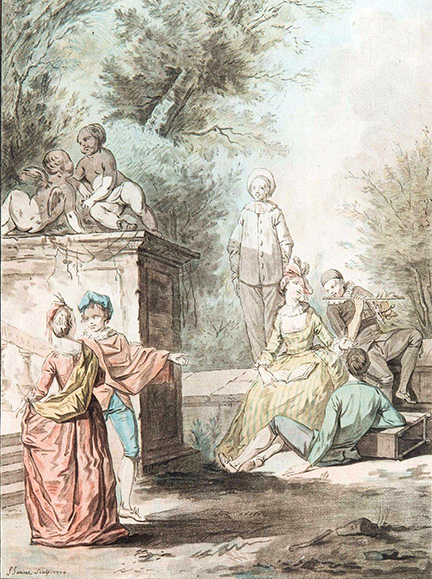 This composition and its pendant, Les Comédiens comiques, were executed as mezzotint engravings by Jean François Janinet. The legend below declares "Wattaux pinxit" and "F. Janinet. Sculp. 1774."
SELECT BIBLIOGRAPHY
Goncourt, Catalogue raisonné (1875), cat. 80.

Dacier, Vuaflart, and Hérold, Jean de Jullienne et les graveurs (1921-29), cat. 301.

Adhémar, Watteau (1950), cat. 306.

Macchia and Montagni, L'opera completa di Watteau (1968), cat. 2o-BB.

Roux, Fonds français (1973), 12: 9.
RELATED DRAWINGS
An ink and watercolor drawing attributed to Louis Joseph Watteau (1731-1798), Antoine Watteau's nephew, apparently corresponds to Le Rendé-vous comique. It appeared at auction in Monte Carlo; Sotheby's, December 2, 1989, together with a second drawing of Le Comédiens comiques. The attribution to Louis Joseph Watteau might seem arbitrary but, in fact, Watteau's nephew may have been the artist responsible for the compostion engraved by Janinet. Unfortunately, no image of this drawing was published at the time of the sale.
Was Janinet copying an actual oil painting or, rather, this ink and watercolor? Both situations would allow the term "Watteau pinx." This watercolor seems the more likely source.
REMARKS
Edmond de Goncourt was the first to include this print and its pendant in his catalogue raisonné of Watteau's oeuvre. He accepted the rather trite title engraved below, which is still employed today.
Both of Janinet's prints credit Watteau with the authorship of this composition but this claim does not inspire confidence. The two works have the same compositional formula: an upright vertical, with the figures pressed into the immediate foreground and occupying only the bottom half of the canvas. Dominating both works is, at the side, a statue posed on a high pedestal. The vertical format and the high pedestalled statue are elements that do not figure in Watteau's fêtes galantes but they do appear in those of his followers. What were Janinet's models? Were they actual but falsely attributed paintings, executed c. 1720-40, or were they more recent designs, perhaps even by Janinet himself? The figures seem  more aligned with the age and aesthetic of Jean Frédéric Schall and Fragonard, rather than the age of Watteau.
When Dacier, Vuaflart, and Hérold published these prints they noted that the attribution to Watteau "paraît sujette à caution." Likewise, Adhémar listed these compositions among doubtful attributions, and Macchia and Montagni also included them in a supplementary section devoted to doubtful works. The attributions to Watteau are more than dubious, they are spurious.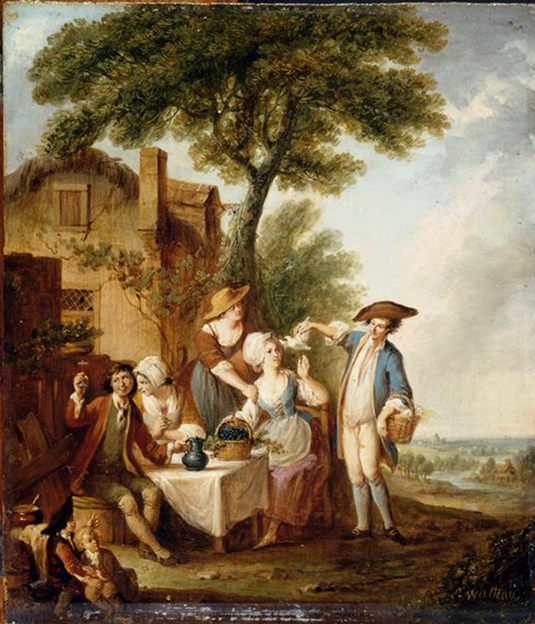 Dacier, Vuaflart, and Hérold noted that the space before "Wattaeux" on the print for Le Rendé-vous comique shows signs of the engraving plate having been effaced just there, as though the given name had been changed. This is particularly germane because Michèle Hébert and Yves Sjöberg in their entry in the Fonds français have proposed that the artist responsible for the composition was not Antoine Watteau but his nephew, Louis Joseph Watteau (1731-1798). This is a credible resolution of the issue.