X. Réunion galante dans un parc
Entered August 2017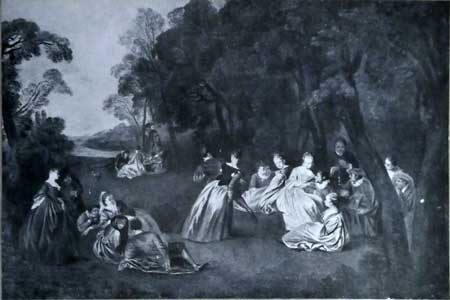 Whereabouts unknown
Oil on canvas
80 x 119 cm
PROVENANCE
Brussels, Galerie Georges Giroux, sale, March 12, 1927, cat. 57:  "Attribué à Jean-Baptiste Pater . . . RÉUNION GALANTE DANS UN PARC / Toile. H. 0.80. L. 1.19. Voir reproduction, planche no 40. Cette remarquable toile a été longtemps attribué à Antoine Watteau; on ajoutait à cette époque que les figures animant le paysage étaient de Pater. Mais l'étude comparative de ce tableau avec ceux de Watteau et de Pater ne peut avoir d'autre conclusion que sa restauration au second d'entre eux. Nous ajouterons que l'oeuvre en question est l'une des plus importantes du XVIIIe siècle français qui aient jamais passé dans une vente publique en Belgique." According to an annotated copy of the sale catalogue in the Frick Art Reference Library, the painting sold for 3,200 Belgian francs.
REMARKS
When this painting came up for sale in 1927, it was cautiously attributed to Pater.  Elsewhere it has been attributed to a follower of Watteau. Indeed, it is a pastiche of elements from several Watteau compositions.
The major source for the figures in this work was Watteau's Divertissements champêtres, now in the Wallace Collection. The pasticheur borrowed all the figures seen at the right side of that celebrated painting, not those in the foreground but, rather, those in the midground. From left to right, these include the seated woman with a shawl facing a man reclining on the ground, the couple dancing, five seated women, and the musicians.
The diminutive figures in the background of Réunion galante dans un parc, both those reclining on the ground and those walking away, are based upon some of the striking figures in the foreground of Watteau's Plaisirs d'amour in Dresden, although they are simplified and modified.
Given that these borrowings are in the same sense as Watteau's paintings, we can conclude that the plagiarist did not work from engravings (in fact, Divertissements champêtres was not engraved). Might this indicate that the pastiche was executed early in the eighteenth century when the originals were still visible? Could this painting have been executed by Pater, as was proposed in 1927? Some of the faces do suggest his hand. Or was it created by a lesser follower? Another possibility is that it was painted in the nineteenth century when photographs of Watteau's paintings were available. Unfortunately, the reproduction in the 1927 sale catalogue is not particularly clear, and the painting has not been seen in almost a century.
X. Réunion galante dans un parc (copy 1)
Entered August 2017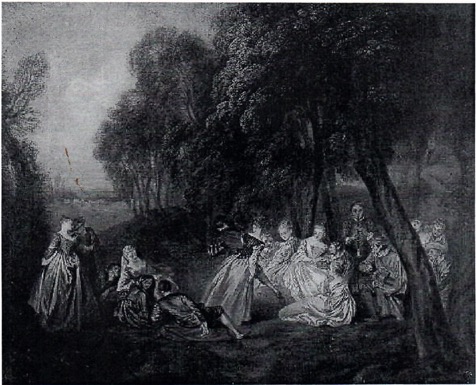 Whereabouts unknown
Oil on canvas
72 x 89 cm
ALTERNATIVE TITLES
Fête dans un parc
PROVENANCE
Paris, collection of comte Charles Pillet-Will.

Paris, Palais des congrès (Poulian Le Fur), sale, December 9, 1999, lot 18: "Atelier de Jean-Baptiste PATER, L'assemblée dans un parc . . .  Huile sur toile. (usures) / 72 x 89 cm / 60 000/80 000 F – 9 150/12 2000 € / Provenance: Ancienne collection Pillet-Will (comme Jen [sic]-Baptiste Pater) / Reprend la composition du second plan du tableau de Watteau «Divertissments champêtres» de la collection Wallace, Londres." Sold for 92,000 francs.
SELECT BIBLIOGRAPHY
Ferré, Watteau (1972), 2: cat. P50.

 

REMARKS
Ferré's 1972 monograph on Watteau rightly included this painting in a section devoted to pastiches after Watteau, but without any discussion of the painting's true authorship or sources. The 1999 sale attributed the picture to Pater but still without recognition of the painting's sources. The picture is not an original pastiche (if one may use that term) but, rather, a variant of the painting sold by Giroux in 1927, a work whose attribution also vacillated between Watteau and Pater. This version, slightly smaller and less tightly executed, seems weaker.
There are a few differences between the two pictures, most notably in the limbs of the trees at the center of the composition. Also, this work includes a statue at the far right—a nude woman with her knees drawn up.