X. Scène de Genre
Entered June 2018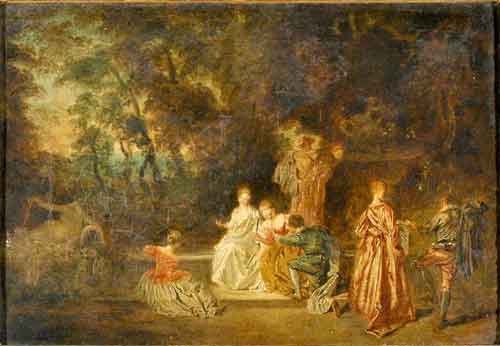 Whereabouts unknown
Oil on canvas
42 x 53 cm (including frame)
PROVENANCE
Laval, sale, Maîtres Hiret & Nugues, June 16, 2018, lot 71: "D'après WATTEAU, dans un bel encadrenement en bois et plâtre doré, 'Scène de genre'. Huile sur toile. Epoque XIXème Dimenisons : 42 x 53 cm (cadre inclus). ESTIMATION / 1 200 - 1 500 €."
REMARKS
Although not identified as such, this painting is essentially a copy after Watteau's Récréation galante in Berlin. Seven of the figures at the right, the fountain, and the arrangement of the trees correspond to the Berlin painting. So too, the colors of the costumes and the slightly unfinished inlaying of color respond to the Berlin picture.
However, the leftmost figure of the woman sitting with her back to us and, as well, the sculpture of a reclining nude are taken from a different source in Watteau's oeuvre, namely the Réunion en plein air in Dresden.  
The somewhat skillful combination of these two different sources into a meaningful whole is superior to the quality of the pasticheur's rendering of Watteau's faces and costumes.