L'Amante inquiète
Entered August 2014; revised August 2020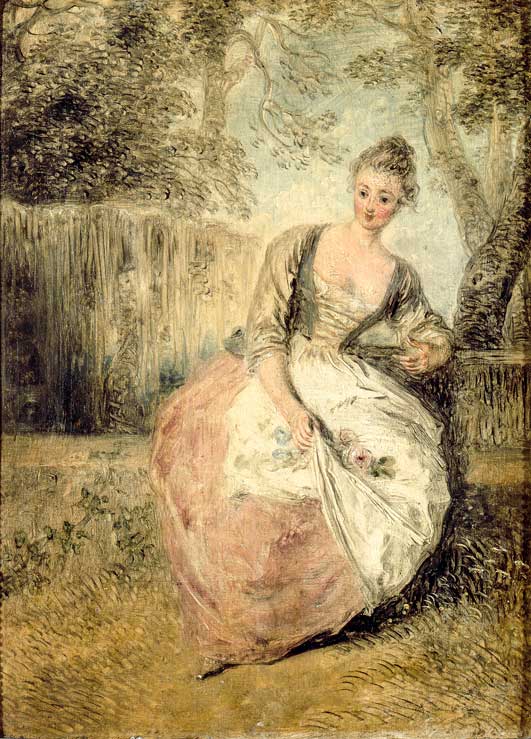 Chantilly, Musée Condé, inv. PE 372.
Oil on panel
24 x 17.5 cm
ALTERNATIVE TITLES
Femme penchée

Une Jeune bergère

Ragazza con rose
RELATED PRINTS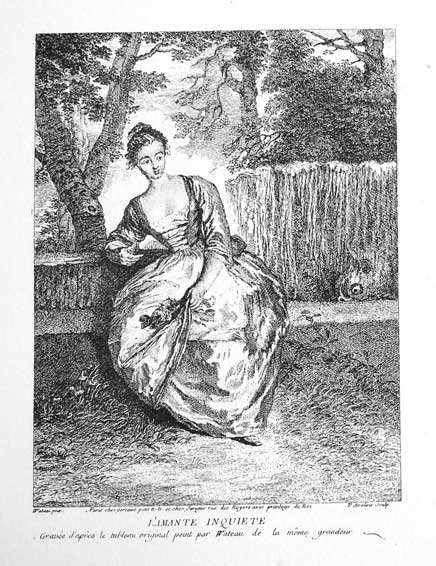 The painting was engraved in reverse by Pierre Aveline. The print was announced for sale in the April 1729 issue of the Mercure de France (p. 752): "Deux autres pendans à figure seule, dont l'un est intitulé l'Amante inquiete; Et l'autre la Rêveuse, toutes les deux gravées par P. Aveline en hauteur."
PROVENANCE
Paris, collection of the abbé Pierre Maurice Haranger (or Harenger) (d. 1735; canon of St. Germain l'Auxerrois). Haranger was a good friend of Watteau's and the artist bequeathed to him a portion of his drawings. Although Haranger's ownership was not noted on Aveline's engraving, it was cited by Mariette in his "Notes manuscrites,"10: fol. 191: "dans le cabinet de M. labbe Aranger." Although the abbé Haranger's inventory was discovered by Baticle at the time of the Watteau tercentenary, the listing for L'Amante inquiète has proven elusive due to the vagueness of the inventory as a whole and the distressing fact that it does not include artists' names. Some think that L'Amante inquiète may correspond to no. 33: "Femme penchée, dans sa bordure de bois sculpté, doré . . . prisé 20 livres." However, that painting is listed as being on "toile" while our painting is on panel. This might be just an oversight.

Paris, collection of Antoine Claude Chariot (1733-1815, commissaire-priseur du Châtelet). His sale, Paris, January 28ff, 1788, lot 44: "A. WATTEAU . . . Le Donneur de sérénade, & l'Amante inquiette; deux études savantes & remplies d'art, offrant deux Tableaux du meilleur tems de ce grand coloriste. Hauteur 9 pouces, largeur 7 pouces. B." The pair sold for 221 livres according to an annotated copy of the sale catalogue in the Bibliothèque d'art et d'archéologie, Paris. Here for the first time, L'Amante inquiète was specifically linked with Le Donneur de sérénade.

Paris, with Jean-Baptiste Pierre Lebrun (1748-1813, painter and art dealer). His sale, Paris, April 11, 1791, lot 201: "PAR LE MÊME. [ANTOINE WATTEAU] . . . Deux Tableaux faisant pendans: l'un représente le donneur de sérénade; et l'autre, l'amante inquiète; deux études savantes et remplies d'art: ils sont du meilleur temps de ce grand coloriste. —Hauteur, 9 pouces; largeur, 7 pouces. B. Ils viennent de la vente de M. Chariots, no. 44: vendus 221 liv.* Ils sont gravés." According to an annotated copy of the catalogue in the Frick Art Reference Library, the two pictures were bought back by Lebrun for 132 livres.

Paris, anonymous sale, February 13ff, 1792, lot 25: "PAR LE MÊME [ANT. WATTEAU] . . .  Deux tableaux très-fins de couleur & de la touche la plus spirituelle; l'un représente une jeune Bergère  assise dans un paysage, & tenant des roses dans son tablier, l'autre un Homme vêtu à l'Espagnole, accordant une guitarre. Haut. 9 p. larg. 7. B." According to an annotated copy of the catalogue in the Frick Art Reference Library, the two pictures sold for 120 livres.

Collection of the marquis de Maison; sold in 1868 to Henri d'Orléans, duc d'Aumale.

Chantilly, collection of the duc d'Aumale (1822-1897); given with the rest of his collection to the Institut de France in 1886.
SELECT BIBLIOGRAPHY
Hédouin, "Watteau" (1845), cat. 48.

Hédouin, Mosaïque (1856), cat. 49.

Goncourt, Catalogue raisonné (1875), cat. 81.

Gruyer, Notice des peintures (1899), 346, 349.

Zimmerman, Watteau (1912), 16.

Dacier, Vuaflart, and Hérold, Jean de Jullienne et les graveurs (1921-29), 3: cat. 165.

Réau, "Watteau" (1928), cat. 95.

Adhémar, Watteau (1950), cat. 127.

Mathey, Watteau, peintures réapparues (1959), 68.

Vergnet-Ruiz and Laclotte, Great French Paintings (1965), 70.


Macchia and Montagni, L'opera completa di Watteau (1968), cat. 211.

Ferré, Watteau (1972), 3: cat. B34.

Roland Michel, Watteau (1981), cat. 225.

Posner, Watteau (1984), 123.

Roland Michel, Watteau (1984), 55, 156.

Baticle, "La Chanoine Haranger" (1985), 62.

Garnier-Pelle, Chantilly, Musée Condé, peintures (1995), cat. 113.

Rosenberg and Prat, Watteau, Catalogue raisonné des dessins (1996),  1: cat. 162.

Temperini, Watteau (2002), cat. 10.

Glorieux, Watteau (2011), 165, 169.
RELATED DRAWINGS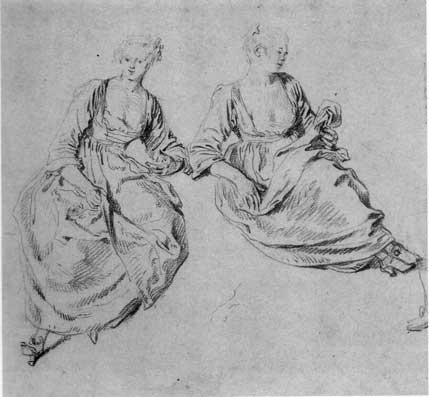 The single figure in L'Amante inquiète was taken from a sheet with two studies of a seated woman (Rosenberg and Prat 162). He chose the study at the left, but modified the details slightly in the painting, making her chin more pointed and adding some roses to the fold of drapery in her lap.
REMARKS
In the late nineteenth and early twentieth centuries the picture was dated by the museum as 1717-20. Zimmerman thought that it was painted about the same time as the Pèlerinage à l'île de Cythère, i.e., 1717. Rosenberg and Prat date the drawing used for L'Amante inquiète to 1712. They assign the same date to a sheet in the Nelson-Atkins Museum (Rosenberg and Prat 161) that has two studies drawn from the same model and is essentially the same scale. Watteau used the second sheet for his painting, Les Agrémens de l'esté, yet that painting seems less skillful and thus earlier in date than L'Amante inquiète. Presumably, then, the artist turned back to this sheet after several years had passed. Mathey had proposed a date of 1715 for the painting. Adhémar preferred 1716, a date to which she assigned some fifty paintings by Watteau. Roland Michel would date the painting to c. 1716-18.
The issue of whether L'Amante inquiète originally had a pendant is problematic due to the lack of information about it in the early eighteenth century. When it was engraved for Julienne's Oeuvre gravé it was paired with La Rêveuse, a painting of comparable dimensions and also showing a single seated figure of a woman. Critics, with the notable exception of Glorieux, do not believe that the two paintings were actual pendants.
When L'Amante inquiète appeared in the Chariot sale in 1788, it was paired with Le Donneur de sérénade, a panel of exactly the same dimensions with a single figure of a man. These faux pendants had been brought together either by Chariot or perhaps the dealer Lebrun. Earlier Le Donneur de sérénade had been alone when it was sold from Marin Delahaye's collection in 1754, in  a 1765 sale arranged by Lebrun, and finally in a 1778 sale. Then, someone cleverly managed to pair it with L'Amante inquiète. It is amazing that this person found a suitable panel of just the right size. While the subjects are well suited to each other, the angles of their bodies are not entirely harmonious and the degrees of finish in the landscapes differ. 
For copies of L'Amante inquiète CLICK HERE