L'Amour paisible (copy 1)
Entered March 2015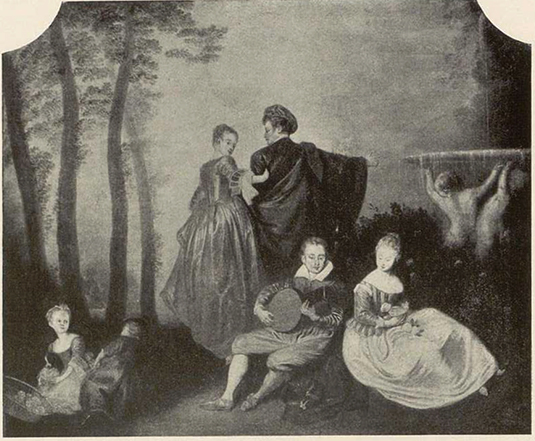 Whereabouts unknown
Oil on canvas
63.5 x 76.2 cm
ALTERNATIVE TITLES    
Summer Pleasures
PROVENANCE
A Middle-European collection that was formed with the advice of Count Arthur Berechtold, "a cultivated amateur" of Castle Maslanica, Hungary. Sold in its entirety, c. 1900, to William Balbach.

New York, collection of William Balbach, Esq. (c. 1838/48-1910, a vice president of the paint-manufacturing firm of S.P. Wetherill Co. of New York). His sale, November 10, 1911, Anderson Galleries, lot 30: "Jean Antoine Watteau . . . SUMMER PLEASURES  Seated on the garden steps, near a plashing [sic] fountain, a youth is performing on a lute for the enjoyment of a maid at his side. Anther couple walking away arm in arm look back with enjoyment. A third pair is seen seated at the foot of a clump of tall trees, the girl holding a small dog in her lap. Canvas. Height, 25 inches; width, 30 inches." Sold for $100 according to an annotated copy of the auction catalogue in the Frick Art Reference Library. Adhémar misidentified the sale as "Vente Balback, 1919," an error repeated by Montagni and Macchia.
SELECT BIBLIOGRAPHY
Dacier, Vuaflart, and Hérold, Jean de Jullienne et les graveurs (1921-29), cat. 268.

Réau, "Watteau" (1928), cat. 162.

Adhémar, Watteau (1950), cat. 126.

Macchia and Montagni, L'opera completa di Watteau (1968), cat. 197.

Ferré, Watteau (1972), cat. P72.
REMARKS
When the painting was in the Balbach collection in the early twentieth century, and presumably still earlier, it was presumed to be Watteau's original painting, the one that had originally been owned by Dr. Mead. Most early twentieth-century scholars—including Dacier, Vuaflart, and Hérold, as well as Réau and Adhémar—accepted the authenticity of the Balbach picture. On the other hand, Macchia and Montagni rightly rejected the Balbach painting. Ferré inappropriately classified this picture as a pastiche, a term he used to cover a wide variety of types of paintings associated with Watteau. It is, however, just a straight-forward copy of Watteau's composition. Interestingly, its dimensions match the scale of Watteau's picture.
The Balbach picture is known only from a fuzzily printed, century-old photograph, that shows a flat, spiritless work. Also, it is substantially larger than Mead's painting, almost double the size. The cut upper corners suggest that it was a decorative painting to be set within boiserie.
L'Amour paisible (copy 2)
Entered March 2017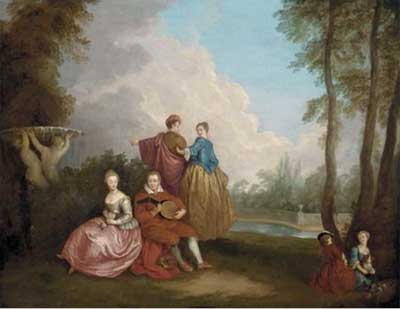 Whereabouts unknown
Oil on canvas
99 x 128.3 cm
ALTERNATIVE TITLES    
Fête champêtre
PROVENANCE
London, Christie's South Kensington, sale, April 20, 2005, lot 148: "FOLLOWER OF JEAN-ANTOINE WATTEAU, A Fête Champêtre, oil on canvas / 39 x 50 ½ in. (99 x 128.3 cm.). / Estimate £5,000-8,000    US $9,600-15,000 / €7,300-12,000."  Sold for £5,400.
REMARKS
The painting is a large, dry rendition that, although not specified by the auction house, was based upon Bernard Baron's engraving after Watteau's composition. The artist certainly was not a close follower of Watteau. Indeed, the landscape and especially the clouds suggest a date no earlier than the mid-nineteenth or, more probably, in the twentieth century.