Les Amusements champêtres (copy 1)
Entered April 2015

Whereabouts unknown
Medium unknown
Measurements unknown
SELECT BIBLIOGRAPHY
Washington, Paris and Berlin, Watteau 1684-1721 (1984), under cat. P52.
REMARKS
Rosenberg, the only scholar to cite this painting, wrote that is an apparently old copy that he knew only from a photograph. He did not reproduce it but described it as showing the central section of Amusements champêtres, namely the man crowning the woman with flowers.
Les Amusements champêtres (copy 2)
Entered October 2019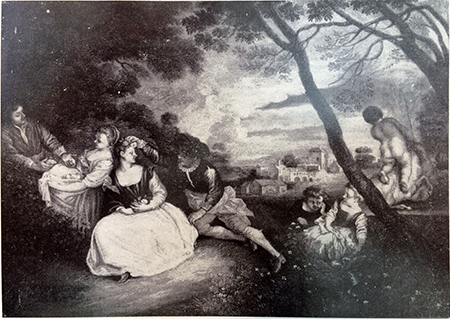 Whereabouts unknown
Oil on canvas
35.5 x 41.5 cm.
PROVENANCE
Versailles, Palais des congres. Sale, May 29, 1968, lot 52: "DIETRICH (Ecole de) / (XVIIIe siècle) / Scènes galantes. / Deux toiles se faisant pendant. Haut. 33,5 cm. Larg. 41.5 cm (Voir la reproduction ci-contre)."
REMARKS
Despite the attribution to Dietrich, the two paintings sold in 1968 are only copies after the Jullienne engravings of Les Amusements Champêtres and Le Passetemps.
For Les Amusements Champêtres CLICK HERE